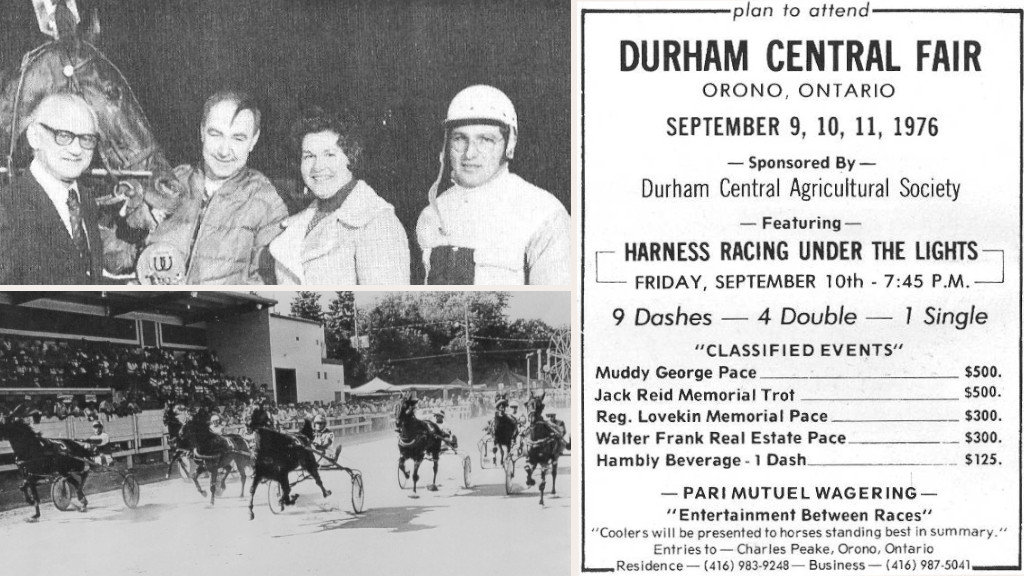 Published:
July 3, 2022 11:10 am EDT
This week's Rewind takes a stroll back in time as Robert Smith recalls some faces, facts and figures in his monthly edition of Years Ago.  This time,  it's all about the 1970's and what was happening back then and who was making it happen.  The decade of the 1970's was a good time in history for the sport of harness racing.  I hope at least a few of my findings ring a bell. 
1973 - Keith Goes To Work For Keith
At the tender age of 15,  Keith Quinlan accepted a summer job as a groom with Keith Waples, a long-time family friend who lived near the Quinlan farm. His new calling immediately took him to Montreal and soon he embarked on the Quebec stakes tour as he became the caretaker of a colt named Two Lumps. He recalls heading to Quebec City shortly after arriving in Montreal and that Gilles Gendron, then a groom for the famous Miron Bros. Stable, was also there with one or two of their colts. 
 
Keith shared an interesting story to do with his going to work for the Waples Stable in far away Montreal. His mother was reluctant to see her young son be so far away from home and living on his own, so a compromise of sorts eased the situation.  Young Keith was to take up residence at Keith Waples' apartment in the big City.  However the young Mr. Quinlan was immediately sent off on the road and never even got to see the apartment. (Probably better when mothers don't know absolutely everything) 
 
In the years that followed, Keith moved on to a succession of jobs including looking after the outstanding three-year-old of 1965, Jerry Hal owned by Langford Farms of Kent Bridge, Ont., which is just East of Chatham. He trained and drove for a lengthy period of time and eventually headed west to British Columbia. Here he ran a successful stable for many years and then became Director of Racing at Fraser Downs in BC for some 20 years. 
 
Keith is now retired from the racing wars.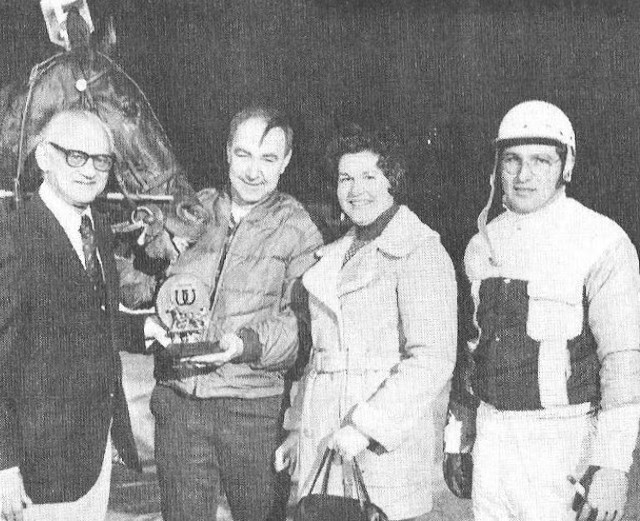 Driver Keith Quinlan (far right) is shown in the Windsor Raceway winner's circle in November of 1973 following a win with Bedford Jet in the Philip Brian Memorial Pace. On the left is Al Nagler, track publicist and the winning owners  Mr. and Mrs. Ed Weber.  This race was held to honour a horse named Philip Brian, who at one time held the Windsor track record. He recorded the first ever sub-2:00 mile in the track's history, 1:59.3 in 1968, and also helped to popularize winter racing at the Windsor oval. 
1975 - Flamboro Downs Opens 
Apr. 9, 1975 - Canada's newest racetrack opened its doors to the public on this date in history.  In the planning and building stages since 1972, the new complex featured all of the latest features but the track was the traditional half mile oval. 
The track enjoyed one of the finest opening nights anyone connected with the track could ever envision.  The track printed 5,000 programs (cost 50 cents each) anticipating that this would be more than adequate to satisfy the needs of the first night crowd.  By first post, nearly 6,500 people had filed into the track and many more were turned away. There was simply no place to squeeze them into a facility that was designed to comfortably hold around 4,000. Long lines of traffic led up to the track in every direction, even after the third race. Some accounts said the traffic jams were up to 10 miles in length, others said five; in any event it seemed like the place to be with the official attendance listed as 6,532. I can't help but wonder if this might have been about the last time people were turned away from a racetrack.
The winning drivers on opening night were Albert Nickle, Ronnie Waples, Doug Hie (2), Brian Webster, Ray McLean, Cliff Sheppard, Wayne Stead and Wm. Wilson. The fastest mile on opening night was 2:06.1, registered by Thorncrest and driver Cliff Sheppard. All of the evening's winning participants received a cooler, compliments of Mr. Ray Connell Track President.  
1976 - Veteran Participants Pass Away 
Two rather well-known veteran Ontario horsemen passed away recently. One was Howard McQuigge, father of Velita Ibey — the wife of CTA presiding judge Charles Ibey,  and also father of Pete McQuigge, one-time driver now associated with Saratoga Raceway.  He was in his 88th year, thus a veteran of many years. 
Another long-time figure in racing circles dating back to the days when Dufferin Park and Thorncliffe were popular racing spots who died recently was Milt Brown.  Milt, who passed away in early April, was a long time resident of Oshawa.  The next two generations of his family have followed him in the sport.  Stan Brown of Whitby is a trainer of note and his two sons Doug and Gord are also aspiring horsemen.  
1976 - Orono Fair Still Holds Racing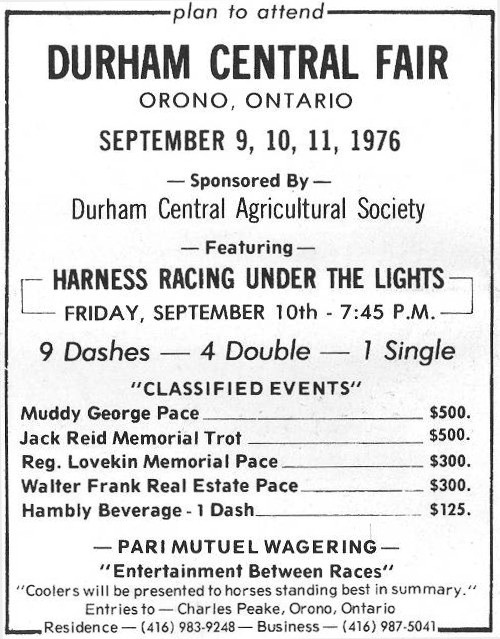 By this time many fairs had dropped harness racing from their annual schedule  but the small town of Orono east of Toronto (some people said it was just like Toronto minus the two t's) continued to have a day of good class racing. The Orono Fair held each year on the first weekend after Labour Day dates back to 1852 when it all started. 
It is interesting to note that a $500 purse was being offered for two of the races listed.  Jack Reid, owner of Meadowview Farm, was a long-time participant in the sport. His son Charlie is still very active.  Muddy George, owned by Lawrence "Pete" Hooey was a top class pacer most often raced by Ronnie Waples. He campaigned with distinction on both sides of the Canada - U.S. border bringing much satisfaction to Mr. Hooey and his family.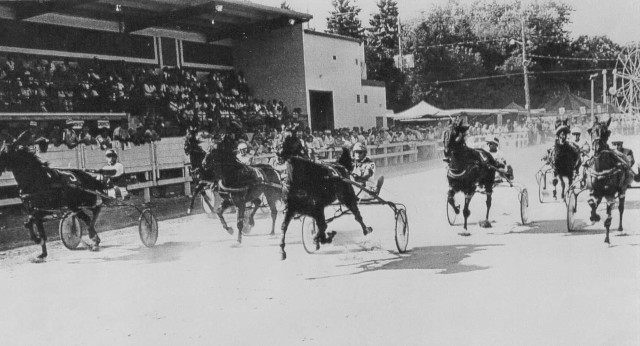 An undated photo of harness racing at the Orono Fair. A full grandstand and people standing along the rail showed the popularity of this part of the old fair days.  Photo courtesy of Orono Weekly Times
1979 - Meadowlands Closes Out Highly Successful Meeting 
Aug. 1979 - The Meadowlands closed out yet another successful season with a huge afternoon program highlighted by the performance of Abercrombie who set a new world record for the fastest mile ever as he recorded a mile in 1:53 flat.  The meeting, which consisted of 176 cards, attracted a daily (or nightly) average of 17,269 patrons.  They were often in a betting mood as the per capita betting average was $125 daily, up considerably from previous years.
Meadowlands fans were treated to quite a driving display by the young Canadian reisman John Campbell of Ailsa Craig, Ont., who was just 24 years of age at the time.  He shattered all sorts of records, topped off by his 177 wins which included five on one card. That total placed him well ahead of Jim Doherty, also a Canadian who finished second.  His record earnings were just shy of $2 million.  He was a very busy driver with 970 starts and ended the campaign with a. 309 UDRS percentage. 
Quote For The Week: "Always remember that you are absolutely unique, just like everyone else." Attributed to Margaret Mead
Who Is It?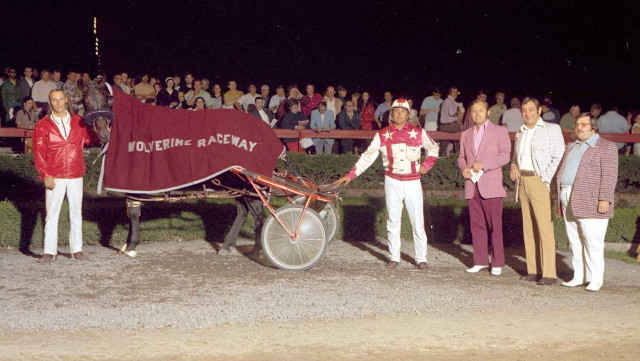 This driver was not a regular at Wolverine but he did race there on occasion when stakes races were held at this Michigan track.  Can you name the driver in this 1973 photo? If anyone else looks familiar let us know.  (Abahazy photo collection)
Who Else Is It?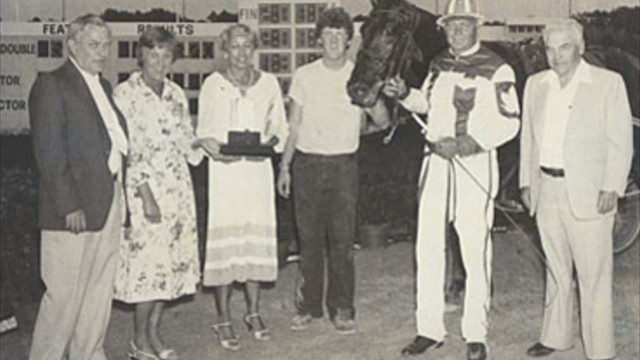 ​
This photo was taken at Flamboro during the early years.  How many people can you identify and maybe even the horse who was named after a place?
Blast From The Past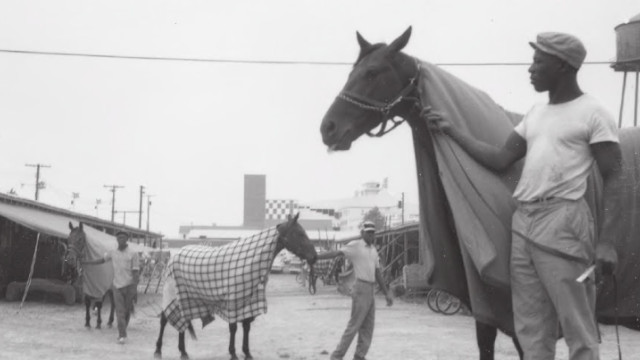 Who can tell us what is happening in the above photo? There was a name for it.  Let us know what you think.