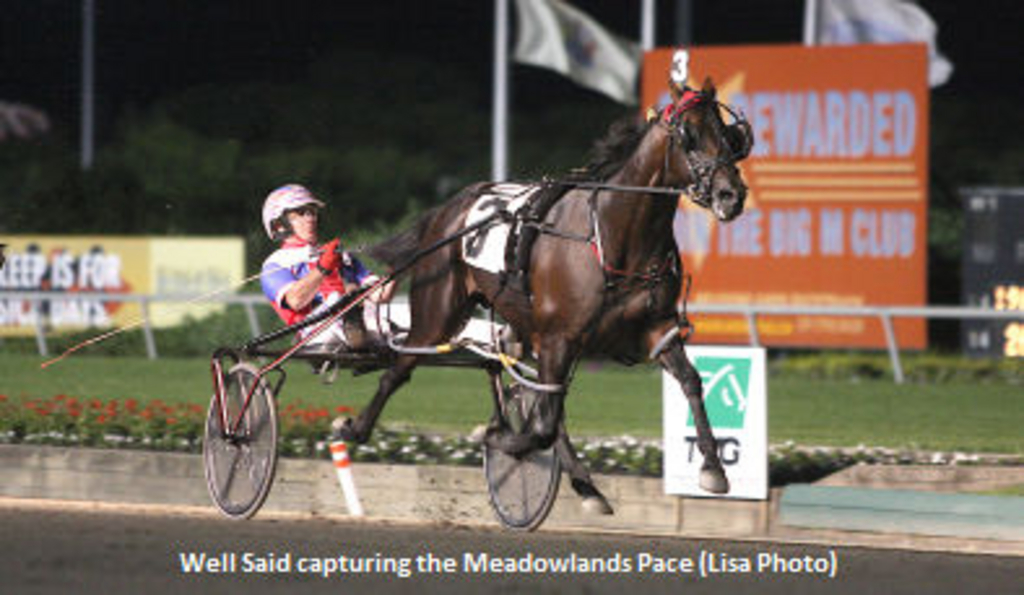 Published:
July 24, 2009 03:51 pm EDT

Well Said, If I Can Dream and Mr Wiggles put in solid miles this afternoon at the Meadows during the $50,000 eliminations for the $677,665 Delvin Miller Adios, which will be contested Saturday, August 1
over the Pennsylvania oval.
Pepsi North America Cup and Meadowlands Pace winner Well Said continued to dominate his foes in what was the second of the Adios elims. With pilot Ron Pierce in tow, the son of Western Hanover came first-over from mid-pack and cleared to the lead just before the half-mile timer flashed in :55.
After reaching three quarters in 1:21.4, Pierce and the Steve Elliott-trained Well Said went on to post a 1:49 Meadows all-age track record. Keep It Real (driven by Brian Sears) finished second and Schoolkids (Dave Palone) third.
Elim #2 — Well Said
"I was going to sit in a hole for awhile, but going into the first turn, there was somebody right on my right wheel, and I didn't want to go in there and risk getting locked in," Pierce said. "So I set him out in the middle of the track, and when Brian Sears cleared with Keep It Real, I let him pace on. He crossed over so easily."
Although the mile erased Timesareachanging, Santastics Pan, Georgia Pacific and Riyadh's former track record, it was not a stakes record. Shadow Play recorded a 1:48.2 stakes (and world) record over Pocono Downs in 2008.
"He felt like if I was chasing him, if it was a horse race, if he had some competition in there, he could pace in 1:47," Pierce said. "I've driven a whole lot of great horses, and this guy acts like he could go right by them. He's scary fast."
The victory kept Jeff Snyder, who owns Well Said with Lothlorien, on track for his fourth Adios win as an owner. He won previously with Cams Card Shark (1994), Million Dollar Cam (2002) and Village Jolt (2005).
With regular pilot George Brennan calling the shots, Tracy Brainard pupil If I Can Dream converted a first-over trip in the first of the elims and stopped the clock in a career-best 1:49.4 for the Bulletproof Enterprises.
The first elim saw sizzling fractions recorded, as the quarter times went up in :25.4, :54 and 1:21.2. Brennan pulled If I Can Dream first over before the half-mile pole. The Western Hanover colt collared Chasin Racin before the three-quarters marker and was well in hand through the lane for the open-length victory. Ideal Danny (Tim Tetrick) finished second and Chasin Racin (David Miller) held on for third.
Elim #1 — If I Can Dream
"The race went 100 percent according to my plan," said Brennan. "I knew a number of them would leave and put me in a spot where I would need to come first over. I was hoping the early speed would take a toll on the leaders, and that's exactly what happened. He was a little tired at the end, but that wasn't a surprise given the fractions."
Just like the first elim, lightening-fast fractions were produced in the third elim, which was won by George Teague, Jr. pupil Mr Wiggles in 1:49.1.
In rein to driver Corey Callahan, Mr Wiggles, a son of Badlands Hanover, sat fourth through the :25.4 opening quarter and came out first over before the :53.4 half. Clearing to the lead on the final turn, Mr Wiggles spun off the third timer in 1:20.4 and fended off a pair of challengers deep in the lane. Vintage Master (Dan Dube) just came up short on the inside and finished second. Straight Shooting (Tim Tetrick) raced on the outside of Mr Wiggles and finished a solid third.
Elim #3 — Mr Wiggles
"Well Said's a great horse; he'll put Mr Wiggles and a lot of others under the radar," said Teague of his underrated son of Badlands Hanover-Wiggle Hanover. "But this guy always has been on my radar screen. He's done what he had to do. If he's been in the right spot, he's won."
The horses which have gained entrance to the $677,665 Delvin Miller Adios are listed below in alphabetical order. An open draw for final-heat post positions is set for Tuesday, July 28 at 6 p.m. and will be shown live on the Meadows Racing Network.
• Chasin Racin
• Ideal Danny
• If I Can Dream
• Keep It Real
• Mr Wiggles
• Schoolkids
• Straight Shooting
• Vintage Master
• Well Said
(With files from The Meadows)