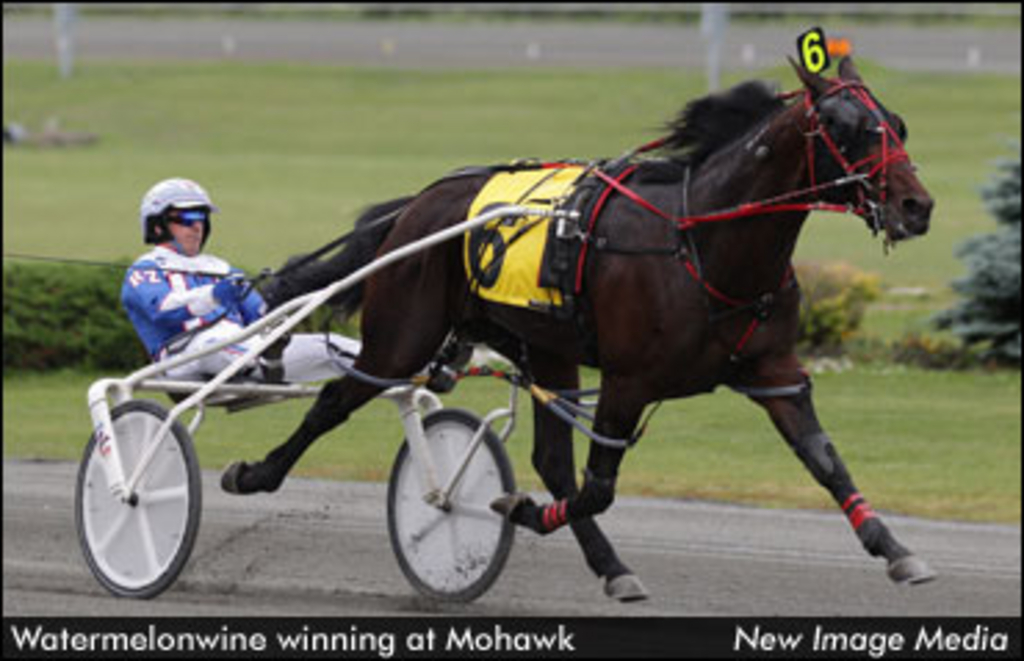 Published:
July 2, 2011 04:44 pm EDT

Ontario-sired pacers and trotters filled up Georgian Downs' Saturday program in preparation for next weekend's Gold Rush, which will feature close to $1 million in purses. Eliminations for the four Ontario Sires Stakes Gold finals and Masters Stakes finals headlined the
afternoon's harness racing card.
Two sophomore track records fell as Village Janus and Watermelonwine turned in a pair of sizzling performances in their respective OSS eliminations while older pacer Mach Dreamer lowered another record in the Master Stakes eliminations.
Recaps of all the OSS and Master Stakes elimination action are available below.
Three-Year-Old Colt Trot Eliminations
David Lemon's reigning Gold champion Daylon Magician kicked off the action on Saturday with a victory in the only $40,000 Ontario Sires Stakes Gold elimination for three-year-old trotting colts.
Under the guidance of Jack Moiseyev, the homebred Kadabra-Daylon Marvel colt left from Post 7 and took command of the 11-horse field after the :27.2 opening quarter. After reaching the next marker in :56.3, Delcrest Julian (Rick Zeron) rolled up from fourth to challenge the leader, but subsequently broke stride leaving Daylon Magician clear at three-quarters in 1:25.1. The Goodtimes Consolation champion could not be caught as he trotted home in :28.4 for the 1:54 victory, just missing B Strike Three's track record by one-fifth of a second. Pocket-sitter Lakefield (Jason Brewer) finished second and Undercover Strike (Roger Mayotte) came on for third.
Daylon Magician, last year's OSS Super Final winner, is now four-for-five in his sophomore campaign with $131,500 banked. His career bankroll climbed to $356,800 with the victory. He paid $3.40 to win as the popular choice.
Three-Year-Old Filly Pace Eliminations
Last year's OSS Super Final champion Modern Connection earned her first victory of the season while making her fifth start in the first of two three-year-old filly pace eliminations.
With Jody Jamieson in the bike for trainer David Menary, the daughter of Modern Art-Cambest Connection made her move after the :26.4 opening quarter, advancing from third and clearing past the half in :55.4. She then opened up a few lengths on the field as she paced past three-quarters in 1:23.1 and cruised to victory in a career-best 1:52. Shipps Xanadu (Rick Zeron) finished three lengths behind in second and Camille (Jason Brewer) was third.
Yousif Yousif of Chesterfield and Ameer Najor of Detroit, Michigan co-own the career winner of $482,297. She paid $2.10 to win as the heavy favourite.
Looking to earn her second straight Gold title of the season, Village Janus stormed home to capture her elimination in a 1:51.1 track record clocking.
Scott Zeron sent the Modern Art-Village Jest filly to the top from Post 3 during a :27.4 opening quarter, but gave way to Monkey On My Wheel (Rick Zeron) in front of the grandstand. Monkey On My Wheel came under attack from Look Cheap (Mrk MacDonald), who edged ahead past the half in :57.2, but that rival backed away leaving Monkey On My Wheel in control at three-quarters in 1:23.4. However, Village Janus was full of late pace and converted from the pocket to score the victory by a neck, establishing a new lifetime mark and lowering Tiz To Dream's track standard by one-fifth of a second. The time of the mile also equalled Michelles Power's stakes and Canadian record. Monkey On My Wheel settled for second while Athenas Legacy (Jody Jamieson) inherited third after a judge's placing. Look Cheap was third placed fourth for causing interference to that filly.
Village Janus is now four-for-four this year with $108,500 earned for trainer Rod Therres, who co-owns with Larry Schmidt of Abbotsford, B.C. Last year's Battle of Belles champion has banked $241,200 to date. She paid $7.70 to win as the 5-2 third choice.
Three-Year-Old Filly Trot Eliminations
Peach Martini went all the way to win the first of two eliminations for sophomore trotting fillies with trainer Rick Zeron in the bike.
The Striking Sahbra-Armbro Martini miss left from Post 2 and carved out fractions of :27.3, :57.3 and 1:27 en route to establishing a new lifetime mark of 1:56 flat. Reigning Gold champion and odds-on favourite Lukes Sophie (Jody Jamieson) recovered from a miscue and came on for second over first over challenger China Pearls (Randy Waples).
Peach Martini, a runner-up in the previous Gold and third in the Casual Breeze Stakes, has banked $72,913 of her $369,269 bankroll this year for the Rick Zeron Stables of Oakville, Ont., the Rojan Stables of Wilmington, Delaware, Michael Katz of Thornhill, Ont. and Stephen Waldman of Toronto, Ont. The win was her first in four 2011 starts. She paid $7.20 to win as the 5-2 second choice.
Oh Sweet Baby went gate-to-wire to win the second elimination in a career-best 1:55.2 by open lengths for driver Mario Baillargeon and trainer Ben Baillargeon.
The daughter of Angus Hall-Galahads Damsel took control of the field from the inside post position and led the way past fractions of :27.2, :58 and 1:26.2 before cruising to victory without facing any serious challengers. Eagle Canada (Doug McNair) advanced first up to place, four and a half lengths behind, while Zorgwijk Locket (Trevor Henry) rounded out the top three.
Oh Sweet Baby finished third behind Lukes Sophie and Peach Martini in the last Gold event after winning her elimination. She paid $4.70 to win for the second time in six starts this year. The bay filly, who has banked $61,689 this year for owner Richard Berthiaume of Pointe-Aux-Trembles, Que., watched her lifetime earnings climb past the $300,000 mark today.
Three-Year-Old Colt Pace Eliminations
Watermelonwine returned to Georgian Downs on Saturday to lower his own track record and lifetime mark by two-fifths of a second in the first of two eliminations for three-year-old pacing colts.
The son of Life Sign-Arukiddinme blazed to a 1:49.4 track record victory in his last start at the Innisfil oval in the Upper Canada Cup consolation on May 28. Today, he sped off the gate with driver Jody Jamieson in tow and carved out fractions of :26.3, :54.4 and 1:21.3 before stopping the clock in 1:49.2. The time of the mile also established a new stakes and Canadian record. Watermelonwine held off pocket-sitter Celebrity Citation (Mark MacDonald) for the half-length victory. Drain Daddy (Rick Zeron) finished third.
Last year's OSS Super Final runner-up has won three of five races in 2011 while banking $59,500. The career winner of $235,340 is trained by Menary for owner Brad Gray of Dundas, Ont. He paid $3.50 to win as the 3-5 favourite.
Jamieson also captured the second elimination for the glamour boys with Upper Canada Cup champion Mystician.
The millionaire son of Camluck-Mystic Mistress got away fifth after leaving from Post 6 while Prodigal Seelster (Randy Waples) cleared the lead before the :26.4 opening quarter mark. Mystician made his move as they neared the half in :55.4 flushing out My Man Charley (Mark MacDonald) from third. With his cover stalling, Jamieson sent Mystician three-deep past the 1:23 third quarter mark and swept by the front-runner to prevail in 1:51.3 by one and three-quarter lengths. Prodigal Seelster and Some Mach Some Win (Sylvain Filion) finished second in a dead-heat.
The North America Cup consolation runner-up earned his second win in five seasonal starts and boosted his 2011 earnings to $298,000. Mystician, last year's $1 million Metro Pace champion, is owned by trainer Jeff Gillis, Ken Henwood of Mississauga, Ont., Mac Nichol of Burlington, Ont. and Gerald Stay of Buffalo, New York. He paid $2.70 to win as th bettor's choice.
Masters Stakes Eliminations
Mach Dreamer brushed to command at the half and paced away to prevail in 1:49.3 in the first of two $25,000 Masters Stakes eliminations for aged pacing horses.
Legal Litigator (Mark MacDonald) led the way past opening panels of :26.3 and :55 before driver Rick Zeron sent Mach Dreamer to the top from fourth. The four-year-old son of Mach Three-Boy Meets Girl checked in at the third quarter mark in 1:22 and kicked away from the field to score the three length victory. Keystone Horatio (Randy Waples) rallied wide to place while Twin B Warrior (Jody Jamieson) finished third.
The time of the mile lowered the track record for aged pacing horses by two-fifths of a second, which was held by Astronomical, Grand Bend Turbo and Tigerama, and was three-fifths of a second off the overall male mark held by gelding Bigtime Ball.
Mach Dreamer, a third-place finisher in the Mohawk Gold Cup Invitational, notched his first win in six tries this year for trainer Murray Brethour and the Scarff Legacy Stables of Halifax, N.S. The victory pushed his earnings to $47,450 for 2011 and $557,172 lifetime. He paid $3.50 to win as the 3-5 favourite.
Jamieson returned to the winner's circle for the fourth time on the card and second time with trainer Jeff Gillis after steering Ideal Race to victory in the final elimination of the day.
Lucky Man (Mark MacDonald) forged his way to the front and carved out fractions of :26.1, :54.4 and 1:22 while Ideal Race followed the cover of Alexie Mattosie (Dave Boughton). The five-year-old Western Terror-Eidette Hanover gelding fanned wide as the field entered the final turn and he kicked home to score the 1:50.1 triumph by a neck. Pocket-sitter Dalhousie Dave (Scott Zeron) finished second over Lucky Man and Alexie Mattosie.
Gillis co-owns the winner of four races in 18 starts and $120,720 this year with Burlington's Mac Nichol. The lion's share of the purse pushed Ideal Race's lifetime earnings over the half-million dollar mark. The fan favourite paid $3.70 to win.
Eliminations were not necessary for the aged pacing mare division as only seven mares were entered and will advance to the final, including Dreamfair Eternal, Lady Latte, Putnam MacKenzie, Tiz To Dream, Voelz Hanover, Warrawee Koine and Western Silk.
Both aged trot divisions were cancelled due to a lack of entries.
Here is a look at the fields for next weekend's stake finals in post position order:
$130,000 OSS Gold - Three-Year-Old Colt Trot
1. Tamarind
2. Max Money
3. Mr Joe Sixpack
4. Sim Brown
5. Undercover Strike
6. Mister Herbie
7. Imperial Count
8. Daylon Magician
9. Lakefield
AE1. Attorney Hanover
AE2. Delcrest Julian
$130,000 OSS Gold - Three-Year-Old Filly Pace
1. Look Cheap
2. Shipps Xanadu
3. Modern Connection
4. Waasmula
5. Athenas Legacy
6. Village Janus
7. Patsys Luck
8. Camille
9. Monkey On My Wheel
AE1. Machs Delicacy
AE2. Lauren
AE3. Imagine Semalu
$130,000 OSS Gold - Three-Year-Old Filly Trot
1. Peach Martini
2. Oh Sweet Baby
3. Eagle Canada
4. Lukes Sophie
5. China Pearls
6. L A Freeway
7. Summer Of Love
8. Zorgwijk Locket
9. Shez So Striking
AE1. Nordic De Vie
AE2. Surveillance
AE3. Wendy Woo
$130,000 OSS Gold - Three-Year-Old Colt Pace
1. Prodigal Seelster
2. Watermelonwine
3. Live And Learn
4. Dreamfair Kovu
5. Some Mach Some Win
6. Mystician
7. Celebrity Citation
8. Drain Daddy
9. Cam B Zipper
AE1. Machal Jackson
AE2. Lifeoftheoldboy
AE3. My Man Charley
$119,000 Master Stakes - Aged Pacers
1. Alexie Mattosie
2. Strand Hanover
3. Dalhousie Dave
4. Broadies Song
5. Twin B Warrior
6. Keystone Horatio
7. Mach Dreamer
8. Ideal Race
9. Lucky Man
AE1.Stonebridge Tonic
For results from Saturday's harness racing card, click on the following link: Saturday Results - Georgian Downs.