Published:
July 18, 2013 04:52 pm EDT
In the glory days of horse racing in North America, when horses were kings of sport, match races were commonplace – regular showdowns of racing's top competitors. In recent years, they've become less and less common at harness tracks around the world.
However, Hanover Raceway will go back in time with a face-off of two great trotters on their upcoming Dream of Glory card. On Saturday, August 3, the Hanover track will host the Champions Match Race, between the last two victors of its signature event, the Dream of Glory trot.
World record holder and 2012 Dream Of Glory winner Summer Indian will battle it out on the racetrack against 2011 champ Traverse Seelster, who has posted the fastest trotting mile on any half-mile track in North America in 2013. On the line is the lion's share of a $15,000 purse, with $9,000 to the winner.
The upcoming match race is intended to showcase the talent that comes out of the Ontario Sires Stakes Grassroots program, as well as Hanover Raceway's top stake race, the Dream of Glory Trot. The two horses involved took very similar routes through their rookie and sophomore seasons before being shipped to the United States to race in their aged careers.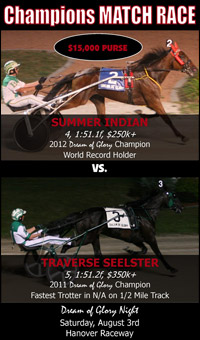 Traverse Seelster is the only horse to win both of Hanover Raceway's trotting stakes finals as he was crowned Balanced Image champion at age two, and returned to win the Dream of Glory at three for trainer Frank O'Reilly. The trotter also earned over $60,000 in the Ontario Sires Stakes series, including four trophies while racing primarily in the Grassroots Series. Bred by Seelster Farms of Lucan, Ont., the son of Angus Hall now races out of the Gary Green Stable for owner Keith Pippi. In 2013, he's posted four victories including track record performances at Dover Downs and Harrington Raceway in 1:51.2 and 1:54.1 respectively.
Summer Indian is fresh off a world record setting performance, as he became the fastest four-year old trotting gelding when he stopped the timer in 1:51.1 at Mohegan Sun Pocono Downs. As a two and three-year old racing in Ontario, the Majestic Son gelding collected over $120,000 in the OSS program including a runner-up finish in the Grassroots Final in 2012. His biggest win to date came in the 2012 edition of the Dream of Glory at Hanover Raceway as he took home $50,000 for former owners Parkhill Stud Farms and trainer John Bax. Now trained by top North American conditioner Ron Burke, Summer Indian is putting together a fantastic summer with four wins in ten starts. Summer Indian was bred by Scott Aimers & Brian Wong of Orton, Ont. and is now owned by the Burke Racing Stable LLC, Jack Piatt, Weaver Bruscemi LLC & RTC Stables INC, all based in Pennsylvania.
In a release, the track noted it was "overjoyed to be hosting two horses of this caliber, especially since their development and history of winning major stake races started at the Hanover grassroots track. Their success south of the border validates grassroots level racing in Ontario, and the development of Ontario-sired horses as some of the best in the world."
The Champions Match Race – as the event will be called – will be held as part of the 12th annual Dream of Glory card and the track will be giving away commemorative match race posters featuring Summer Indian and Traverse Seelster. Track management is also working on securing agreements for the Dream of Glory Day card to be simulcast and available for wagering at multiple tracks across North America. More details are to follow in the coming weeks.
(Hanover)