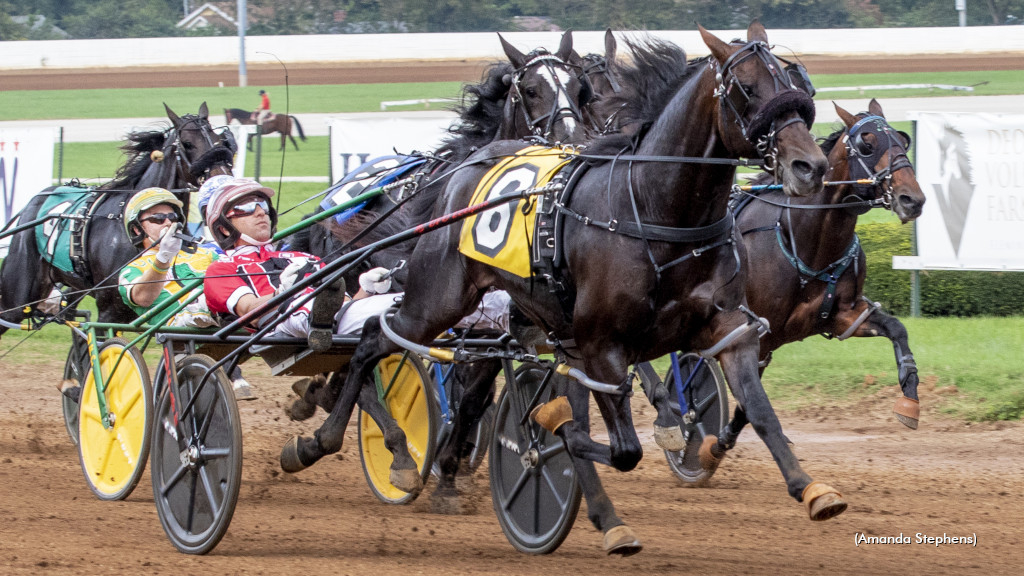 Published:
July 15, 2022 11:10 am EDT
Eight trainers in history have won the Meadowlands Racetrack's two premier harness racing events, the Meadowlands Pace and Hambletonian Stakes. Ake Svanstedt will try to add his name to the list on Saturday (July 16).
Svanstedt, a two-time winner of the $1 million Hambletonian for three-year-old trotters, will send out Captain Cowboy in Saturday's $600,000 Meadowlands Pace for three-year-old pacers at The Big M. Svanstedt has a stable of more than 80 horses, but only five are pacers.
Captain Cowboy is winless in six races this year but has finished second three times and third twice. Last week, he finished second to Beach Glass in one of the two Meadowlands Pace eliminations. In his previous start, he was third in the Messenger Stakes, the first jewel in the Pacing Triple Crown, at Yonkers Raceway.
The colt, a son of Captaintreacherous - Odds On Lassomyhrt, will start from post one with driver Scott Zeron and is 8-1 on the morning line.
"Who would think the Svanstedt Stable would have a horse in the Meadowlands Pace?" said a laughing Svanstedt, who prior to moving to New Jersey in 2013 put together a Hall of Fame career in Sweden as a top trainer of trotters. "I'm happy for that. It's fun.
"He's in top form and has a good post, so it will be interesting to see what he can do. He has a very good attitude. He always fights. The horse is as good as he can be."
For his career, Captain Cowboy has hit the board in 11 of 15 races, winning five. His victories last year included the Standardbred Stakes at the Delaware County Fair in Ohio and a division of the International Stallion Stakes at Lexington's Red Mile. He is owned by Svanstedt, Jeff Gural's Little E LLC, and Peter Weisberg's PCW Racing.
Although most of his starts have come on smaller tracks, Captain Cowboy has done well on one-mile ovals such as The Meadowlands. In addition to his win at the Red Mile, he has two second-place finishes and a second-placed-fifth in four races.
"He hadn't been on the big track since last year, and I think he likes the big track," Svanstedt said. "He raced good. He came home fast (:26.2) and was good. When he is good, he has everything. He's sharp."
So, does Svanstedt enjoy working with the pacers?
"If they're as good as Captain Cowboy, I enjoy it," Svanstedt said with a laugh. "They are a little different for me to train. I think they must train more than a trotter."
The eight trainers to win the Meadowlands Pace and Hambletonian are Tony Alagna, Blair Burgess, Steve Elliott, Billy Haughton, Ray Remmen, Ray Schnittker, Chuck Sylvester, and Linda Toscano.
---
Captain Cowboy's co-owner Peter Weisberg is making his first trip to the Meadowlands Pace as an owner, but it is not the first time he has been closely connected to a finalist. In 1988, Weisberg was the caretaker of Mark Loewe-trained Threefold, who finished fifth in the Meadowlands Pace. The race was won by Matts Scooter.
"He was a really nice horse to be associated with," Weisberg said about Threefold, who won 13 of 39 career races and earned $634,004 before standing as a stallion in Canada. "He raced against some very tough horses. But he always showed up and gave a good effort.
"Now to have a horse in the Meadowlands Pace as an owner is kind of cool. I was lucky enough to have Ake and Jeff take me on as a partner with Captain Cowboy. I'm excited for Saturday night."
Weisberg was born in Brooklyn, moved to northern New Jersey as a teenager, and fell in love with harness racing while spending summers vacationing near Monticello Raceway in upstate New York.
"I was bored and had nothing to do," Weisberg said. "One of my neighbours got me a job as a groom at the track, and that's how I fell in love with horses. It's been a love affair that continues to this day."
Captain Cowboy, a two-time winner on the Grand Circuit last year, is 8-1 on the morning line for the Meadowlands Pace.
"He's a little bit under the radar," Weisberg said. "He shows up every week. He doesn't necessarily win, but he gives a nice effort every time he steps on the track, which is all you can really ask of a horse. I tip my hat to Ake and (his wife and assistant trainer) Sarah, they've done a wonderful job.
"He'll need some racing luck Saturday; they all do. If he gets a cheque, I'll be happy. If he doesn't get a cheque, I'm tickled that he made it to the final. My head will not be down either way. It's an honour just to be in the final."
Weisberg no longer works with horses but remains connected to the sport beyond being an owner. He has his own accounting practice in Florida and the majority of his clients are involved in harness racing.
"I have a deep love for horses and the industry," Weisberg said. "I love harness racing probably as much as anybody else out there. I live and breathe it."
(USTA)