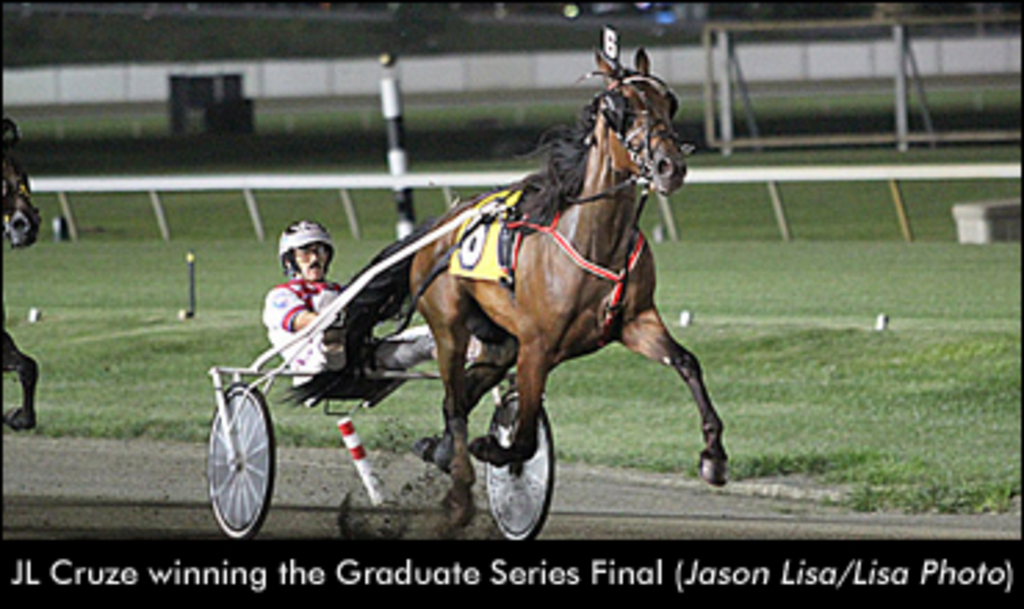 Published:
July 11, 2015 08:00 pm EDT

In The Arsenal and Wiggle It Jiggleit starred in the elimination round for next weekend's Crawford Farms Meadowlands Pace on Saturday night while fans also witnessed the Meadowlands Racetrack's first sub-1:50 trotting mile as JL Cruze won the $250,000 Graduate Series Final.
In The Arsenal and driver Brian Sears won the first of two $50,000 eliminations for the Meadowlands Pace with Dealt A Winner (Dave Miller), Dudes The Man (Corey Callahan), Artspeak (Scott Zeron) and Revenge Shark (Tim Tetrick) rounding out the top five finishers that will advance to the July 18 final.
Intent on making the lead off the gate, Sears and 5-2 second choice In The Arsenal left from post two with 1-2 favourite Artspeak settling into the pocket spot through a :27.2 first quarter. After an uncontested half in :56.1, In The Arsenal began to accelerate towards three-quarters in 1:23.3 as Dudes The Man moved first up with Hurrikane Ali (Yannick Gingras) on his back. However, In The Arsenal opened up three lengths into the stretch to secure the victory and take a new lifetime mark of 1:49.1. The entire seven-horse field paced their final quarters in sub-26 seconds, with the winner clocked in :25.3.
"A couple weeks ago when I was in the two-hole to Artspeak, sometimes he just gets a little uncomfortable in the hole when they're not going quite enough," said Sears of his racing strategy. "When I can just let him do his thing on the front, he's much better off. The fact that I could get him [Artspeak] in behind me worked out really good tonight.
"He did everything he had to do and the easier we can make it, the better off we are."
"He's an easy keeper, he doesn't need to train hard," said Kelvin Harrison, who trains the American Ideal-Ladyotra colt for breeder White Birch Farm and co-owners from In The Arsenal Racing. "We'll give him a mild week and just stay nice and healthy and we'll go from there."
In the second elimination, 1-5 favourite Wiggle It Jiggleit and driver Montrell Teague prevailed over Wakizashi Hanover (Tim Tetrick), with Rock N Roll World (Dave Miller), Badiou Hanover (Andy Miller) and Lyons Levi Lewis (Yannick Gingras) finishing third through fifth to make the final.
Lyons Levi Lewis left out from mid-pack with Badiou Hanover to his outside and then tucking into the pocket spot. After a :26.4 first quarter, Roland N Rock (John Campbell) made a backstretch brush from third to first and reached the half in :55.2.
Meanwhile, Teague moved Hempt winner Wiggle It Jiggleit from sixth and flushed out the North America Cup champion, Wakizashi Hanover. That prompted Lyons Levi Lewis to tip out in the first over position.
As Roland N Rock approached three-quarters in 1:22.3, Wakizashi Hanover fanned three-wide with Wiggle It Jiggleit tracking that move. Storming by the leader on the outside, Wakizashi Hanover and Wiggle It Jiggleit raced down the stretch, with Wiggle It Jiggleit pacing by in :25.2 for the one length victory in 1:48.4.
"Before the race, I kind of decided to take back. It kind of worked out perfect when I saw everybody up on the gate and rushing out of there. It made my mind up really quick," said Montrell Teague after the race. "I had plenty of horse, I was raging over top of Timmy. I pulled him off of him and right when he saw that horse in front of him, he just went right up on there, and I popped the earplugs and he zoomed right on by."
Clyde Francis trains the Mr Wiggles-Mozzi Hanover gelding, who has just one loss on his 15-race record.
"He's pretty predictable for us," said owner George Teague Jr. "We thought he was all this. It comes as no surprise."
The elimination winners had their starting spots for the final drawn from posts one through six. Post draw results are listed below.
Meadowlands Pace
1. Lyons Levi Lewis - 30-1
2. Dudes The Man - 30-1
3. Artspeak - 6-1
4. Wiggle It Jiggleit - 4-5
5. Rock N Roll World - 50-1
6. In The Arsenal - 3-1
7. Revenge Shark - 30-1
8. Dealt A Winner - 20-1
9. Wakizashi Hanover - 4-1
10. Badiou Hanover - 50-1
Fields Set For Mistletoe Shalee & Haughton
Driven by Yannick Gingras, 3-2 favourite Band Of Angels held off Moonlit Dance (David Miller) in a photo finish to win the $25,000 Mistletoe Shalee elimination for three-year-old pacing fillies. Ron Burke trains the Rock N Roll Heaven-Time N Again filly for owner William Joseph Donovan.
Gingras sent Band Of Angels to the lead from post four over stablemate Happiness (Joe Bongiorno) and carved out fractions of :27.2, :55.4 and 1:23.2 with first over pressure mounting in the form of Divine Caroline (Corey Callahan). Down the stretch, Moonlit Dance stormed home off cover to make it a close call, but Band Of Angels ultimately prevailed by a nose in a career-best 1:50 flat, with Divine Caroline three-quarters of a length back in third. Stacia Hanover (Scott Zeron), Single Me (Andy Miller), Deli Beach (John Campbell) and Happiness finished fourth through seventh.
The top seven finishers in the Mistletoe Shalee elimination will be joined in the final by the season's top divisional money earners Bettor Be Steppin, Sassa Hanover and The Show Returns, who each received byes. The winner drew from posts one through six for the final. Post draw results are listed below.
Mistletoe Shalee
1. Divine Caroline
2. The Show Returns
3. Single Me
4. Happiness
5. Stacia Hanover
6. Band Of Angels
7. Sassa Hanover
8. Deli Beach
9. Bettor Be Steppin
10. Moonlit Dance
The post position draw was also conducted for the William R. Haughton Memorial Pace, which did not require eliminations with only nine entries.
William R. Haughton Memorial Pace
1. Bettors Edge
2. Mach It So
3. Lyonssomewhere
4. Foiled Again
5. Doo Wop Hanover
6. Dancin Yankee
7. JK Endofanera
8. State Treasurer
9. Luck Be Withyou
JL Cruze Sets World Record In Graduate Final
JL Cruze became the fastest trotter in Meadowlands history with a dazzling 1:49.4 triumph in the $250,000 final of the Graduate Series for four-year-old trotters.
The time of the mile was just the third sub-1:50 trotting mile in harness racing history and the first ever over a one-mile racetrack.
In what has been dubbed a "rags to riches" story, JL Cruze has climbed the ranks throughout the first half of the season and defeated Father Patrick in the opening legs of the Graduate Series and then world champion Sebastian K in the Mohegan Sun Invitational last weekend.
The Graduate was dubbed a rematch between JL Cruze and Father Patrick, but it was Father Patrick's fellow award-winning stablemate, Shake It Cerry, that posed the biggest threat to JL Cruze's win streak tonight.
Driven by John Campbell, JL Cruze was parked out from post six and advanced through a :26.3 opening quarter to overtake Gural Hanover (Matt Kakaley) in the backstretch and reach the half in :54.2. Meanwhile, Father Patrick (Yannick Gingras) was outside in fifth-place and he kicked into gear as the field rolled to three-quarters in 1:22.4 with Shake It Cerry (Jimmy Takter) trying to catch his cover. JL Cruze maintained the lead into the stretch while Shake It Cerry sprinted off her cover. However, the mare came up just short as JL Cruze held on by a nose for the record-setting victory. Resolve (Ake Svanstedt) finished one and a half lengths behind in third.
Eric Ell trains JL Cruze, a four-year-old Crazed-Topcat Hall gelding who has won 15 of his 17 races this season for owners Kenneth Wood, William Dittmar Jr. and Stephen Iaquinta. The connections purchased the Ontario-bred trotter for $35,000 at the Harrisburg Mixed Sale last year.
"You go to the sale hoping you can find the rags to riches and it was us this year," said Ell. "He's unbelievable. He does everything you ask him. He's had two major injuries this year, he overcomes it all. He's unbelievable.
"It's a higher power. Kenny does so much for everybody, it's a higher power," said Ell, referring to Wood's humanitarian efforts digging water wells in Ghana. "This goes out to Kenny and his wife, the whole Woods family. They're fighting some tribulations, so this goes out to them."
"We're along for the ride," said Dittmar. "Kenny's a great guy. Eric's done a great job. What can you say? The horse has just done everything they've asked him to do. It's just a great ride. What else can you say?"
JL Cruze is being pointed towards the Hambletonian Maturity next and possibly the John Cashman Jr. Memorial.
Sophomore Trotters Face Off In Reynolds Stakes
The $62,406 W.N Reynolds Memorial for three-year-old trotters was dramatically altered with the scratch of morning line favourite Muscle Diamond. Cruzado Dela Noche was established as the 4-5 choice, but he made a break before the start. The 5-2 second choice, Real DJ Hanover jumped off-stride on the first turn. That left the race to Suit And Tie, who won in wire-to-wire fashion in 1:54.1.
Callahan put his colt right on the lead and he wheeled off fractions of :27.4, :57.2 and 1:26.1 before turning for home with a longshot, Colbert, on his back. But Suit And Tie had plenty left in the tank and he rolled home to score rather easily over Colbert. Total Darkness checked in third.
Suit And Tie made it back-to-back Meadowlands wins and has now won four times in 2015 from eight starts. The winner is eligible to the Hambletonian. He is trained by John Butenschoen for William Wiswell and M&L of Delaware.
Model Behavior dominated her $29,403 division of the W.N. Reynolds Memorial for filly trotters, winning in wire-to-wire fashion in 1:53.2. The daughter of Muscles Yankee was the 3-5 betting choice in the Grand Circuit event and did not disappoint.
Tim Tetrick put his filly on the lead from the start and she never looked back, coasting through fractions of :28.3, :57.1 and 1:25.4 before sprinting through the stretch in :27.3 to win with ease. Longshot Meadowbranch Wendy rallied well while out-sprinting Scented Roses to grab the place spot.
The winner, who gave Mission Brief all she could handle in the New Jersey Sire Stakes Final, is trained by Robert Baggitt Jr. for the Fair Winds Farm. The 1:53.2 clocking was a lifetime mark in Model Behavior's sixth win from 16 career starts. Her earnings continue to close in on the six-figure mark as they now stand at over $84,000.
The other W.N. Reynolds division for the filly trotters carried a purse of $29,803 and it was won by Magic Marker, who was released at 4-1.
The story of the race until the final jump was Rules Of The Road, who was gunned to the lead and flew through fractions of :27.1, :55.3 and 1:23.2. Pocket-sitter Blue Muse was having trouble keeping up while first over 'm So Fancy stalled the live outer flow. This allowed Corey Callahan to get separation on the field and Rules Of The Road opened up a five length lead in the stretch. But she began to get very leg-weary as the finish line neared and that enabled Magic Marker, who was far back early in the mile, to gun down the pacesetter in the final strides to steal the victory in a very sharp 1:52.2. The time was a lifetime-best performance. Lock Down Lindy could rally enough off cover and had to settle for third as the 6-5 favourite.
Magic Marker is a Andover Hall filly trained by 'Nifty' Norman. She was driven by Dave Miller, who had his choice of three fillies in the race. The winner is owned by Mel Hartman, Herb Liverman and Dave McDuffee along with Little E LLC. Magic Marker is eligible to the Hambletonian Oaks and the Delvin Miller Memorial.
Table Talk Preps For Golden Girls
Table Talk will march into the Golden Girls on Meadowlands Pace Night off an impressive first over, winning performance in the $26,000 Filly and Mare Open Pace.
Allowed to settle just off the pace, Table Talk and Tim Tetrick bided their time, as Hot List rolled to a scorching opening quarter of :25.3. Radar Contact, the prohibitive betting choice at odds of 1-2 then made a quarter-move to the lead and she dictated the tempo through a half-mile in :54.1 before facing the challenge of Table Talk. Those two mares raced on even terms past three-quarters in 1:22.4. When the field straightened away in the stretch, Table Talk asserted herself, leveling off and pacing home in :26.4 to win in a lifetime-best-equalling 1:49.3. Beach Story rallied to grab the second spot from Radar Contact.
Table Talk is a four-year-old Bettors Delight mare and is owned by The Wiz Kids Stable LLC. The winning trainer is W. Bart Dalious. Table Talk returned $8.60 to win.
There were no winning tickets in the jackpot Super Hi-5 in the last race, so the carryover pool going into Friday's program now stands at $197,368.
Total handle for Meadowlands Pace Elimination Night was $3,053,416 compared to $2,881,516 on Meadowlands Pace Elimination Night last year. This year did have an additional race, but also an early start time of 5:30 p.m.
Racing returns with the New Jersey Sire Stakes Finals for two-year-olds on Friday, July 17, with post time set for 7:15 p.m.
(With files from Meadowlands Racetrack)