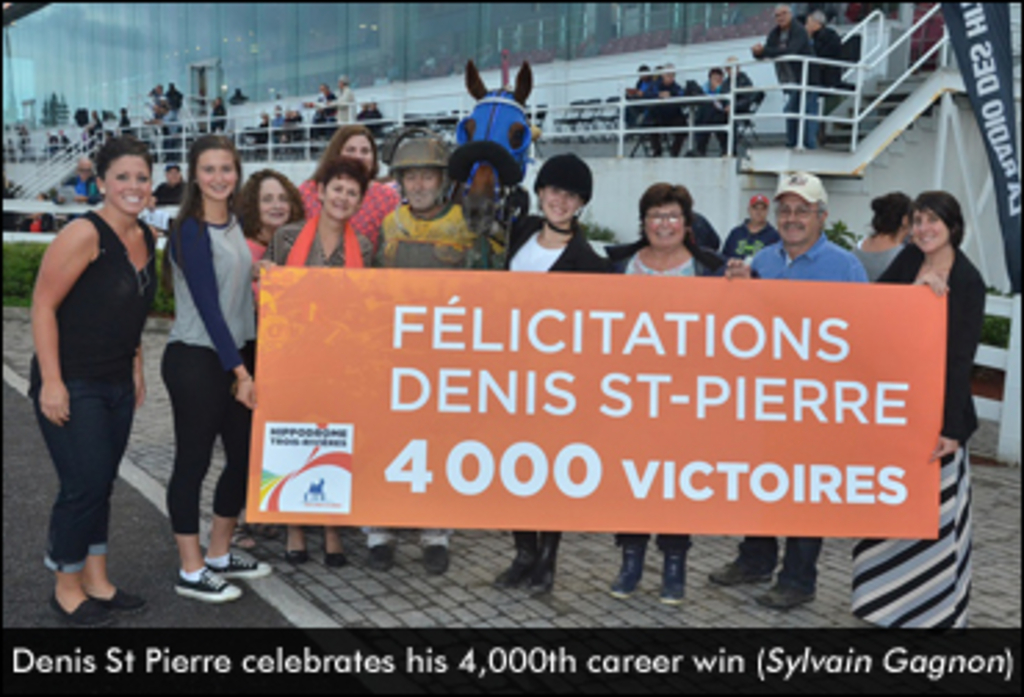 Published:
July 1, 2015 10:13 pm EDT
Harness racing driver Denis St Pierre wasted no time in scoring his 4,000th career victory on the evening Canada Day card at the Hippodrome 3R. He started off the night needing just two wins so he won both ends of the Daily Double to reach the milestone.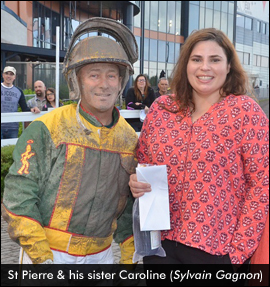 "I really wanted to achieve this goal tonight," St Pierre said. "Because my sister Caroline is here visiting me from New Zealand and it has made for a very special achievement to share with her. I wanted her to go back home with something special."
St Pierre, 54, hails from Montreal. He has been driving professionally since 1981. His milestone victory came in the second race with Guylaine Fortin trainee D Gs Laurie ($4.50) as they led from start to finish, winning by three-quarters of a length over Thebestofme (Mario Charron) in 1:58.1 over a rain soaked track with a two second variant.
"After I won the first race I knew I had to do it in the second," St Pierre said. "These were my two best drives of the night. You can say I was very determined to win the second race. The first race was very easy.
"I am so happy to have achieved this special mark here in Quebec and at the Hippodrome 3R," St Pierre said. "I wanted to do it here in front of my family and friends. This is home to me."
Win number 3,999 for St Pierre came in the first race, an opening round division of the $200,000 Quebec-Bred Series for three-year-old trotting colts and fillies.
Driving National Trace, St Pierre sent the daughter of Taurus Dream right to the lead from post five and never looked back. They held the field at bay until after the three-quarters, opening up by three lengths by the top of the stretch and then pulling away for a seven and one-quarter length romp in 2:03.2. The pocket-sitting SOS Harddrive (Francine Morrissette) was second with Double Chance (Sylvain Lacaille) third.
The win was the first in six starts this year for National Trace, who paid $5.60 to win. She is trained by Dany Fontaine and is owned and was bred by Ecurie Gaetan Bono Inc. of Montreal, Que.
In the third race, second division of the Quebec-Bred Series it was Intouchable and driver Mario Charron's turn to lead from start to finish.
Intouchable is a full brother to Quebec-Bred champion Maximuscle, and despite being winless as a two-year-old, Intouchable is making up for lost time at age three, wiring the field in 2:02.2.
Overtaking the lead from Notrouble Dechafra (Stephane Brosseau) before the opening quarter mile, Intouchable was challenged in the backstretch by a determined Seeyou Men (Robert Shepherd). But they could not collar the race leader, but did make Intouchable kick into another gear as he came home in :29.1 over the pff track to win by one and three-quarter lengths. Seeyou Men was second with Notrouble Dechafra third.
Unbeaten in two starts this year, Intouchable is trained by Maxime Velaye for owner/breeder Ecurie Provoquante of Mirabel, Que. He paid $3.30 to win.
St Pierre was not finished after the first two races. He also won the sixth race with 13-year-old pacer Imjustalittleguy ($4.10) and the finale with six-year-old pacer Our Star ($3).
Live racing resumes Sunday at the Hippodrome 3R. First race post time is 1:30 p.m. and the card will feature the $200,000 opening round of the Quebec-Bred Series for three-year-old pacing colts and fillies.
To view Wednesday's harness racing results, click on the following link: Wednesday Results - Hippodrome 3R.
(With files from QJC)