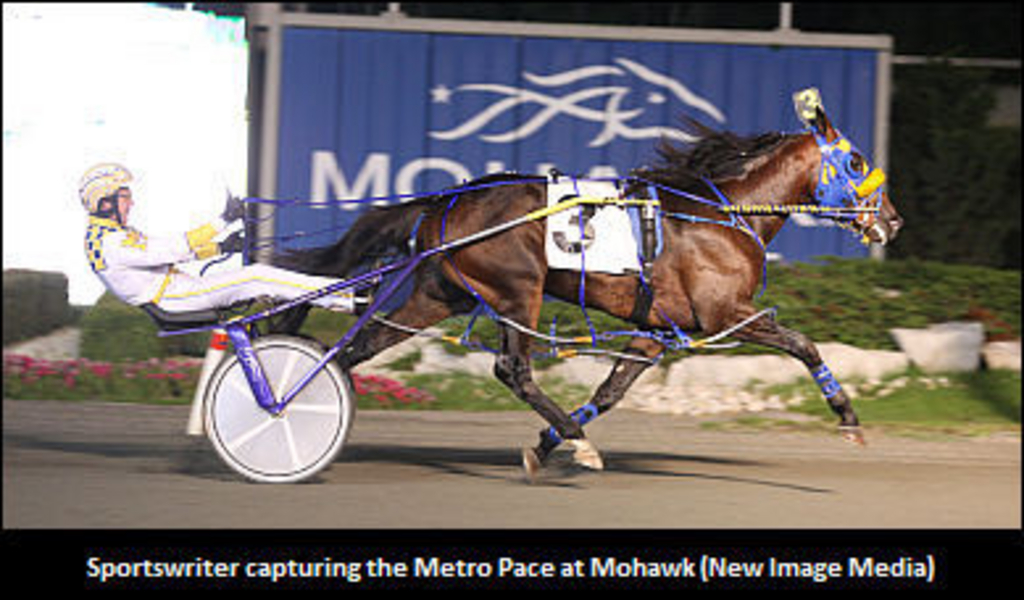 Published:
June 8, 2010 03:32 pm EDT
The connections of 31 three-year-old pacing colts and geldings have entered their charges to contest the Burlington Stakes, which will be contested in a trio of $100,000 divisions Saturday, June 12
at Mohawk Racetrack.
The Burlington is the Woodbine Entertainment Group's major preparation for the $1.5 million Pepsi North America Cup, which will get underway with eliminations on June 19. The final of the NA Cup will take place June 26 over the Campbellville, Ont. oval.
O'Brien Award winner Sportswriter, the Artsplace colt trained by Casie Coleman, has drawn Post 4 in the 10-horse first division, which has been carded as Race 5 (8:54 p.m.) on the 12-dash program.
In addition to a World Record performance in the 2009 Metro Pace, Sportswriter -- who has been installed as the 3-1 favourite in Trot Magazine's Pepsi North America Cup Spring Book -- recorded freshman stakes victories in the Nassagaweya and Champlain Stakes, and was narrowly defeated in his thrilling Breeders Crown race at Woodbine to cap off his season.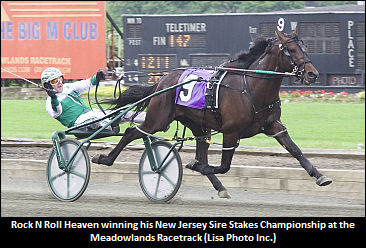 Coleman has listed driver Mark MacDonald to steer the career winner of seven races and $875,411 in purse earnings in the Burlington.
The second of the Burlington divisions (Race 8, 9:57 p.m.) will feature an 11-horse field and the fastest three-year-old pacer of the season, Rock N Roll Heaven.
Rock N Roll Heaven, a Rocknroll Hanover colt trained by Bruce Saunders, scorched the one-mile oval at the Meadowlands Racetrack his last time out in a $200,000 New Jersey Sires Stakes final. With driver Dan Dube at his lines, Rock N Roll Heaven went to the lead before the opening half-mile and paced to a one and three-quarter-length victory in 1:48.3.
Saunders has listed Dube to be at Rock N Roll Heaven's lines once again, and the duo has drawn Post 2.
Rock N Roll Heaven was gauged as the 8-1 third choice in Trot's Spring Book.
The third of the Burlington divisions (Race 9, 10:18 p.m.) will feature the Ben Baillargeon-trained and Mario Baillargeon-driven Mcaracas, who has turned many heads north of the border with his performances so far this year.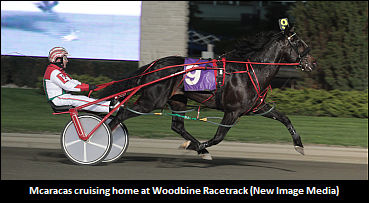 A son of McArdle, Mcaracas (85-1 in Spring Book) has paced some flashy miles this season. After swooping from off the pace in his 2010 pari-mutuel debut at Woodbine Racetrack, the colt went on to capture the final of the Diplomat Pacing Series in 1:51.4 and a division of the Bud Light Stakes at Flamboro Downs in 1:52.3.
Mcaracas and Baillargeon have drawn Post 3 for their Burlington division.
The complete fields for each of the Burlington divisions appear below.
For a free, printable program pages of each of the Burlington divisions courtesy of TrackIT, click the appropriate links below.
Division 1 (Race 5)
PP - Horse - Listed Driver
1 - Malicious - P. MacDonell
2 - Dr Dreamy - C. Callahan
3 - Kyle Major - J. Jamieson
4 - Sportswriter - M. MacDonald
5 - Grin For Money - J. Moiseyev
6 - Willies Place - L. Ouellette
7 - Im Gorgeous - C. Callahan
8 - OK Commander - D. McNair
9 - Twin B Warrior - J. Jamieson
10 - Code Word - J. Jamieson
Division 2 (Race 8)
PP - Horse - Listed Driver
1 - Future Million - S. Allard
2 - Rock N Roll Heaven - D. Dube
3 - Rock Me Please - S. Condren
4 - Ideal Matters - D. Palone
5 - Windfall Blue Chip - C. Callahan
6 - Stonebridge Tonic - D. McNair
7 - Art N Charm - M. Saftic
8 - Mach Dreamer - L. Ouellette
9 - Rojettes Best - TBA
10 - Triple Major - S. Filion
11 - Shipps Xtravganza - R. Waples
Division 3 (Race 9)
PP - Horse - Listed Driver
1 - Touch The Rock - R. Waples
2 - Luckcamotion - K. Oliver
3 - Mcaracas - M. Baillargeon
4 - BP Chimo - S. Filion
5 - Delmarvalous - C. Callahan
6 - Woodstock - D. Palone
7 - Aracache Hanover - D. McNair
8 - Keystone Raptor - J. Moiseyev
9 - Trick Man - R. Paver
10 - Warrawee Legend - R. Zeron
To view the complete entries for Mohawk's Saturday card, click here.