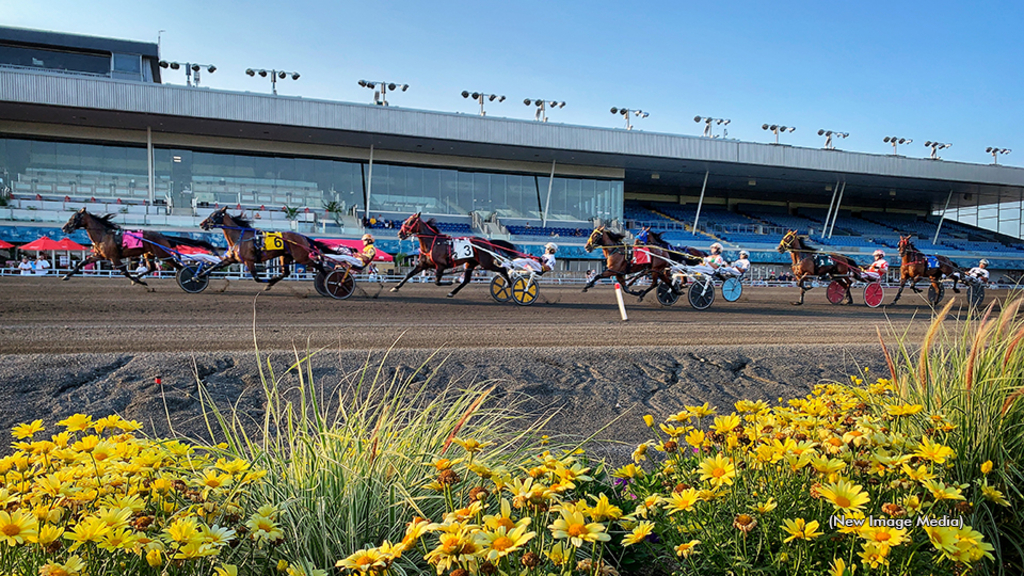 Published:
June 7, 2023 12:09 am EDT
In addition to the Pepsi North America Cup eliminations, Woodbine Mohawk Park will be hosting stakes eliminations for the Fan Hanover, Roses Are Red, Goodtimes and Armbro Flight this weekend with finals set for the Cup undercard on Saturday, June 17.
This Friday, there will be two $35,000 Roses Are Red Stakes eliminations for older pacing mares and two $30,000 Goodtimes Stakes eliminations for three-year-old trotters.
Two-time O'Brien Award winner So Much More leads the first elimination, starting from Post 2 with James MacDonald in the bike for trainer Don Beatson. The millionaire mare will try for her first Grand Circuit victory after having received only cheques in her previous showings in the Roses Are Red and Milton Stakes. She enters off a powerhouse mile in the $50,000 Forest City Pace on Camluck Classic night at The Raceway at Western Fair District. Her competition includes 2022 Breeders Crown Mare Pace champ Grace Hill from Post 1 and Blue Chip Matchmaker champ Amazing Dream N from Post 7, among others.
Last year's Breeders Crown Three-Year-Old Filly Pace winner Treacherous Dragon lands the outermost post in a sextet for the second Roses Are Red elimination. Dexter Dunn obtains the drive of the Nancy Takter-trained millionaire, who exits a second-place finish in the $100,000 Betsy Ross Invitational. Her competition includes Ontario Sires Stakes Super Final winner Silver Label from Post 2 and a pair who managed to upend U.S. Pacing Mare of the Year Test Of Faith last year in Kobes Gigi, starting from Post 3, and Mikala from Post 4.
Sandwiched between the two Roses Are Red eliminations is the first elimination for the Goodtimes, carded as Race 4. Freshman Breeders Crown champ Gaines Hanover will try to build on the black-type win when he starts from Post 7 with Louis-Philippe Roy in the bike for trainer Richard Moreau. SBOA Stakes winner Osceola also competes in the first elim from Post 8 in the field of eight. Trainer Marcus Melander has the elimination's lone stateside starter in Challenger from Post 1 with Dexter Dunn listed to drive.
The second Goodtimes elimination gathers eight. Marcus Melander sends the lone stateside starter in this elimination as well, this time sending Captain Chelsey off a victory at Harrah's Philadelphia with brother Mattias Melander listed for the bike. Last year's William Wellwood Consolation winner and Mohawk Million starter Hasty Bid also competes from Post 8 along with another developing trotting colt for Mark Etsell in Warrawee Yang from Post 6 and Ontario Sires Stakes Gold division winner Ghostly Casper from Post 5.
On Saturday, four North America Cup eliminations are part of a stakes loaded elim night that also features two $35,000 Fan Hanover Stakes for three-year-old pacing fillies and two $35,000 Armbro Flight Stakes eliminations for older trotting mares.
Elimination one of the Armbro Flight attracts Kentucky Sires Stakes competitor Eternal Lee to spar with five others, including third-place finisher in last week's Miss Versatility prelim Raised By Lindy, quirky speedster Warrawee Xenia, 60-1 Miss Versatility runner-up Swans Eye, local star mare HP Mama B and Ohio invader Refined.
Double-millionaire Bella Bellini lands Post 3 in the second elimination. Her five foes include millionaire and Miss Versatility prelim winner and local champ Adare Castle from Post 4 and Indiana sensation M Ms Dream from Post 2, among others.
A full field of 10 goes postward in the first elimination of the Fan Hanover. The group sees the return of Twin B Joe Fresh to the stakes ranks after she hit the shelf following back-to-back wins on the Grand Circuit in Lexington. The Chris Ryder trainee starts from Post 5 off a sixth-place finish against older mares at The Meadowlands. Her rivals include of Ohio champion McSeaside from Post 2, Ontario Sires Stakes Gold winner Lyons Bettorday from the pylons and Three Diamonds winner Zanatta. 
The second elimination for the Fan Hanover gathers nine onto the gate with Charleston, runner-up in the Breeders Crown Two-Year-Old Filly Pace last year, landing the outermost post. The Brett Pelling pupil will have to navigate the course from Post 9 to get around Breeders Crown champ Sylvia Hanover, who enters off a tightening victory on May 27 over the Mohawk oval. The field also attracts Ontario Sires Stakes Gold winner Cheesy Smile from Post 1, Matron Pace winner Vivians Dream from Post 5 and New Jersey Sires Stakes champ Ucandoit Blue Chip from Post 7.
To view Friday's complete entries, click the following links: Friday Entries - Woodbine Mohawk Park || Program Pages (courtesy TrackIT).
To view Saturday's complete entries, click the following links: Saturday Entries - Woodbine Mohawk Park || Program Pages (courtesy TrackIT).