Published:
June 7, 2011 03:14 pm EDT
Driver Brett Miller and trainer Ron Potter have discussed top three-year-old pacing colt Big Bad John as the days wind down to the eliminations for Mohawk Racetrack's $1.5 million Pepsi North America Cup
.
On Tuesday, June 7, the Little Brown Jug's public relations department reported that the Western Hanover colt will be leaving his hometown of Delaware, Ohio during the morning of Friday, June 10 and will travel to Campbellville, Ont. to compete in the Saturday, June 11 eliminations for the 'Cup.' The Cup will be raced June 18 over the Campbellville, Ont. oval.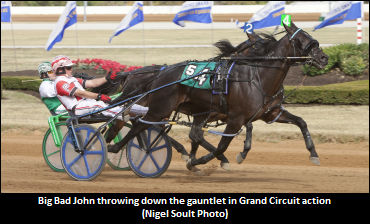 Big Bad John has drawn Post 7 for his Cup elim and is set to face off against Mystician, Roll With Joe and others.
According to the Little Brown Jug's PR team, Big Bad John --- who was purchased as a yearling for $130,000 --- has spent the past week relaxing at the Delaware County Fairgrounds.
"He likes his hometown," the colt's trainer, Ron Potter, was quoted as saying. "I jogged him on Monday and Tuesday and we'll go a training mile on Wednesday. He doesn't need a lot of work. I would like for him to be fresh for this weekend."
Big Bad John scored a solid 1:50.3 victory in last Friday's $210,234 Pennsylvania Sires Stakes at the Meadows. He blazed his back half in :53.4, with his final quarter timed in a sharp 26 seconds.
"I was fortunate enough to get some good fractions, but I've never had one come home that fast," Miller said about the PASS performance. "Horses of his calibre have a long year and you have to protect them as much as you can and not go wicked miles every week. He felt great all the way through the mile. He's got a gait to him that's just unbelievable."
To view the draw results for the NA Cup elims, click here.
(With files from the Little Brown Jug)