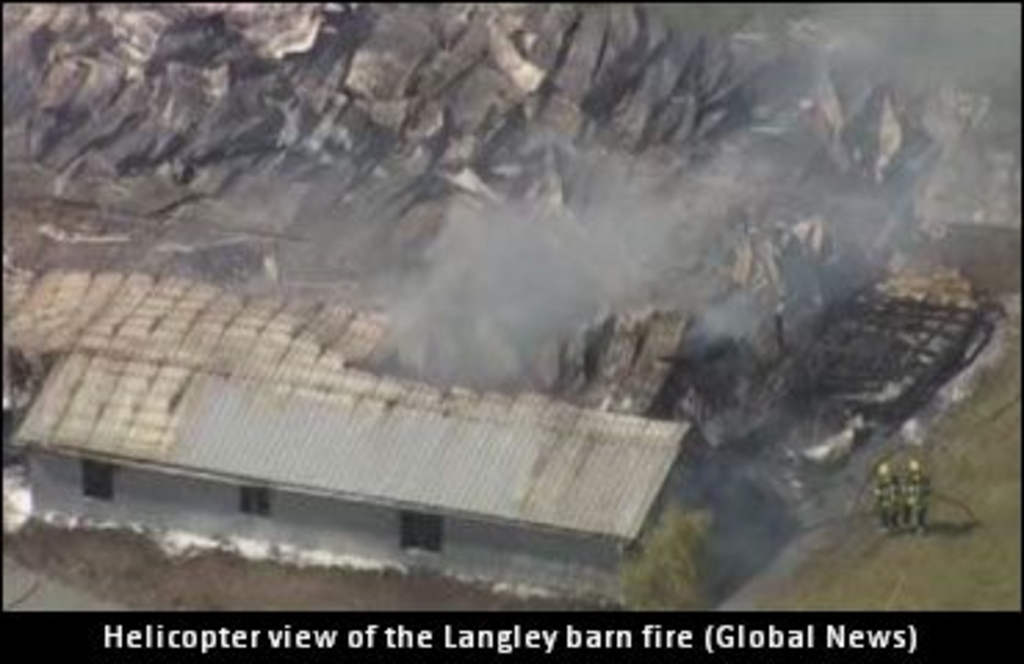 Published:
June 6, 2014 04:17 pm EDT
It has been announced that Fraser Downs and Harness Racing B.C. will be co-hosting an upcoming fundraising evening at the Surrey track in support of the principals of JJJ Stables, the owners of 17 Standardbreds that perished in a Langley, B.C. barn fire on Sunday, June 1.
"It's the worst thing that can happen when you're in the racing industry," Chuck Keeling, VP of Stakeholders Relations and Responsible Gaming at Great Canadian Gaming Corporation, was quoted as saying via release. "It is a horrific loss for everyone."
Fraser Downs and HRBC will co-host the Fraser Downs fundraiser on Tuesday, June 17 at 6:30 p.m. There will be a wine and cheese reception in the Homestretch at Fraser Downs. The evening will also include a silent auction.
Those wishing to contribute to the silent auction should deliver their items to the Fraser Downs reception desk prior to Sunday, June 15. All items collected will be on display in the Fraser Downs Atrium from Sunday, June 15 to Tuesday, June 17.
The release goes on to state that in an effort to assist JJJ Stables and families impacted by the Langley barn fire, a total of four GCGC-operated racetracks have initiated fundraising plans as a show of support in the recovery process. Hastings Racecourse in Vancouver, B.C. and Fraser Downs, along with Ontario's Georgian Downs and Flamboro Downs, will be collecting cash donations from Saturday, June 7 to Tuesday, June 17.
Langley Township Fire Chief Russ Jenkins said officials may never know what caused the extensive fire. "It was fully involved when we got there," he told The Vancouver Sun. "The main structure of the stable and the roof had collapsed. In my 22 years in the Township, this is the worst one I can imagine in terms of animal casualties." Fraser Downs' release also stated that the horses and equipment lost in the fire were uninsured.
For more information, contact Fraser Downs Racetrack & Casino at 604-576-9141.
Please join Standardbred Canada in offering condolences to everybody that has been affected by the Langley barn fire.
In order to consolidate comments on this topic, if you would like to send message of condolence to all of those affected by the fire, please do so by clicking here.
Additional fundraising efforts are also currently underway. More information regarding those efforts are contained in the 'Related Stories' section, which appears at the bottom of this story.
(With files from Fraser Downs)
Related Stories
• Horsepeople Help B.C. Fire Victims
• Update: Fire At Langley, B.C. Barn