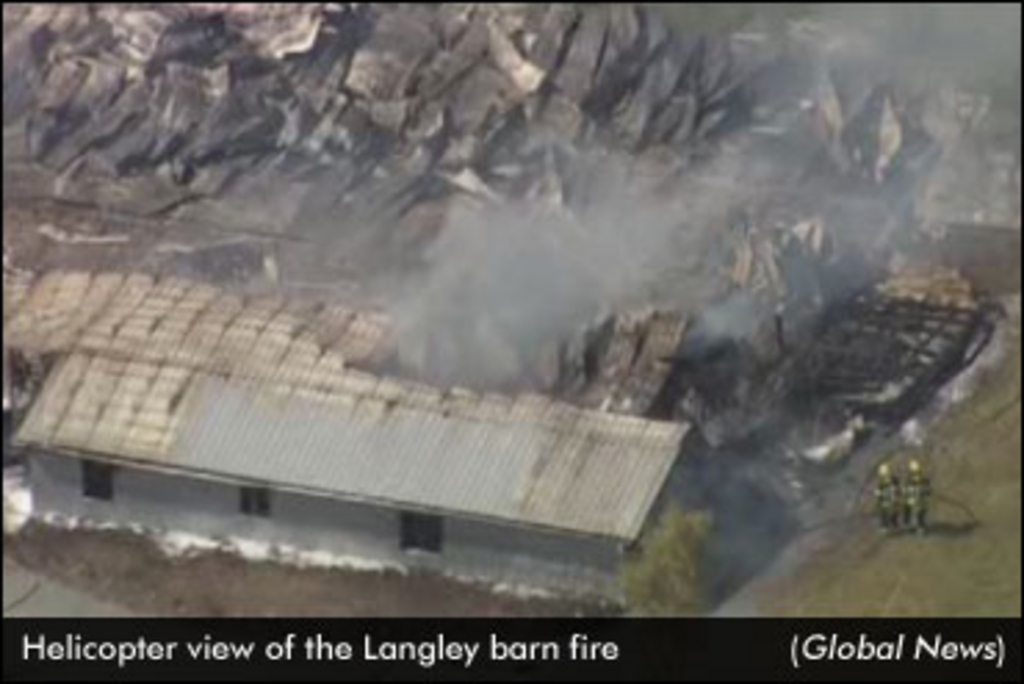 Published:
June 1, 2014 09:23 pm EDT
At least 20 horses perished Sunday, June 1 in a barn fire, which took place in Langley, B.C.
The reports state the barn that caught fire was located on 224th Street near 40th Avenue.
Trot Insider has learned that the majority of the horses stabled in the barn were trained by Bill Davis and owned by Rick Mowles of the J J J Stables. Investigations into the cause of the fire are currently underway. Early reports indicated that no horses made it out of the blaze.
Pat Walker, the assistant fire chief with the Township of Langley, has told the CBC that two people from an adjacent barn were treated for smoke inhalation and were later released. Walker also said that the cause of the blaze is unknown at this time.
"At this point in time, we're aware of at least 20 horses that perished in the fire, so we're in the overhaul process right now and due to the nature of the construction of the barn and the contents, we'll have to get a machine to clear the tin off and get at the animals," Walker told the CBC.
A report which appears on the website of the Vancouver Sun states that 17 Standardbreds, which were valued at up to $1 million, lost their lives in the blaze. The report also quotes Harness Racing BC Executive Director Jackson Wittup as saying that the horses were mainly two and three-year-olds. "They're all young horses so you're hoping they're the next world champion," Wittup said. "They had some great expectations of some of them." The article explains that an older pacing mare and a miniature horse were among those that lost their lives in the fire.
Township district fire chief Russ Jenkins told the Langley Advance that the fire department had to send out a second call, as more resources were needed to respond to the blaze. The report states that blaze required the help of several fire halls, 60 to 70 firefighters and five engines.
Trot Insider will provide updates on this story when more details are available.
Please join Standardbred Canada in offering condolences to the connections of the horses lost in the fire.