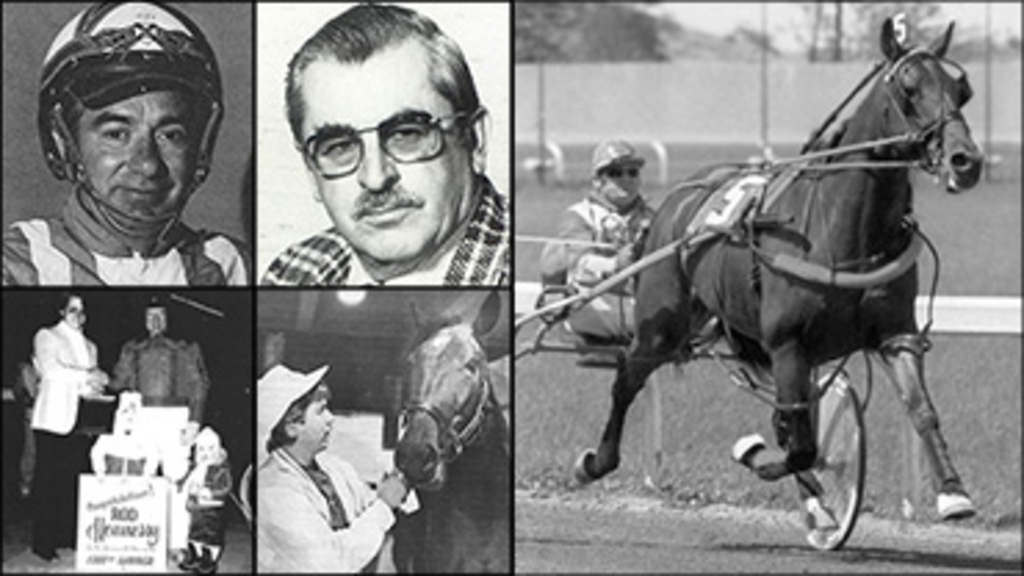 Published:
June 4, 2017 09:04 am EDT

This week's Rewind looks back at the decade of the 1980's as Robert Smith recalls many names, happenings and recollections from that time period in his regular monthly Years Ago feature.
1982 - John Hayes Elected For Third Term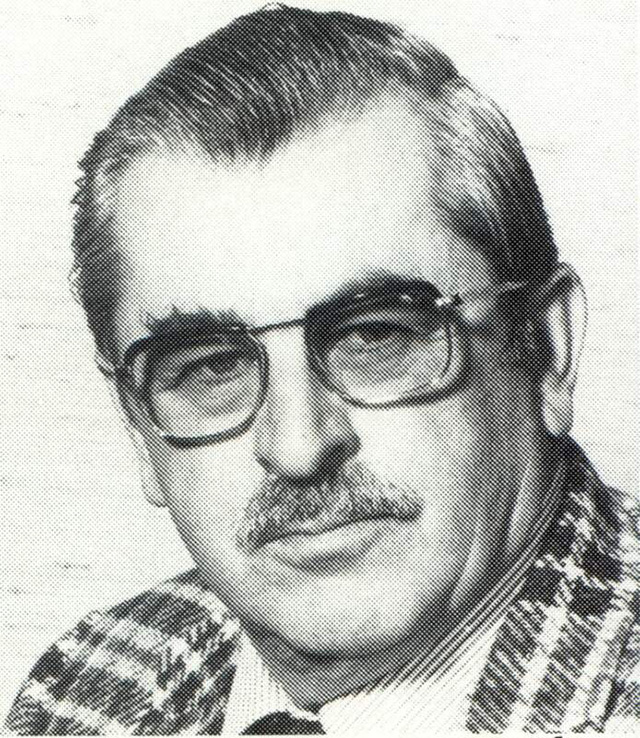 ​
The annual meeting of the C.T.A. was held on January 17, 1982 at the Westin Hotel in Toronto. Included on the agenda was the election of officers. Heading the list was the reelection of John Hayes of Beamsville as President; this marked his third term to head up the 18,000 member group. Also elected were Gordon Wells of Tracy, Quebec as First V.P., and Michael MacCormack as second V.P.. Other executive board members elected were J. Lyle MacMillan of Surrey, B.C., Colin Forbes of Edmonton, Alta., Alex Duncan of Stoney Creek and Edmund Bradley of Toronto.
John Hayes, now 63, has enjoyed a long and successful career -- an active participant at every level. He has bred, trained, driven and owned scores of horses dating back to his first involvement with an old horse called Dannie Rocket. Undoubtedly the highlight of his career has been the victory in the 1972 Little Brown Jug by Strike Out, which he co-owned as part of the Beejay Stable.
Others reappointed to their current positions include Wesley Bryant as Executive V.P. & Gen. Mgr., Dow Clowater and Richard Dooley in their current roles.
1984 - Pat Crowe Wins Eight Races at Kingston Park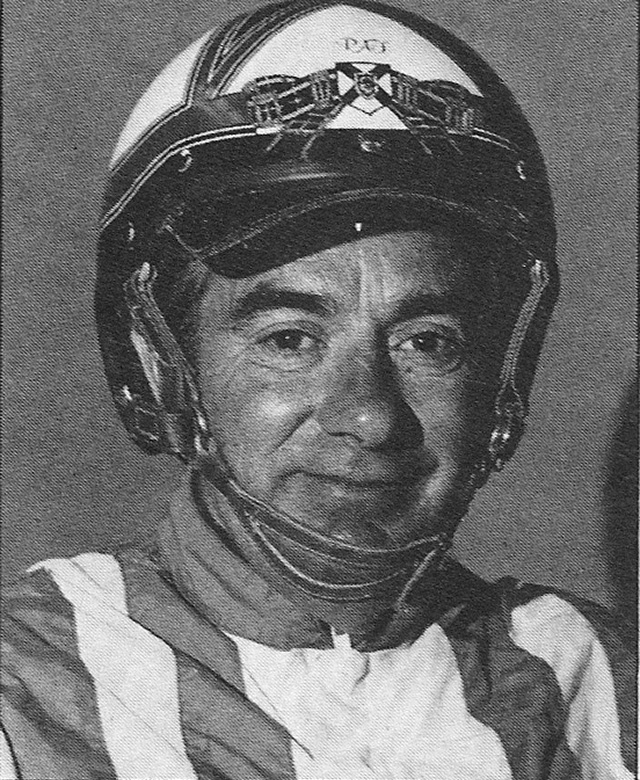 Sunday, December 30, 1984 turned out to be a pretty good day for 47-year-old horseman Pat Crowe, originally from Orr Lake, Ont. He made the best of his rather lengthy trip to Eastern Ontario to compete at Kingston Park. At the end of the 11-race program Crowe counted eight winning drives. This performance equalled the current North American record and obviously set a new personal record as well as setting a new high at Kingston Park.
His victories came with wins in the first and second races, taking both ends of the daily double. His next triumph was in the fifth behind Classic Work for owners Doug Graham and Gary Lupton of Kingston in 2:03.4. After missing the charmed circle in the sixth he made a clean sweep of the final five events. His biggest score of the day came in the featured Preferred Pace for a purse of $1,400 as he won with Easy Fleet in 2:03.4 owned by Tim Gillespie of Castleton, Ont. A crowd of 856 fans bet a total of $87,922 as they watched a masterful performance by Mr. Crowe.
1984 - Rambling Willie Alive and Doing Well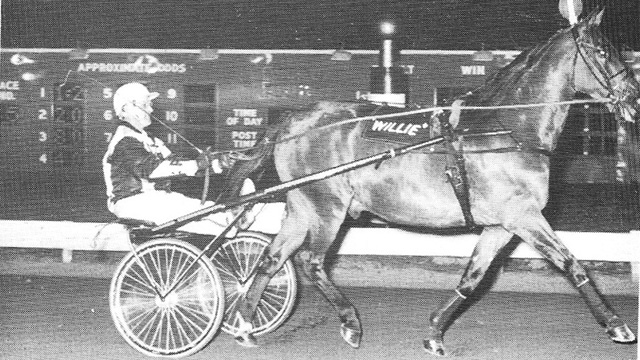 Now a retiree, Rambling Willie is shown on the Red Mile track in a special exhibition appearance, making the short trek from his current home nearby. His driver is Ed Bryce who shows him each day much to the delight of adoring fans.
June 1984 - When horses retire from racing they still often have a role to play. The much-celebrated Rambling Willie, who is now a resident at the Kentucky Horse Park, recently made a cameo appearance at Lexington's Red Mile. During the 'Parade of Breeds' featured each day during the current race meeting, the old fellow struts his stuff. Willie is now still a relatively young 14 years of age. During his illustrious racing career the gelding won slightly over $2 million dollars. Known as "The Horse That God Loved" he inspired a book so titled.
Rambling Willie was euthanized in 1995 at the age of 25 because of laminitis (an often fatal hoof disease) and was buried in the Kentucky Horse Park in Lexington, Ky., where he had resided on permanent exhibition in the Park's "Hall of Champions" representing the Standardbred breed.
1985 - Rod Hennessy Scores Win No. 1000 At Northlands Park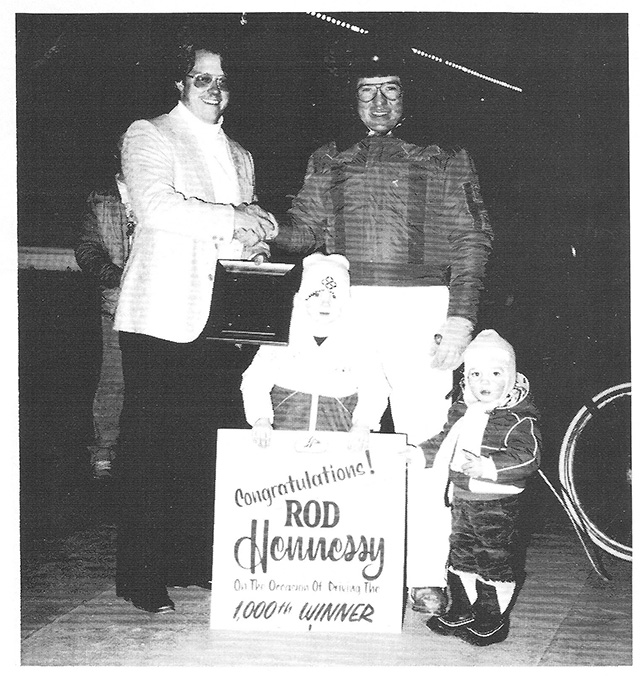 Pictured is driver Rod Hennessy along with children Katy and Michael shaking hands with Stampede Park Race Secretary Jackson Wittup on the occasion of his 1,000th lifetime driving victory on January 9, 1985.
​
When racing resumed at Edmonton's Northlands Park after the Christmas break in January 1985, a sign was patiently waiting to be used in the track's publicity office. A young 29-year-old driver named Rod Hennessy had scored his 999th win on Boxing Day and race officials were certain that the "magic" number was likely to happen at any moment. However a few "bumps" occurred along the way. Despite driving in several races on each card, Hennessy's 1,000th victory was slow in coming. An unusual "cold spell" in his driving and a three-day suspension for a minor infraction delayed the inevitable.
Finally on January 9th the big moment happened. Driving a horse named Starting Fluid, Hennessy recorded his 1,000th driving victory. The delay was not without its own small problems as the original sign was designed with the year 1984 painted on it. Thankfully this minor change had been made and Race Secretary Jackson Wittup made the trackside presentation on a night that had somehow taken forever to arrive. Accompanying Rod in the winner's enclosure were his two children, Katy and Michael. Victory number one for Hennessy came way back in 1970 at Edmonton as he scored with a horse named Cash Counsel in the time of 2:18.3 going for a purse of $500.
The winning horse on this momentous occasion, the four-year-old Starting Fluid, was owned by one of Rod's major supporters Murray Brown of Priddis, Alta., racing under the name of Savage Racing Stable. This combination accounted for a number of outstanding performers at this time, many of whom won most of the major colt stakes in Alberta. A few of their stars were Roarin Snortin, Power Plant, Cold Beer, Blazing Saddles and Tarport Myrtle.
1988 - Former Hockey Goalie Moves To Harness Racing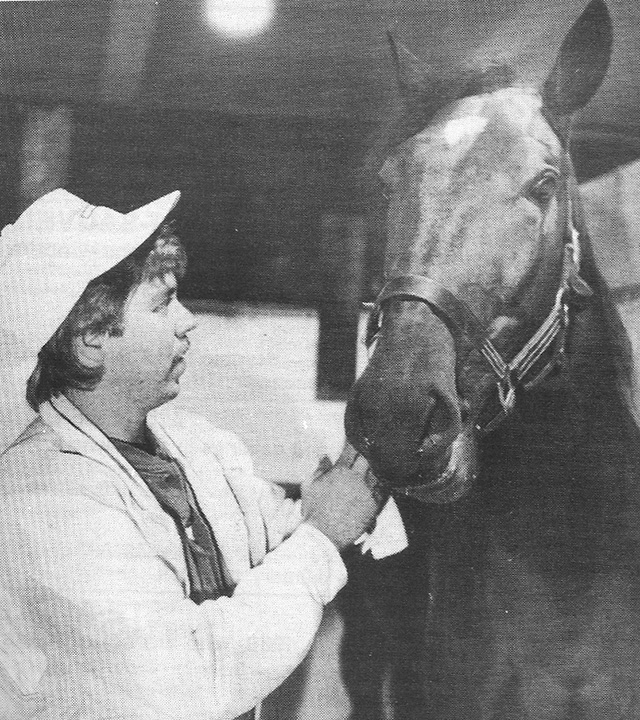 N.H.L. goalie Pat Riggin, originally from Kincardine, is shown with his first horse -- the rather-appropriately named Cool As Ice. He has left hockey to pursue a career in training horses and will centre his operation at London's Western Fair Raceway.
​
Pat Riggin, a former National Hockey League goaltender recently made the decision to trade in his goalie pads for a career in harness racing. At the age of just 29 he has decided to end his hockey career after a ten-year stint at the professional level, most recently playing for the Pittsburgh Penguins. Riggin, who hails from Kincardine, is no stranger to the racing business first gaining an interest through his father Dennis. He has also had a long-time affiliation with fellow townsman Dave Wall. He worked full-time for two summers in the Wall stable at Flamboro while he was still in Junior hockey.
Riggin became a licensed trainer two years ago and has chosen the colours of green and gold for his silks, which is the same as his Junior hockey team the London Knights. He is starting out with four horses which includes a couple of yearlings and plans include adding more via the claiming route. He hopes to join forces with Wall as well as his brother Larry to share in the ownership as the stable grows in size.