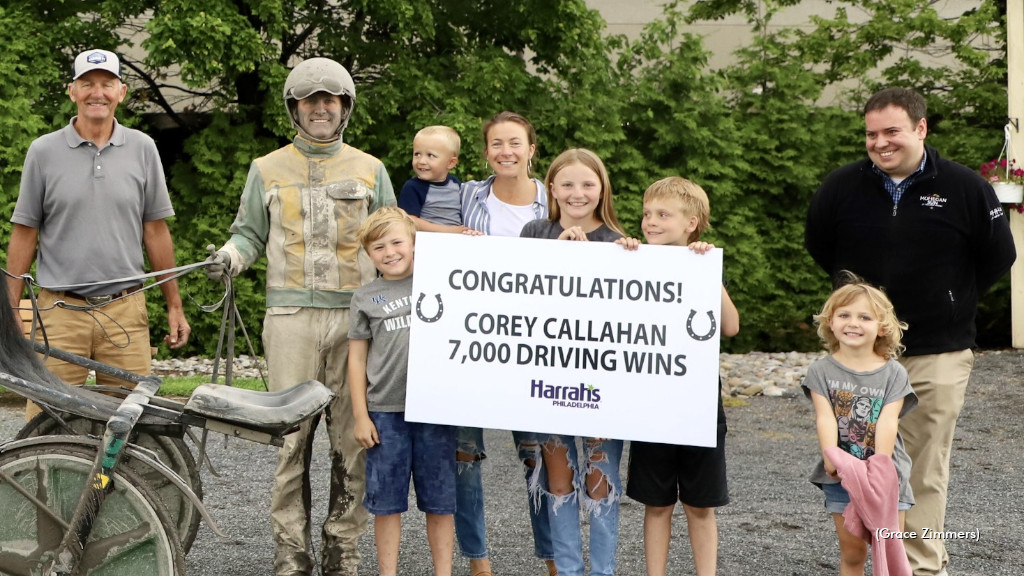 Published:
June 23, 2022 04:52 pm EDT
The highlight of an otherwise-dreary afternoon card of harness racing at Harrah's Philadelphia on Thursday (June 23) was the 7,000th career driving victory of "The Captain," Corey Callahan.
This milestone win for Callahan, who has guided horses to more than $102 million in earnings lifetime, may have been even better for the likable 44-year-old as the winner Star Razor is trained by his brother Shaun and is co-owned by his father Nick along with Yorwollahan Racing Team (of which Corey is a member) and Greg Godbout. They were all joined in the winner's circle by other, mostly youthful, members of Clan Callahan after the Dejarmbro gelding Star Razor went wire-to-wire in 1:54.4 to give him his fourth straight victory. ("The Captain" nickname, by the way, comes from Corey's days playing ice hockey for the University of Kentucky.)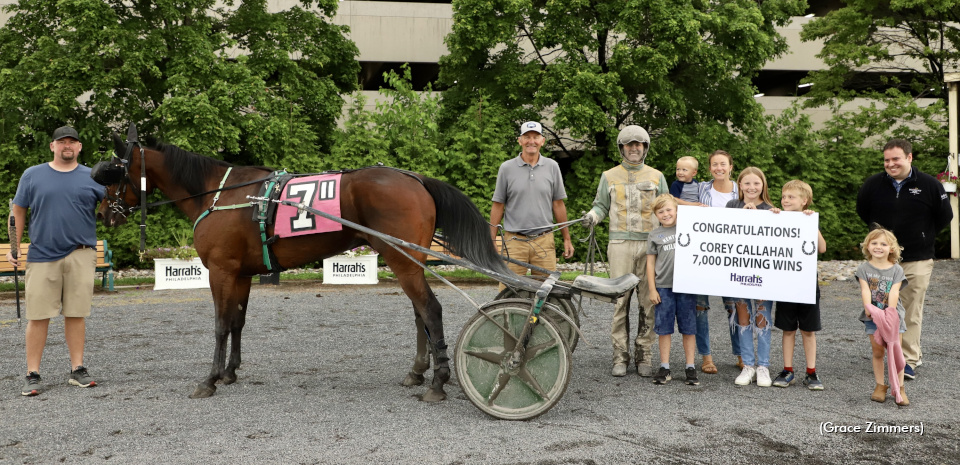 ​
Clan Callahan gathers in the Harrah's Philadelphia winners circle after Corey Callahan notched his 7,000th win courtesy Star Razor on Thursday (June 23).
Hayek has certainly shown an affinity for the Philly racing surface, winning his third straight in as many recent starts, taking Thursday's $22,500 handicap trot in 1:54 over a sloppy oval with two seconds allowed.
Having beaten lesser opposition in his two local starts, the winning E L Titan gelding had the chance to draw for an inner slot against a field which had won a collective $5.7 million. Driver Dexter Dunn put the opportunity to maximum use, getting Hayek into pocket position behind the swift-leaving JL Cruze, where he sat through splits of :27.3, :56.2, and 1:25. Dunn sensed his horse was full of trot and vacated the two-hole on the far turn, with his horse responding quickly and winning by 1-1/2 lengths over JL Cruze, who retained second in a photo over Scirocco Rob, winner of the last two races in this class but finding the outside post eight just a bit too much here.
Hayek boosted his lifetime bankroll over the $412,000 mark for trainer Per Engblom and the partnership of Evan Katz, David Rovine Stable LLC, and Frank Canzone.
The continued patience in waiting for the four-year-old year of Bee Forever, the majestically-bred son of Muscle Hill – Bee A Magician, again paid off for owner Melvin Hartman, Herb Liverman, and David McDuffee, as he remained undefeated in four 2022 starts after a 1:55.1 off-track triumph in the $15,300 co-feature. The gelding tucked fourth then was sent uncovered by Dexter Dunn heading into the backstretch, where he roared by the pacesetter nearing the far turn and stayed clear to the wire while trotting his own back half in :56.2. Nifty Norman's trainee shows a very large capacity, maneuverability, and determination – not quite the smoothest horse yet, but Bee Forever may still soon be among the better trotters on the North American scene.
Racing will continue at Harrah's Philadelphia on Friday at 12:25 and Sunday at 12:40; programs are or will be available at the PHHA website.
(PHHA / Harrah's Philadelphia)