Published:
June 23, 2011 11:23 am EDT
According to a report, Steve Mahar, a winner of over 5,000 dashes in the race bike, is relocating to Ontario to condition horses
.
During an interview with Prescott Rossi of WABI TV5, Mahar, 62, said that he is stepping away from the race bike in Maine, but will be stepping into a jog cart in Ontario.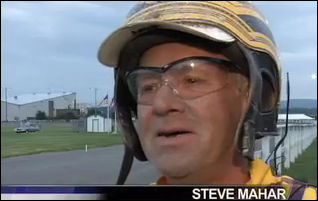 "My wife wants me to cut back. I'm not sure if I want to or not, but I've got to do it at some point and this is probably the best point to do it," he said.
Mahar, who has 747 career training wins, did not specify where exactly he would be conditioning horses. The interview only states that the horseman will be moving to Toronto to train.
Mahar also stated that the door is always open for him to return as a driver. "I doubt it," he said in regard to a return to the race bike, "but you never know. The door's always open."
To view the video interview, click here.
(With files from WABI TV5)