Published:
June 19, 2021 11:05 pm EDT

The Meadowlands played host on Saturday (June 19) to the third round of the Graduate Series for trotting four-year-olds, which went in a pair of $50,000 divisions, as well as the fourth preliminary of the Graduate Series for pacing four-year-olds.
Its Academic staved off late charging rivals off his slow tempo to take the first division of the Graduate Trot narrowly in 1:51.3.
Launching from post 7, driver Yannick Gingras cleared control with Its Academic to a :27.3 first quarter while even-money favourite Hypnotic AM settled into second and Gangster Hanover in third. The field remained single file to the half in :56.4, where then Ready For Moni angled first over from fifth.
Ready For Moni rolled uncovered into the final turn to challenge Its Academic for the lead. He ranged to within a length of the front by three-quarters in 1:25 and crept closer to the temposetter through the stretch. Though Its Academic gamely held onto the lead to win by a diminishing nose over Ready For Moni, with Hypnotic AM finishing third and Gangster Hanover taking fourth.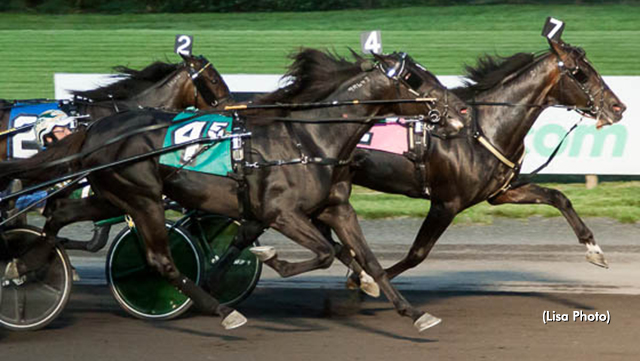 A four-year-old son of Uncle Peter, Its Academic won his sixth race from 11 starts this season and his 19th from 35 overall, earning $643,688. Ron Burke trains the $6.20 winner for owner Brad Grant.
Beads' speed proved enough to hold off 2020 Hambletonian champ Ramona Hill, in her seasonal debut, with the Per Engblom trainee taking the second Graduate split in 1:51.
Off the slight 8-5 favourite, Beads took the lead to a :27.1 first quarter and faced no pressure through middle fractions of :55.3 and 1:24. Pocket-sitter Get Legs mounted a bid off the turn but stalled while Ramona Hill, sitting fifth throughout, gathered her momentum down the center of the course. The 9-5 second choice cut into Beads lead nearing the finish, but settled for second by three-quarter lengths. Get Legs finished third.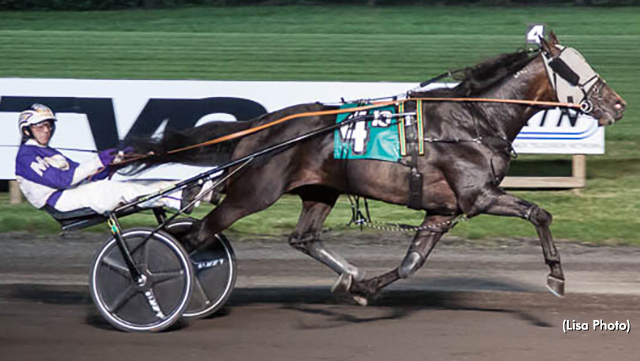 Owned by Buckstone Land Livestock, Beads won his ninth race from 27 starts, earning $334,213. David Miller drove the four-year-old son of Archangel who paid $5.20 to win.
In an overflow field going a single dash for the Graduate Pace's fourth preliminary, Ruthless Hanover took the bulk of the $75,000 purse as he paved the speed and clung to victory in 1:47.2.
Cattlewash claimed control to a :27.1 opening quarter before driver Andrew McCarthy motored Ruthless Hanover out of third for the lead moving to the backstretch. Once in front, Ruthless Hanover cruised uncontested to a :53.4 half and by three-quarters in 1:20.4 as the two-wide flow, led by Allywag Hanover, inched closer but soon lost steam.
The main battle in the stretch came from pocket-popper Cattlewash and Captain Barbossa, who sat third through the mile. As each pair found a lane into the eighth pole, they lunged towards Ruthless Hanover, but the Thomas Cancelliere trainee hit the beam just in time to win over Cattlewash and Captain Barbossa. Allywag Hanover finished fourth.
"I was just trying to figure out how to play it," said McCarthy. "There wasn't much speed, so I pushed off the gate. I think the horse might have been a touch sharper tonight [than in his win two back]. I think I went too slow in his last race [in the Allywag Hanover defeat]. I wanted to go a little bit bigger numbers tonight and play catch me if you can. The one good thing about this horse, he's watching those horses on the outside and he does enough to make sure he stays in front. He knows what his job is."
Winning his ninth race from 16 starts, Ruthless Hanover has banked $154,375 for owner John Cancelliere. The four-year-old gelding by Somebeachsomewhere paid $10.80 to win.
Two-year-olds kicked off their portion of the Grand Circuit season with the Arthur Tompkins Memorial for trotters and the Geers Stakes for pacers.
In the $48,400 Tompkins for male trotters, Global Pandemic ($3.40) rode the pocket behind Theresnolimit S before emerging a quarter mile from home and sprinting to the line in :27.2 for a 1:56 victory. Yannick Gingras drove the son of Cantab Hall and Nicoles Promise for Ron Burke and the partnership of the Burke Racing Stable, Hatfield Stables and Weaver Bruscemi. Theresnolimit S (Mattias Melander) narrowly held second from Keg Stand (Dexter Dunn).
The $44,600 Tompkins split for fillies went to Peyton Hanover ($4.60), who sustained gradual gains from out of midfield to cascade past pocket rival and runner-up Pink Gypsy (Gingras) and pacesetter American Beauty (Dunn), who finished third, at the end of a 1:55.2 mile. Tim Tetrick drove the Muscle Hill-Pennies From Above filly for trainer Marcus Melander and the partnership of Jeffrey Snyder and the Four Friends Racing Stable.
Of the 14 rookie pacing colts and geldings split into two $30,650 divisions of the Geers, I Did It Myway ($3.60) took top honours with a 1:52 mile, capped by a scintillating :54.1 final half. Todd McCarthy drove the Tony Alagna-trained son of Captaintreacherous and Flyme To The Moon for Country Club Acres, Joe Sbrocco, Don Latore, and Alagna and Fodera Racing. Pickup Man Hanover (Billy Dobson) and Spread The Fear (Tetrick) gave futile pursuit to finish second and third, respectively.
River Ness ($12.60) and David Miller captured the other division, sustaining a first-over push through the far turn and edging clear of Burke stablemate Treacherous Tom (Gingras) by 1-3/4 lengths in 1:53.3. Atlas Hanover (Andy McCarthy) faded to third after being worn down on the lead off the home turn. The Burke Racing Stable, Weaver Bruscemi, J&T Silva-Purnel & Libby, and Frank Baldachino own the victorious son of Huntsville and Summertime Lea.
In between the evening's Graduate prelims, the David Dewhurst trainee Racine Bell paced a track- and world-record mile in the $50,000 Kissin In The Sand Final. The four-year-old mare by So Surreal seized the lead to a :27 first quarter, rated a :55.1 half and accelerated to three-quarters in 1:21.4 while bearing a first-over bid from Lyons Sentinel, and she maintained her speed through the stretch to the finish of a 1:48.1 mile. The time equals the track and world record set by My Little Dragon in 2007 at The Meadowlands.
"This week she was better," said Jason Bartlett. "Last week, she was a little vulnerable down by the wire. She's always been better out of a hole, but tonight, she was vicious. I knew Lyons Sentinel would be right there with me. So I had my horse race a little harder through the last turn. I got a little bit of a gap off the turn. It makes a difference when you open up a little space. As soon as she hears footsteps, she digs right in."
"I had no idea about the record," Bartlett also said. "She's like driving a race car. It was the best night of her life."
A LITTLE MORE: Meadowlands Pace winterbook favourite Perfect Sting sent a strong message to the three-year-old colt pacing division by taking a conditioned event (where he faced seven older foes) in a lifetime-best 1:48.1 for trainer Joe Holloway and driver Miller. The son of Always B Miki had to battle back against a resilient Shake That House, who actually had a head up at both the three-quarter and stretch calls, to record a game head win as the 1-2 favourite.
Miller led the driver's colony with four trips to the winner's circle while Ron Burke schooled four to victory lane.
All-source handle totalled $3,012,752.
Racing resumes Friday (June 24) at 6:20 p.m. (EDT).
(with files from The Meadowlands)