Published:
June 19, 2012 09:17 am EDT
Ron Pierce's earnings this past Saturday night at Mohawk Racetrack, which included wins in the $350,000 Goodtimes Stakes with Beer Summit and $100,000 Mohawk Gold Cup Invitational with We Will See, helped move the Hall of Fame driver into the No. 2 spot in career purses.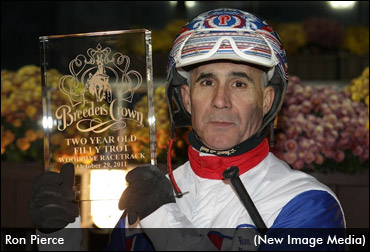 Mike Lachance had been No. 2 in earnings since 1996, when he leapfrogged Herve Filion and Bill O'Donnell from fourth place. Entering Monday, Pierce's lifetime earnings were $188.6 million while Lachance's earnings were just past the $188 million mark.
Pierce is third among North American drivers in earnings for this year, with $4.19 million. Tim Tetrick leads the way, with $5.32 million, followed by Yannick Gingras at $4.23 million.
John Campbell is the all-time leader in purses, with $281.5 million.
(with files from HRC)