Published:
June 18, 2017 05:16 pm EDT
It is starting to sound like a foregone conclusion, but Marc Campbell cleaned up again Sunday (June 18) afternoon at Red Shores at Summerside Raceway.
The Winsloe, P.E.I. resident had six wins Saturday night at Red Shores Charlottetown, then followed suit Sunday, capturing four dashes on the 13-race card, including the afternoon feature and a leg of the Atlantic Aged Mares Pacing Series.
The King of Island racing sent Woodmere Articblue to the front from post seven in her $3,870 Atlantic Aged Mares Pacing Series leg, presented by Standardbred Canada, setting fractions of :28.2, :57.3 and 1:26.4 before kicking clear for a 13-length victory in 1:55.4. Campbell also trains the five-year-old daughter of Articulator for owners Tanya Tremblett and Stevi Jardine. Brodys Leona (Corey MacPherson) finished second, with Sos Bambie (Gary Chappell) checking in third.
The other mares division went to Ramblinglily and driver Walter Cheverie in a well-rated 1:57.2 score through front-end fractions of :28.1, :58.3 and 1:27.4. Allan Jones of New Brunswick trains and co-owns the seven-year-old daughter of Articulator with fellow New Brunswick resident Norman Leger. Shadows Myster (Kenny Arsenault) got up for the place prize, while third place went to Best Risque (Jason Hughes).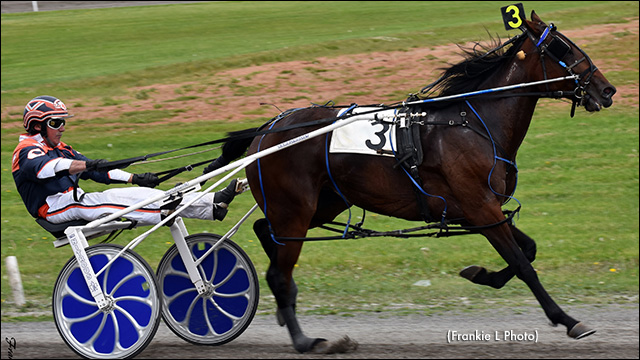 Ramblinglily was among the Atlantic Aged Mares Pacing Series winners Sunday at Summerside
The $2,400 afternoon feature was full of familiar tactics for Campbell and Eagle Jolt, as the ten-year-old son of Village Jolt moved first-over to wear down pacesetter Junebugs Baby (Myles Heffernan) and win by half a length in 1:56.2. Junebugs Baby was second with Narragansett (Hughes) third.
Eagle Jolt is owned by Wilbur and Marie MacDonald.
Campbell, who leads the Summerside driving colony with 15 wins this season, had his two other visits to the winner's circle on the day aboard his own trainee Ryans Allstar (1:58.1) and with Earl Watts trainee Winrlosedrnkdaboze (2:00.2). Watts also had a training double, winning as well with Woodmere Luckypercy (Chappell, 2:00.2).
It was a day Devon Wallace of Alberton will never forget as he captured his first lifetime driving win aboard Im On Schedule off a pocket score of 2:01.1 at 22-1 odds for owner David Lewis.
Corey MacPherson had a driving triple on the card winning with Scotty Mach N (1:56.3) for trainer Trevor Hicken, Souverain (2:00.4) for owner-trainer Phil Sizer, and Brief Interlude (2:01.1) for owner-trainer Paul Conway.
To view Sunday's harness racing results, click on the following link: Sunday Results - Summerside Raceway.
(Red Shores)