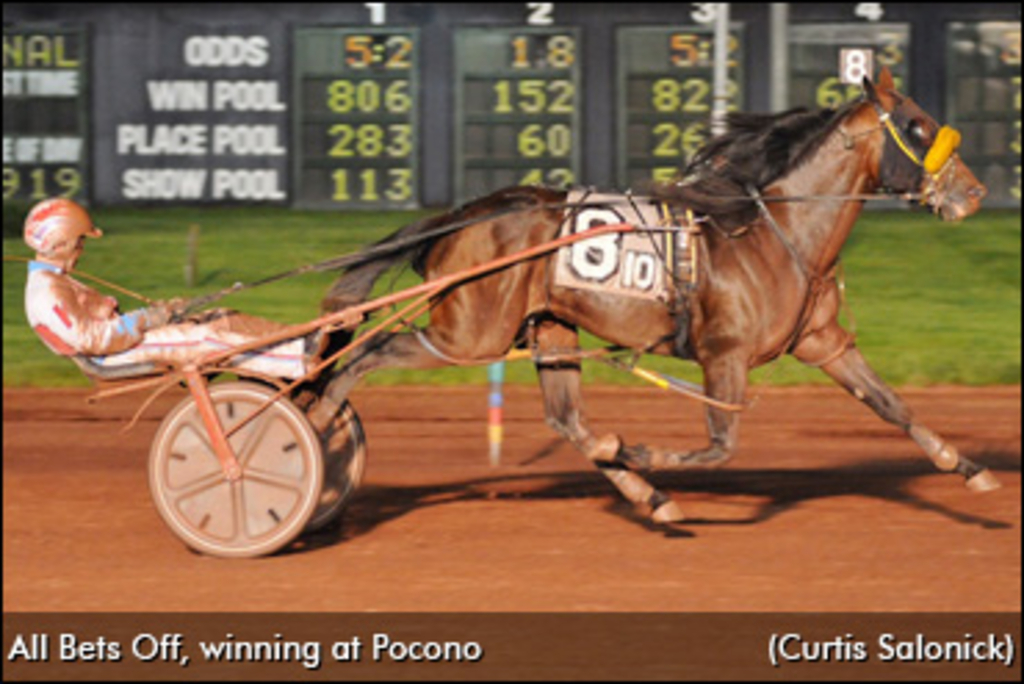 Published:
June 18, 2016 08:47 am EDT
Matt Kakaley knows there are harness racing fans that respect and appreciate All Bets Off and what the pacer has accomplished in his career. Still, he would like to see that group grow in numbers. He hopes to create some new followers on Sunday when he drives All Bets Off in the $179,000 Roll With Joe Stakes at Tioga Downs.
All Bets Off, a multiple-stakes-winner of $1.94 million in lifetime purses, will start the Roll With Joe from post No. 1 as part of a four-horse entry from the stable of trainer Ron Burke.
"I love that horse," Kakaley said. "You hear about all the big horses that they talk about in the older division this year, and how great it's going to be, and his name never gets brought up. I don't think that's fair to the horse because he deserves it. He's raced good every start this year. I think everyone kind of figures he's a little track horse, but I think he deserves a mention with those top free-for-allers.
"There are some people that give him some recognition, but I think he'll win a couple big ones this year and set the record straight."
Kakaley has driven All Bets Off for the majority of his career and won a number of top stakes with the now five-year-old stallion. All Bets Off's list of victories include the 2013 Matron, 2014 Messenger, Milstein Memorial, and Art Rooney, and the 2015 Confederation Cup and Prix d'Ete.
This year, All Bets Off has won three of 11 races and hit the board a total of nine times. He finished second from post eight in the Battle of Lake Erie, losing to 2015 Horse of the Year Wiggle It Jiggleit, and second in the Levy Series championship to New Zealand-bred Bit Of A Legend.
Wiggle It Jiggleit and Bit Of A Legend are the two top-ranked horses in the most recent Hambletonian Society/Breeders Crown poll.
In addition, All Bets Off was a troubled-trip fourth in the Molson Pace, where he was beaten by 1-1/2 lengths despite a :26.3 last quarter-mile.
"He's been big for me," Kakaley said. "I've won a lot of big races with him and he's put me in the national spotlight. He's given me some thrills, that's for sure. He's special to me."
One of All Bets Off's best efforts this season came over a sloppy track in an upper-level conditioned race at The Downs at Mohegan Sun Pocono. All Bets Off was last at the halfway point before launching a three-wide move on the final turn and getting to the front by mid-stretch. He won by 2-1/4 lengths over Bigtown Hero in 1:50.2 on May 14.
"Just the way he did it and the way he felt that night, I knew he was getting sharp," Kakaley said. "You don't win from fourth over at Pocono, three wide on the last turn, against those horses. It just doesn't happen.
"I think he's in career form right now and that start kind of proved it to me, how good he is. He was ready to get going and take on the big dogs, I think. He's just a handy little horse and I can do anything I want with him."
All Bets Off and entry mates Take It Back Terry, Limelight Beach, and Always At My Place are 8-5 on the morning line for the Roll With Joe. The field also includes Rockeyed Optimist, Canada's Horse of the Year from 2015 and defending champion State Treasurer, and McWicked.
A son of Bettors Delight-Armbro Penelope, All Bets Off is owned by the Burke Racing Stable, the partnership of Mark Weaver and Mike Bruscemi, Frank Baldachino, and The Panhellenic Stable Corp.
"He's been super," Kakaley said about All Bets Off. "I'm looking forward to him being good again Sunday."
---
This story courtesy of Harness Racing Communications, a division of the U.S. Trotting Association. For more information, visit www.ustrotting.com.