Published:
June 16, 2014 03:21 pm EDT

The rarest of all horses, a pure white Standardbred colt, will be the guest of honour at an upcoming open house.
The open house is to help celebrate New Jersey's 'Month of the Horse' at Fair Winds Farm in Cream Ridge, New Jersey on Sunday, June 29.
The colt, whose birth is a 1-in-200,000 occurrence, is named White Bliss and was born at Fair Winds in May of 2012. He was sold at public auction in November of 2013 for $240,000 and is now in training to be a pacing racehorse. Both of his parents are bay and the colt was pure white at birth; he is not albino.
White Bliss will be turned out in a paddock for some grazing time and relaxation and will be easily seen and photographed by visitors. The open house at Fair Winds, which is at 74 Red Valley Road in Cream Ridge, is from 1 p.m. to 4 p.m. The colt will be outside for the duration of the open house.
Visitors will also get see some of the dozens of foals, baby horses, born each year at Fair Winds and learn how they're raised and eventually trained to be harness racehorses.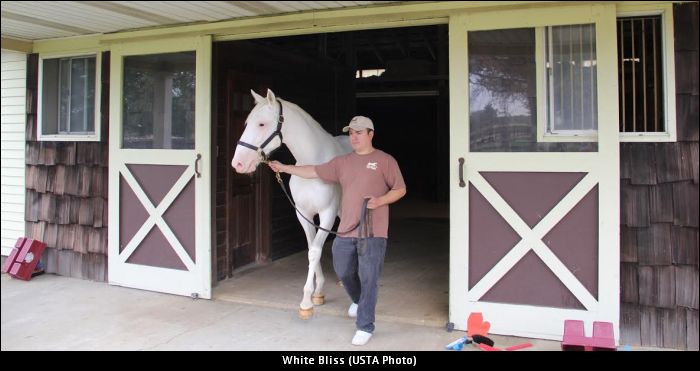 Fair Winds is also home to Hogan Equine, a special clinic just for horses, run by Dr. Patricia Hogan. Dr. Hogan will show visitors the workings of the clinic, where hundreds of horses, mostly Thoroughbreds and Standardbreds, are treated each year. Her client list reads like a "who's who" of horse racing, and includes 2004 Kentucky Derby and Preakness winner, Smarty Jones.
Blacksmith Tom Mulryne will do demonstrations of how horses' feet are kept healthy by regular trimming and shoeing when needed. There will also be a few friendly horses for visitors to pet and groom.
There will be kids' activities and information from the United States Trotting Association, NJ Farm Bureau, FFA , Harness Horse Youth Foundation, Pony Club, Rutgers Equine Science Center and the Monmouth County 4H.
Fair Winds is one of New Jersey's largest and most successful farms, producing champion Standardbreds that compete at Freehold Raceway, The Meadowlands and all over the world.
This is a rain-or-shine event. Visitors are asked to leave dogs at home and to be aware that there are very few paved surfaces on the farm, so it may be rough going for wheelchairs and strollers.
---
This story courtesy of Harness Racing Communications, a division of the U.S. Trotting Association. For more information, visit www.ustrotting.com.