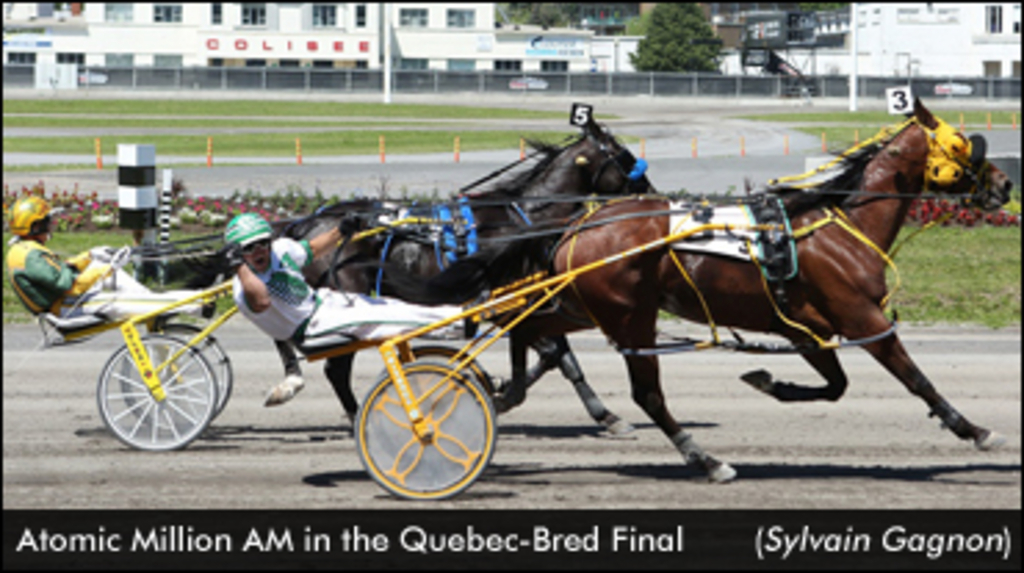 Published:
June 14, 2015 06:51 pm EDT
Hippodrome 3R hosted four $35,000 finals of the Quebec-Bred Series for four and five-year-old trotters and pacers on Sunday and the action was fast and furious from the start.
In the third race first division for older pacing horses, Atomic Million AM made the most of an ideal two-hole trip behind race favourite Champagne Phil, sliding out from second at the top of the stretch for driver Sylvain Lacaille and out-gunning him to the wire in a track record time of 1:52.3.
Driver Denis St Pierre sent Champagne Phil out for the lead from post five, but Lacaille and Atomic Million AM had other ideas, stinging St Pierre and Champagne Phil to the opening quarter in :26.2 before letting them take command. Separating from the rest of the field, Champagne Phil led with Atomic Million AM sitting right on his back through the half-mile in :55.2 and the three-quarters in 1:24.2. Then sling-shotting from the pocket, Atomic Million AM collared Champagne Phil, going on to win by a half-length. Bali (Shane Weber) was third.
The time of 1:52.3 was the second fastest mile in Hippodrome 3R history. It lowered the track record for older geldings of 1:53.1 that was set by Duc Dorleans in 2014. Atomic Million AM is also eligible for the $200,000 Prix D'Ete at the Hippodrome 3R on August 23.
For Atomic Million AM, it was the four-year-old son of Million Dollar Cam's fourth win in seven starts in 2015. He has yet to finish worse than second in a race this year. He is trained and owned by Alain Martin of Gatineau, Que. and bred by Ferme Alain Martin. Atomic Million AM paid $4.40 to win.
There were no surprises in the fourth race finale for older trotting horses as the prohibited favourites, Maximuscle and driver Mario Charron, scored with ease in 1:57.3 to keep his perfect seasonal record. It was the fastest trotting mile this season at the Hippodrome 3R, but a "walk in the park" for Maximuscle.
SOS Ticket Master (Pascal Berube) was first out of the starting gate with Maximuscle and Charron floating on the outside in second-place. Then after the opening quarter-mile in :28.1, Maximuscle had taken command from SOS Ticket Master. Only SOS Ticket Master was able to stay somewhat close to Maximuscle as he cut easy fractions of :58 and 1:28. Then by the top of the stretch, SOS Ticket Master moved to the outside and was looming closer to Maximuscle. But Charron just raised the lines and Maximuscle easily trotted to a two length triumph. SOS Ticket Master was second with Somoli E (Jerome Lombart) third.
A four-year-old gelded son of Angus Hall, Maximuscle earned his fourth straight win this season. He is trained by Maxime Velaye and owned and bred by Ecurie Provoquante of Mirabel, Que. Maximuscle paid the mandatory $2.10 to win. Over the past three years Maximuscle has made a clean sweep of the Quebec-Bred Series finals.
My Tallia Ideal and driver Stephane Gendron took full advantage of the late scratch by Champagne Shower, and were not only able to leave and get to the lead, but cut torrid fractions and set a track record in the sixth race finale for older pacing mares.
After getting stung early by Victoria Semalu (Stephane Brosseau) to the opening quarter mile in :27.1, My Tallia Ideal settled on the lead, but kept motoring to the half-mile in :56.3 and the three-quarters in 1:25.3. It was then that Brosseau moved to the outside with Victoria Semalu, but they could not collar My Tallia Ideal, who crossed the wire a winner by three-quarters of a length in 1:54.1. Chaleurs Fantasy (Gaetan Lamy) was third.
The time of the race lowered the track record for older pacing mares by two-fifths of a second that was previously co-held by not only My Tallia Ideal from a race two starts back, but also Champagne Shower (2015) and Sans Frontiere (2013).
Trained by Michel Allard, My Tallia Ideal is a five-year-old mare by Western Ideal with five wins in 17 starts this year. She is owned and was bred by Gestion Mario Audet Inc. of Portneuf, Que. and Yves Sarrazin of La Presentation, Que. She paid $2.80 to win.
Viva Bayama and driver Denis St Pierre, despite being parked out three-wide from the start of the backstretch to the top of the stretch, was still able to pull away for a three length triumph in the eighth race finale for older trotting mares.
Canbec Kangourou and driver Jocelyn Gendron were out early, but were challenged right away by Kim Sorel (Martin Gingras), who took the lead at the opening quarter-mile in :28.4. Then Gendron came right back with Canbec Kangourou to retake the lead. They raced to the half-mile in :59 as St Pierre advanced to the outside from sixth-place with Viva Bayama, but they faced road traffic as Lucyll Bro (Stephane Gendron) came to the outside and that forced Viva Bayama three-wide down the backstretch. Hoping to clear and be first-over was out of the question for St Pierre and Viva Bayama as Kim Sorel and Gingras came out again and kept Viva Bayama parked out three-wide past the three-quarters in 1:29.1 and around the final turn. But the classy mare Viva Bayama was up to the task, collaring the leaders by the top of the stretch and then pulling away at the finish in 2:00.2. Kim Sorel was second with Sexy P V (Yves St Jacques) third.
The win was the third straight for the four-year-old daughter of Muscle Mass. She is trained by Sebastien Giroux and co-owned by Richard Dinelle of Limoges, Ont. and Andre St Laurent of Saint-Sulpice, Que. She was bred by Bayama Farms and paid $3.20 to win. It was her seventh victory in 10 starts this year.
Live racing resumes Wednesday at the Hippodrome 3R. First race post time 7:00 p.m.
To view Sunday's harness racing results, click on the following link: Sunday Results - Hippodrome 3R.
(With files from QJC)