Published:
June 1, 2011 11:52 am EDT
On Tuesday, May 31, lightning rod thoroughbred trainer Rick Dutrow began his hearing in front of the New York State Racing and Wagering Board, which is considering either suspending or revoking the
controversial conditioner's license.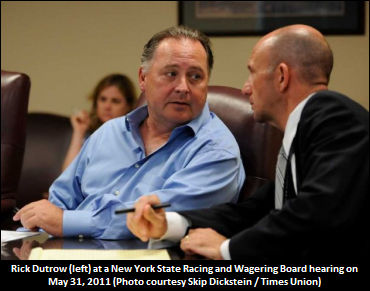 A report on timesunion.com states that Dutrow is in front of the board to explain a Butorphanol positive produced by one of his Aqueduct runners last November. Three syringes containing the drug Xyzaline were also found in his Aqueduct barn last November. Dutrow has appealed the suspensions which resulted from the infractions.
The article states that Dutrow has been sanctioned at least 64 times for various rules violations in nine different states and at 15 racetracks. The Kentucky Horse Racing Commission revoked Dutrow's license to train horses in the state.
The article has quoted Dutrow as saying, ''I want to be cleared up from everything,'' and "I've always had a bad reputation, I've told you all along. I've done bad things, so it follows me around.''
After the Tuesday hearing, Dutrow was quoted as saying, ''I am hoping that it went good for us,'' and "You've seen me in tight spots before. I'm not going to blow my cool or break down. You guys know my game, man.''
(With files from timesunion.com)
Related Stories
• Dutrow Denied KY Training License
• Dutrow's Kentucky License Scrutinized
• Dutrow Forced To Justify License
• Dutrow's License To Be Reviewed