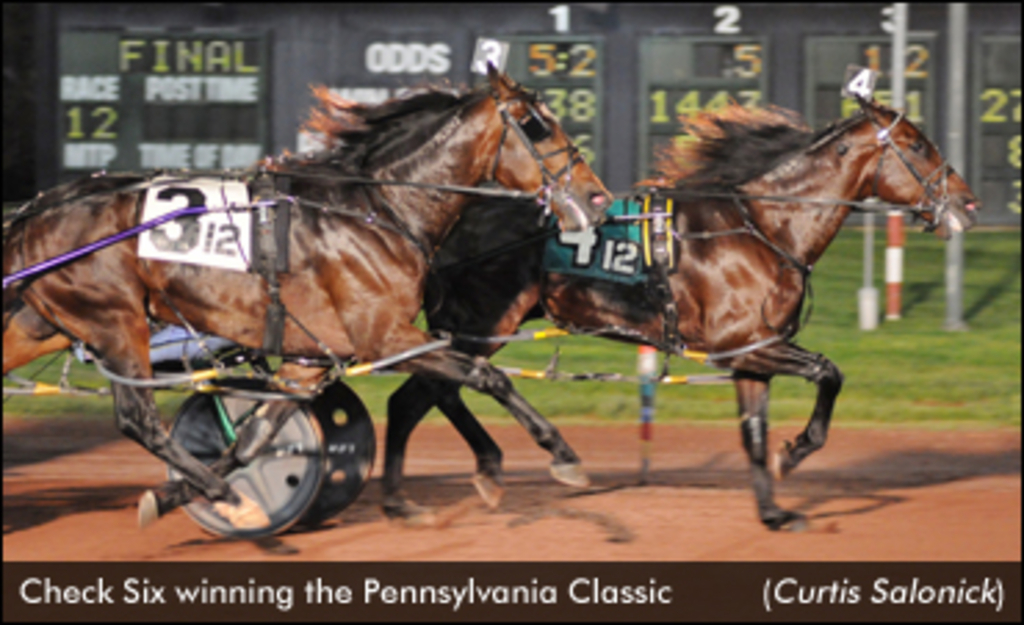 Published:
May 7, 2016 11:56 pm EDT
Ron Burke trainees finished 1-2-3 in the inaugural $561,500 Pennsylvania Classic Final for state-sired three-year-old pacing colts and geldings Saturday night at The Downs at Mohegan Sun Pocono, with Check Six going a big mile on the front end to reduce his mark a tick to 1:50.3, while in the companion filly event, the $313,800 Miss Pennsylvania Final, Pure Country bounced back from her first loss in the previous week's elimination race, going the first-over route and still matching the 1:50.3 clocking of Check Six.
Check Six was three-wide a good part of the first turn, then when The Catamount Kid backed off from between horses, Check Six was sent to the front by driver Yannick Gingras to go around stablemate Big Top Hanover, with the first quarter of :27.2 not too taxing despite the extra real estate. Check Six got a further breather when the half was tripped in :56.1.
The price of pacing went up exponentially down the backstretch when another Burkeite, Check Six's fellow Classic elim winner JK Will Power, advanced to give a stern first-over challenge. The three-quarter beam was tripped in 1:23.1, and then despite going into a stretch headwind the battling duo still stormed in :27.2, with Check Six holding off JK Will Power, let go at a surprising 12-1, by a neck, with Big Top Hanover another one and a quarter lengths back. The Catamount Kid held for fourth, with Lyons Snyder, a slight favourite over the winner with both sent off at 2.10-1, unable to capitalize on second-over position and settling for the last cheque.
Trainer Ron Burke took home $488,850 of the rich purse in the Classic, while North America Cup-eligible Check Six became the second-largest money-winner of the year by boosting his 2016 bankroll to $301,250, with his career bankroll for Burke Racing Stables LLC, Weaver Bruscemi LLC, William Switala and James Martin at $416,139.
Yannick Gingras, who drove both elim winners for Burke, picked Check Six for his Classic mount, "but the choice was closer than I would have thought earlier – JK Will Power really showed me a lot last week, and he was big again tonight." But Check Six came up biggest of all at the finish and took in the glory of winning the first Pennsylvania Classic.
* * * * *
She's b-a-a-a-a-a-c-k!
Pure Country, last year's U.S. champion two-year-old filly who suffered her first loss in a Miss Pennsylvania elim in her seasonal debut, looked like a filly who could rank with the greats when she overcame a hard first-over trip to win the Miss PA Final in the same time as Check Six, a new lifetime mark.
Pure Country settled mid-pack early as Call Me Queen Be went a stinging :25.2 first quarter, then yielded to 4-5 favourite Darlinonthebeach (Pure Country was the 2-1 second choice, the first time she had gone off higher than 3-5 in her career). Darlinonthebeach went on to the half in :53.3, with driver Brett Miller having Pure Country in gear first-over at that point and advancing the length of the backstretch to be right in contention at the 1:21.3 third quarter mark.
Pure Country just kept on advancing in the turn, gaining the lead past the curve's midpoint, and continued on strongly through the lane, holding off the late rush of second-over I Said Diamonds by one and a quarter lengths, with Call Me Queen Be, Newborn Sassy, and I Said Please getting the minor awards in that order; the favoured pacesetter Darlinonthebeach tired and finished seventh.
Speaking of her Miss Pennsylvania elim loss, trainer Jimmy Takter noted that "she had been a little sick and I had lost two weeks" of preparation for her 2016 bow. The "real" Pure Country showed up at Pocono Saturday, and the smiles on the faces of Takter and owner Adam Bowden of the Diamond Creek operation were big indeed.
(And yes, both winners were second choices, both won in 1:50.3, and both took new marks. The styles of the two races, though, couldn't have been more different.)
* * * * *
In the race before the two Pennsylvania stakes finals, the American Ideal gelding Bigtown Hero, no stranger to extreme speed when at his prime, went the fastest mile in North American harness racing this year, 1:48.1, in an $18,000 pace. Simon Allard drove the 'Hero' like he was the best, and the horse validated his judgement, moving to the lead after a :26.2 opener and then hanging out middle splits of :53.4 and 1:20.3 before holding of the late charge of Aslan to win for Allard's brother, trainer Rene Allard, and the partnership of Allard Racing Inc. and Yves Sarrazin.
* * * * *
Pocono resume of Luck Be Withyou:
2013 – Breeders Crown winner.
2014 – Took his lifetime mark of 1:48 here.
2015 – Franklin Final winner despite post nine and Pocono Pacer of the Year.
2016 – Van Rose Invitational winner in 1:48.4 in only his second start of the year.
Luck Be Withyou, a five-year-old son who loves The Downs at Mohegan Sun Pocono, came out of the pocket behind a blistering pace set by JK Endofanera to win the $50,000 Van Rose Invitational by a neck. "Luck" left strongly to get the garden spot behind JK Endofanera, who whistled to the quarter in :25.4, rated the half against the wind to a fairly-moderate :54.3, then tacked on a :26.2 third quarter (an amazing :52.1 in the odd-numbered quarters) to open a clear lead at and past the 1:21 third quarter mark.
But George Napolitano Jr., the Downs' all-time leading driver, got "Luck" narrowing the gap into the stretch, with P H Supercam, the only other horse connected to the front, swinging three-wide as the winner vacated the pocket. Luck Be Withyou drove down the center of the track and picked up JK Endofanera late to win by a neck, with P H Supercam just another neck back in third. Rockeyed Optimist, the favourite from post six, was away sixth and had non-flowing cover, and only able to rally for fourth; Levy hero Bit Of A Legend N, stuck with the outside post nine, was also thwarted by the speed-burners inside him, took back, raced fourth-over, and could do no better than sixth.
"The two of us get together on this track pretty well," understated Napolitano, who also noted, "And this was only second start after a long layoff" (before his 2016 debut last week, he had last raced at Balmoral on November 7). Chris Oakes is the horse's regular conditioner when he is racing in the area, and John Craig saw his veteran raise his lifetime bankroll to $1,148,611 with his fast mile, taken with the mercury in the low 50's and with a decent stretch headwind.
(With files from PHHA / Pocono)