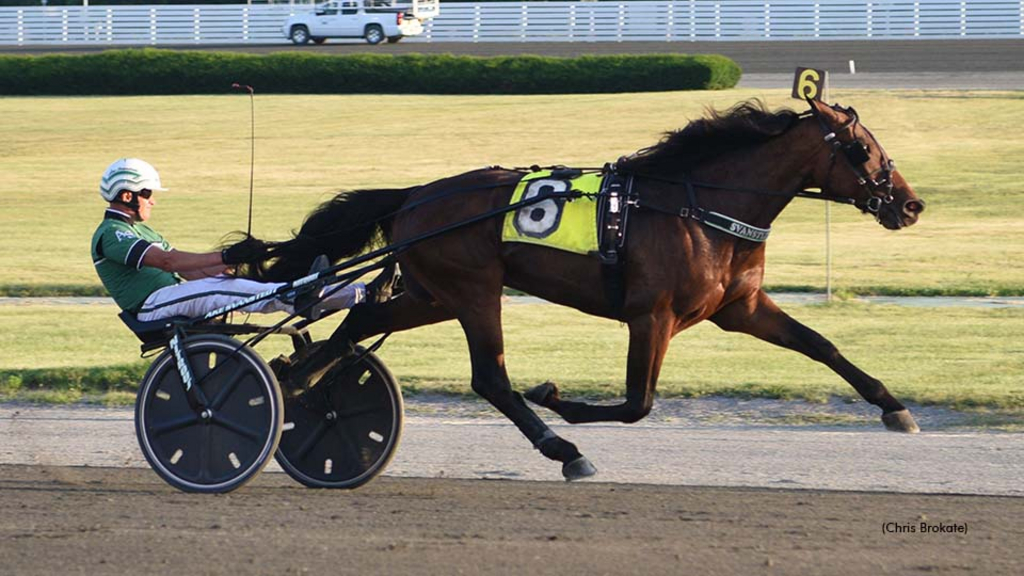 Published:
May 5, 2022 12:13 pm EDT
Ake Svanstedt captured the 2021 Hambletonian Stakes with Captain Corey and will begin the road to this year's $1 million event on Saturday with Hambo hopeful Justice in the $150,505 Dexter Cup at Freehold Raceway in New Jersey.
The Dexter Cup is the season's first Grand Circuit race for three-year-old male trotters and features five Hambletonian-eligible horses in its field of eight. Joining Justice in that group are Brave By Design, Grizzly Bare, Pour Mea Double and Pretender. The Hambletonian, the sport's premier event for sophomore trotters, is August 6 at The Meadowlands.
Justice, who won his first three races last year before getting upended by sickness in a fifth-place finish in the New York Sire Stakes championship and being shut down for the remainder of the season, drew post seven for the Dexter Cup. Svanstedt trains, drives and co-owns the colt, who is 7-1 on the morning line.
The Dexter Cup will be Justice's first race this year. He won a qualifier in 1:54.2 on April 9 at The Meadowlands. When eliminations were not needed last week for the Dexter, he qualified on April 30 at The Big M, finishing fifth in 1:56.1.
"He trained back good and he qualified fast the first qualifier," said Svanstedt, who owns Justice with Little E, Torbjorn Swahn and Myfab. "We thought there was going to be an elimination, but [when there wasn't] we qualified again. He qualified good. Not so fast, but he felt good and he was not tired at the end. He came home good."
Justice, a son of stallion Chapter Seven, was purchased for $62,000 at the 2020 Lexington Selected Yearling Sale. He is a half-brother to Apostles Creed, who won the 2015 Dexter Cup elimination and was fourth in the final, and his dam Religulous won a division of the 2010 Lady Suffolk, which is the Dexter Cup's companion event for three-year-old filly trotters.
"He's a good horse," Svanstedt said about Justice. "He has a good attitude. He's fast. Everything is good with him. He's had some soreness sometimes, but for the moment he feels good. Hopefully, he can stay sound for the whole year. If he can stay sound the whole year, I think he's a good horse."
Is he a Hambletonian horse?
"I hope so," said Svanstedt. "I can always dream. We'll see what he can do."
Pretender is the 5-2 morning-line favourite in the Dexter Cup. Yannick Gingras will drive for trainer Nancy Takter, leaving from post six. The colt was a winner on the Grand Circuit last year, capturing a division of the Kindergarten Classic Series, and finished third in the Valley Victory Stakes. He won his 2022 debut on April 15 at Freehold.
Brave By Design, from the stable of Jennifer Bongiorno, finished second in last year's New Jersey Sire Stakes Standardbred Development Fund final at Freehold and is the 3-1 second choice. Joe Bongiorno will be in the sulky Saturday, starting from post two, in the gelding's seasonal debut.
"It seems like a lot of good horses," said Svanstedt. "It's going to be a tough race."
Saturday's card also features the $58,025 Lady Suffolk for three-year-old female trotters. Svanstedt will send out three of the eight fillies in the field, with Little Pink Lies leading his group. She won a division of the Kindergarten Classic Series last year and finished third in the New York Sire Stakes championship. She is 7-2 on the morning line and will start from post one with Svanstedt in the sulky.
Svanstedt's remaining two horses in the Lady Suffolk are Extrordinarylady S and Mighty Angel. Extrordinarylady S, a lightly raced daughter by the Swedish stallion Maharajah, is one of three Hambletonian-eligible fillies in the race, with Per Engblom-trained Giza Dreams and Jeff Gregory's Pretty Interesting.
The 3-1 morning-line favourite in the Lady Suffolk is What Should I Goo. The filly is trained by Richard Hans, who bred and owns the daughter of Googoo Gaagaa-Ginger Hanover, and will be driven from post two by Russell Foster. She has won four of seven career races and earned $30,416.
Racing begins at 12:30 p.m. EDT at Freehold Raceway. The Lady Suffolk is race eight and the Dexter Cup is race 10 on the 13-race card. For Saturday's complete entries, click here.
(USTA)