Published:
May 5, 2019 08:29 pm EDT
Dayson captured the final Open Trot of the Miami Valley season on a sunny Sunday afternoon (May 5), as he scorched the lightning fast five-eighths-mile oval in 1:53.3.
Driver Chris Page pressed the million-dollar-winning favourite unhurriedly towards the front, gaining the lead well after the original pacesetter Moonshiner Hanover reached the :27.4 first quarter. The six-year-old Conway Hall gelding continued on the front from there, collecting his 30th victory from 61 starts. Trained by Ron Burke, Dayson extended his win streak to six; winning four at The Meadows before relocating to Ohio and Miami Valley for his most recent pair of successes.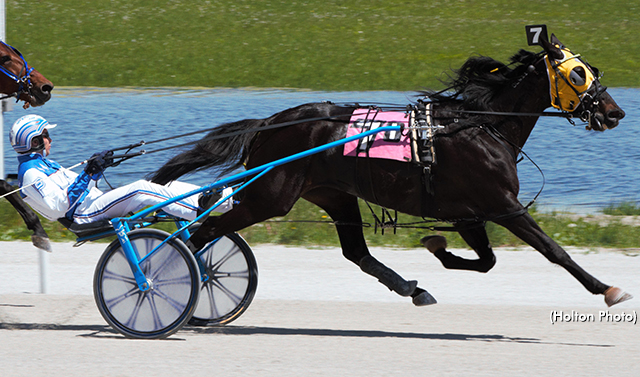 Full Surge trotted a huge mile to finish a closing second, while Moonshiner Hanover held third.
Ohio Sires Stakes (OHSS) action was also featured Sunday with five divisions of state-bred action for three-year-old male trotters and pacers contested.
Favourite Lane Of Stone notched the first $40,000 division in a lifetime mark of 1:53.1 with Jeff Nisonger driving for trainer Mark Winters, Sr. The brown son of Wishing Stone's time was a national season's record for a three-year-old trotting colt on a five-eighths mile oval and was his second-straight win from two starts this season.
Lane Of Stone prevailed by nearly four lengths over 12-1 ELO Hanover with 5-1 Westfiftysecond grabbing show honours. Lane Of Stone owns a seasonal bankroll of $45,000 with lifetime earnings of $189,893.
Owned by Harry Horowitz of Brooklyn, NY, the homebred colt was raised at Hagemeyer Farms and is the fourth foal out of the Lindy Lane mare Wisteria Lane (4, 1:57.3, $18,550) and is a half-brother to Laney Hall (3, 1:59, $29,220) and to Why Argue (3, 1:59, $21,253).
Pattis Main Man trotted to a career-best clocking of 1:55.1 for driver Jeremy Smith and owner-trainer Mike Sowers in the second OHSS division. The 6-1 son of Manofmanymissions put in a game effort through the stretch, holding off the hard-trying and 3-5 Serenity Cruise by half a length in completing his front-stepping score. Kayne Kauffman steered 24-1 longshot Ilooklikeanallstar to a third-place finish.
Bred by Midland Acres, Pattis Main Man now has $20,000 earned in 2019 and $92,455 lifetime from seven wins, two seconds and two thirds in 15 career starts. He is the 14th foal out of the American Winner mare Patti Page and is a half-brother to: Get Chipped (6, 1:54.3, $415,424); Express Justice (5, 1:54.3f, $282,311); Brewing Master (5, 1:56.4f, $86,044) and Chip Chip Page (5, 1:58f, $69,485).
Wittyville captured the third OHSS trotting division, taking a career mark of 1:54.3 in the process for driver Chris Page. Trained by Ronnie Burke, the Manofmanymissions colt left the gate at odds of 5-2, quickly took the lead past the opening quarter and trotted to a two-and-three-quarter lengths victory—his fifth in 13 career starts and third this season in four starts. Shake N Bake was second at 3-1 odds while 20-1 longshot Voyage To Paris got up for third.
Owned by Burke Racing Stable, Knox Services and Weaver Bruscemi, Wittyville now has $254,653 earned lifetime and $47,500 in his seasonal bank account. He is the sixth foal out of the SJs Photo mare Witty Girl (3, 1:58.2f, $32,602) and is a full brother to Mission Accepted (3, 1:52f, $420,454) and a half-brother to March Awareness (7, 1:53f, $433,264) and to Wittys Winner (5, 1:54.4s, $95,75).
In the first of two $50,000 OHSS pacing divisions, 2-5 favourite Rock Candy stole the show with a wire-to-wire 1:50.3 score. The brown gelding couldn't have looked better for owners Country Club Acres, Joe Sbrocco and Richard Lombardo as he captured his sixth win in 12 starts and his third victory this season in as many tries. Trained by Brian Brown, Rock Candy now has $260,826 in career earnings, with $56,250 earned this season.
Cross Country was second at 9-2 for Luke Ebersole, while 24-1 Rose Run Ulysses was third with Aaron Merriman at the lines. Bred by Mark Moger and Albert Delia, Jr., Rock Candy is the third foal out of the Sportsmaster mare Cotton Candy (p, 3, 1:52.3, $188,312), making him a half-brother to Mr Ds Dragon (p, 4, 1:50.1f, $250,158) and to Anna D (p, 4, 1:54.1f, $40,430).
The second OHSS division saw Seattle Hanover score a new life clocking of 1:50.3 in rein to Chris Page. The Ron Burke-trainee was sent off as the 6-5 favourite and battled throughout the mile with 5-2 Dislocator for first prize, holding off his rival by one-and-a-half lengths at the wire. McMoe, a 5-1 choice, was third for driver Brett Miller. Lifetime, Seattle Hanover has amassed $103,682 from three wins, three seconds and four thirds in 16 starts and this year has a 2-1-3 record in seven tries with $54,000 in seasonal earnings for owners Burke Racing Stable, Larry Karr, J&T Silva-Purnell & Libby, and Weaver Bruscemi.
Bred by Hanover Shoe Farms, Seattle Hanover is the seventh foal out of the Western Hanover mare Scarlet's Western and is a full brother to Scarboro Hanover (p, 4, 1:54.4, $54,809) and a half-brother to Sapient Hanover (p, 2, 1:50.3, $88,272); Red Hot Scarlett (p, 3, 1:56.4h, $23,692); and Syndil Hanover (p, 3, 1:59, $13,505).
The Monday, May 6 matinee will close the 2019 Miami Valley meet, which started back on Jan. 4. A pair of $100,000 Grand Circuit events for older mares will highlight the season finale. Atlanta, the 2018 Hambletonian winner, makes her first start of the year in the Miami Valley Distaff while superstar Shartin N will be favored in the Sam "Chip" Noble III Memorial—a race she won last year in 1:49.3, which is still the fastest mile by a mare in the six year history of Miami Valley.
The Grand Circuit features are carded as races 8 and 10 on the 14-race program. First-race post time is 2:05 p.m.
(with files from Miami Valley and the Ohio Sires Stakes)