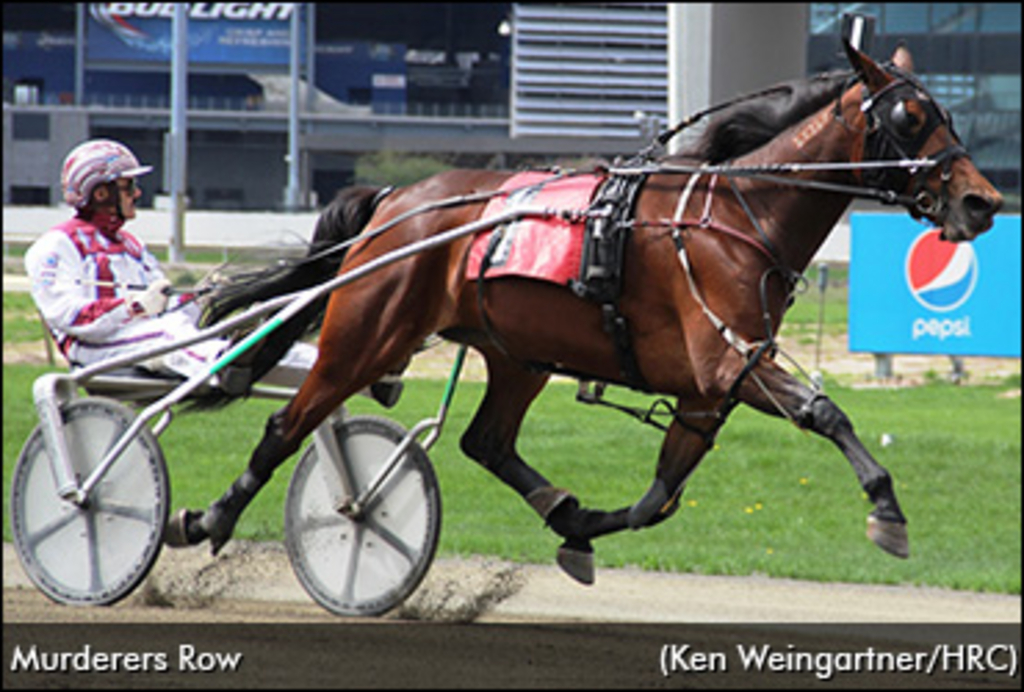 Published:
May 5, 2015 05:33 pm EDT

"It took a little while for her to figure it out, but now she seems like she has (figured it out) hopefully. Time will tell."
Murderers Row is ready to step to the plate. Or, perhaps more accurately for a harness racing horse, step to the gate. She's one of nine three-year-old female trotters entered in Friday's $39,816 John Simpson Memorial Stakes at the Meadowlands Racetrack. The filly –- whose name is a reference to the moniker bestowed upon the famed New York Yankees lineup in the late 1920s –- will start from post one with John Campbell driving for trainer Brett Bittle.
The race also includes stakes-winners Allerage Star, Model Behavior, and Shaqline.
It will be the first start of the season for Murderers Row, who last year struggled at the beginning of the campaign but closed out 2014 by winning three of her final four races.
"We know she's not top of the hill, but we're hoping she's in the middle somewhere," said Steve Jones, who is among the group that bred and owns Murderers Row.
Murderers Row's father is Donato Hanover, who was Horse of the Year in 2007, and her mother is million-dollar-earner Housethatruthbuilt, who received the 2004 Dan Patch Award for best three-year-old female trotter. Murderers Row is a full sister to stakes-winner Real Babe and her family also includes 1999 Dan Patch Award winner Master Lavec.
Last year, Murderers Row finished second in a division of the Reynolds Memorial Stakes in her second career start, but was winless in her first five races – going off stride in two. She got her first victory in 1:56.1 in a late-closer at Lexington's Red Mile and followed up with back-to-back triumphs in the preliminary rounds of a series for two-year-old female trotters at The Meadows.
Unfortunately for her connections, the filly returned to her breaking ways and went off stride and finished eighth in the $31,500 final.
"The last race of the year she was 1-2 (odds) and made a break for really no reason," said Jones, who named Murderers Row and owns the filly with Mary Kinsey and Ted Gewertz. "She did that a few times last year. It wasn't a soundness issue, it was more maturity; more between the ears and being immature.
"John Campbell said he thought her gait is better now. We're hoping she gets off on the right foot. Every time she goes to the gate you wonder about the breaking part, but she didn't break in her qualifiers."
Chuck Sylvester trained Murderers Row for much of last year. Jones said Bittle is racing the filly to start this season because Sylvester is still in Florida. He joked that Bittle was an appropriate choice because his grandfather, Charlie Keller Jr., was a star for the Yankees in the 1940s and later founded harness racing's Yankeeland Farms.
"I am very close with Charlie Keller (III)," Jones said. "Brett and Charlie's background is pretty much all Yankees."
Yankeeland Farms bred 1998 Hambletonian winner Muscles Yankee, who is the father of Murderers Row's dam Housethatruthbuilt. Yankee Stadium is known as "The House that Ruth Built."
The Yankees' legendary 1927 Murderers' Row included Hall of Famers Babe Ruth, Lou Gehrig, Tony Lazzeri, and Earle Combs as well as Mark Koenig and Bob Meusel, Jones hopes his version can knock out a few victories this year. Murderers Row is not eligible to the Hambletonian Oaks, but does have the Currier & Ives Stakes, Landmark, Reynolds, Arden Downs, Tompkins-Geers, and Hudson Filly Trot on her schedule.
"She's a well-bred filly, out of a very nice mother, and we're hoping she's going to be OK this year as a three-year-old," Jones said. "She looks like she's going to be a decent horse."
Friday's Meadowlands card also includes the $43,106 Reynolds Memorial for three-year-old female pacers. The field includes stakes-winners Bettor Be Steppin, Divine Caroline, and Happiness as well as She's A Great Lady runner-up Bedroomconfessions and New York Sire Stakes championship runner-up Bossers Joy.
Weeper, last season's Matron Stakes winner, makes her four-year-old debut in the $27,500 Open for female pacers. The race also includes Breeders Crown champion Sayitall BB plus stakes-winners Gallie Bythe Beach and Fancy Desire.
---
This story courtesy of Harness Racing Communications, a division of the U.S. Trotting Association. For more information, visit www.ustrotting.com.