Published:
May 4, 2019 01:37 pm EDT
The Saturday morning qualifying session at The Meadowlands featured the return of a retired Hall of Famer, the fastest trotter in harness racing history making his debut for a new stable as well as a multitude of stakes winners and divisional champions.
The Kentucky Derby day qualifiers got underway an hour early at 9:00 today on an overcast morning over a drying track started out rated as "good" then improved to "fast" with the eighth race, no discernible wind and temperatures in the 60's. Race secretary / announcer Scott Warren called the action.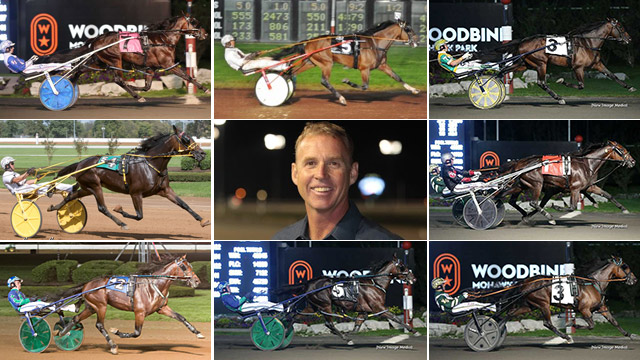 The trotting race of the year thus far (until tonight's Cutler Memorial) came in the eighth race of the day with the fastest trotter ever, Homicide Hunter (Yannick Gingras) debuting for new trainer Ron Burke facing the fastest three-year-old trotter ever in Six Pack (Ake Svanstedt).
Six Pack had to work to get past Eurobond (Domenico Cecere) early with Homicide Hunter waiting in third as they trotted to a :57 first half. Six Pack held the lead through the stretch as they fanned across the track with Eurobond gaining from the pocket and Homicide Hunter closing widest of all into the :28 final quarter to get up by a scant nose over Six Pack in 1:53.4. Meadowlands track record holder JL Cruze, making his seasonal debut, was sneaky good in here as well.
Al and Michelle Crawford are the proud owners of Homicide Hunter via their Crawford Farms Racing.
The day kicked off with a "crunch", Captain Crunch that is as the top-rated colt in the "Road to the Crawford Farms Meadowlands Pace" won easily in 1:51.2 with driver Scott Zeron motionless throughout including a :26.3 final quarter over the off going. Captain Trevor (Andy McCarthy) nosed out pocket-riding US Captain (Matt Krueger) in the shadow of the wire for second while Major Deception (Gingras) was a well-within-himself fourth. All four colts are sons of Captaintreacherous.
3 Brothers, Christina Takter, Rojan Stables and Caviart Farms own Captain Crunch, the second choice at 9-2 in the 2019 TROT Magazine Pepsi North America Cup Spring Book, for trainer Nancy Johansson.
Now racing from the Brett Pelling barn, Cant Beach That (Troy Beyer) was super impressive today winning from the pocket in 1:50.4 with his final quarter in :25.3. He was a couple clear of Captain Ahab (McCarthy), who was strong today with an uncovered march on the leaders to close for second, with Odds On Boca Raton (Dexter Dunn) a willing third into the fast final fraction.
Mel Segal, Kentuckiana Farms and Eddie Gran own the Somebeachsomewhere colt.
Trainer Marcus Melander was back this morning with several of his sophomore colt trotters including last year's unbeaten champ Gimpanzee, who was strong in his second appearance. Brian Sears guided Gimpanzee to a gate-to-wire 1:55 score, punctuated with a :27.2 in-hand final quarter. Bordogna (Andy Miller) followed for second and last year's Peter Haughton winner Dont Letem (Marcus Johansson) finished really well to be third.
Anders Strom as Courant, Inc. and Lennart Agren as SRF Stable share ownership of the talented Gimpanzee (Chapter Seven - Steamy Windows).
Just before, Melander steered 2018 Wellwood Memorial winner Green Manalishi S to a 1:54.1 score for Courant, Inc. over a closing Hudson River (Johansson) with Memo (McCarthy) staying for third.
Last year's She's A Great Lady and O'Brien Award winner Tall Drink Hanover (McCarthy) looked fabulous this morning with a pacesetting 1:51.4 win, using a well in-hand :26 final quarter to hold off stablemate Treacherous Reign (Dunn). Tony Alagna trains the daughter of Captaintreacherous for his interest as Alagna Racing along with Marvin Katz and Myron & Stephanie Bell as Riverview Racing.
Queen Of Trixs (McCarthy) looked sensational in a front-stepping 1:54.4 romp for trainer Lucas Wallin and owner Mario Mazza. The lightly-raced Trixton filly certainly has a classy look to her. Sexy Wow (Dunn) followed her in for second with High Love (Dan Dube) third in her career debut.
Marvelous Trix, with owner Steve Smith driving for trainer Karen Garland, nosed out Susy (Gingras) crossing the wire in 1:56 with Antonia (Sears) a reserved third. Both Susy and Marvelous Trix are preparing for the upcoming New Jersey Sire Stakes (NJSS) which will begin on Friday, May 17.
Last year's Jim Doherty Memorial and O'Brien Award winner The Ice Dutchess (Gingras) prevailed over mile cutter Sisters Promise (Zeron) in a 27-second final quarter sprint to the finish of a 1:56 mile. Personal Paradise (Ake Svanstedt) was third. The winner is trained by Nancy Johansson for John Floren's Coyote Wynd Farm.
After the break, Andy McCarthy took Pilot Discretion for a 1:54 spin around the oval with Totally Takter (Gingras) staying on over Bazillionaire (Trond Smedshammer) for second. The Muscle Hill colt won both of his freshman starts at The Red Mile for trainer Tony Alagna and owners Robert LeBlanc, David Anderson and John Fodera.
Phaetosive (Smedshammer) converted a pocket trip behind her familiar rival from season's past in Manchego -- driven by the recently-retired and more recently Canadian Horse Racing Hall of Fame-inducted Jimmy Takter in his first appearance of the season -- into a powerful 1:54.2 win, trotting home in :26.4. Manchego held up well in her first qualifier to be second and Pat Matters (Zeron) closed from last to be third. Purple Haze Stable owns Phaetosive.
"He knows her the best so we know we're on the right track before we get rolling along," Johansson noted to Trot Insider regarding the guest driving appearance. The trainer stated that Manchego was very good in her four-year-old debut but "lazy" with an open bridle, not her normal equipment.
"She is day and night different with the bridle change; we just wanted to make sure she was physically good today."
Marcus Miller steered St Albray to a 1:53.1 win closing into the :28 final quarter to just get up over Odds On Clearwater (Dunn) and Disturbed Hanover (Bart Dalious). Erv Miller trains for Geis Enterprise, LLC.
Fresh import Frankie Rocks A (McCarthy) held off the good open pacer Western Joe (Zeron) through a :26.2 end to the 1:51.4 mile to end the day. Tahnee Camilleri owns and trains Frankie Rocks A.
Tonight marks the start of The Meadowlands Championship meet with the $175,000 Arthur Cutler Memorial free-for-all trot and a pair of $50,000 divisions of the first leg of the Graduate Series for four-year-old pacers.
To view the charted results from the Saturday qualifying session, click the following link: Saturday Results (Qualifiers) - Meadowlands.
(Meadowlands)