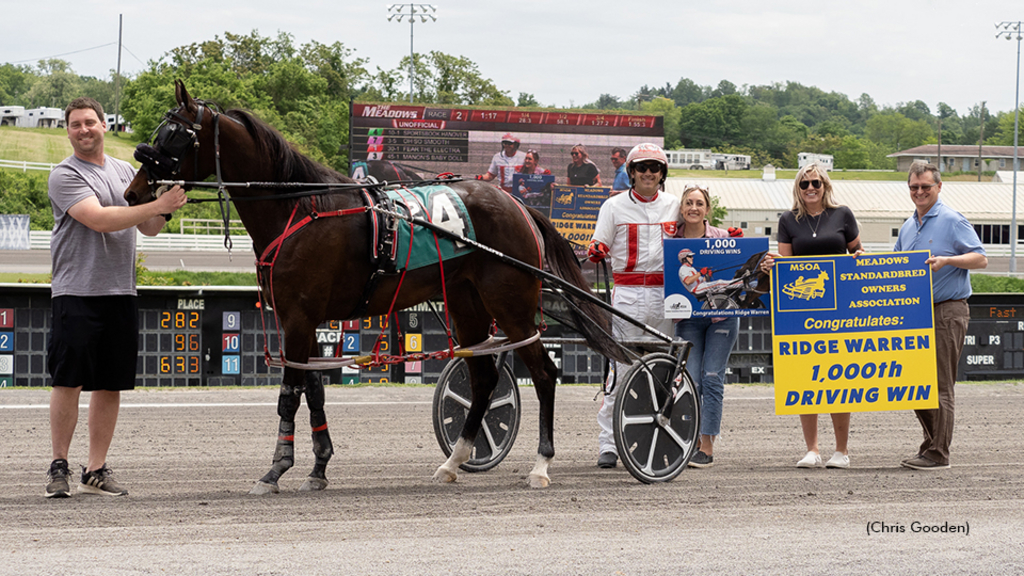 Published:
May 25, 2022 04:48 pm EDT
Ridge Warren collected career win 1,000 on Wednesday (May 25) at Hollywood Casino at The Meadows when he piloted Sportsbook Hanover to victory in race two.
He took three quick steps to the next milestone by capturing races four, five and the featured eighth with Mary Puffins, Marlboro Seelster and Lady Newton.
Warren, 33, grew up in Fenton, Michigan, where he and his sister Taylor were named for characters in the long-running soap opera The Bold and the Beautiful.
"My grandmother still watches it," said Warren. "Here's a shout-out to Grandma Janice."
But there was nothing melodramatic about his apprenticeship under the tutelage of his dad, top Midwest trainer/driver Todd Warren, who boasts more than 5,200 career driving victories. His son describes his approach as meticulous.
"When I was a kid, we had 20 to 30 horses and Dad was winning a lot," he recalled. "He's at the barn all day, rubbing on legs, and the horses look like they're worth a lot of money. He takes pride in his work. That's an old-school horsemanship thing that's kind of gone out the window these days. I appreciate his work ethic and his desire always to make a horse better."
Still, the younger Warren wasn't completely sold on harness racing as a career. In high school, he took college-level law enforcement courses and considered pursuing a job in homeland security.
"Once I got out to Illinois with my dad and [started] sitting behind more horses and getting that buzz, that stuck, and the law enforcement thing went out the window. I started training side-by-side with my dad."
Still, Warren's commitment to harness racing had to survive one more test — the decline in opportunities in Illinois and Michigan.
"When Illinois went downhill, that was a real eye-opener for me. I got involved in investing in some businesses, some small franchises. I had a real job and raced as a hobby. About a year and [a] half ago, I decided to race full time and stepped out of the investments. It was a great learning experience in my life.
"I'm a people person and I love talking to people. But at the end of the day, I love the adrenaline rush of racing horses and being under the lights. It's hard to compare anything to this."
Warren's renewed dedication to racing showed. He enjoyed his best year ever in 2021 with 166 wins and more than $1.6 million in purses.
These days, Warren has added a wrinkle to his game; he's driving at The Downs at Mohegan Sun Pocono as well as The Meadows, his home base since 2020, meaning he's working seven days a week. That's the sort of schedule he prefers.
"I just want to keep chipping away at the wins and improve my abilities by being out there more. The more you race, the better you get."
In an unusual, perhaps unprecedented coincidence, while Ridge was en route to driving win 1,000, his dad was on a similar path to his 1,000th training victory; he's at 997 at the moment and soon will become the 17th North American horseman all time with at least 5,000 winning drives and at least 1,000 training victories. Ridge said he won't give the old man any grief about beating him to 1,000.
"When we're racing together, we're chippy on the track. If he's coming, I know he's coming. If I beat him, I let him know. That's fun. It's the competitiveness in us. But for him to get 1,000 training wins, that's just an amazing accomplishment. I'll be happy for him."
Lady Newton Upsets In Mares Open
Lady Newton shot the Lightning Lane to outkick her stablemate, Blue Ivy, and pull off a 16-1 upset in Wednesday's featured $16,000 Filly & Mare Open Handicap Pace.
Game Of Shadows led the field turning for home and was challenged outside by the pocket-sitting Blue Ivy. Lurking inside, however, was Lady Newton, who surged late for Warren to score in 1:52, a neck better than Blue Ivy. Game Of Shadows saved show.
Bill Bercury trains Blue Ivy and Lady Newton, a four-year-old daughter of Sweet Lou-Im Sassy who lifted her lifetime bankroll to $149,634, for Renee Bercury.
Live racing at The Meadows continues Thursday when the 12-race program features a pair of carryovers — $13,318.25 in the final-race Super Hi-5, $6,001.52 in the Jackpot Pick 5 (race four). First post is 12:45 p.m.
(With files from MSOA)