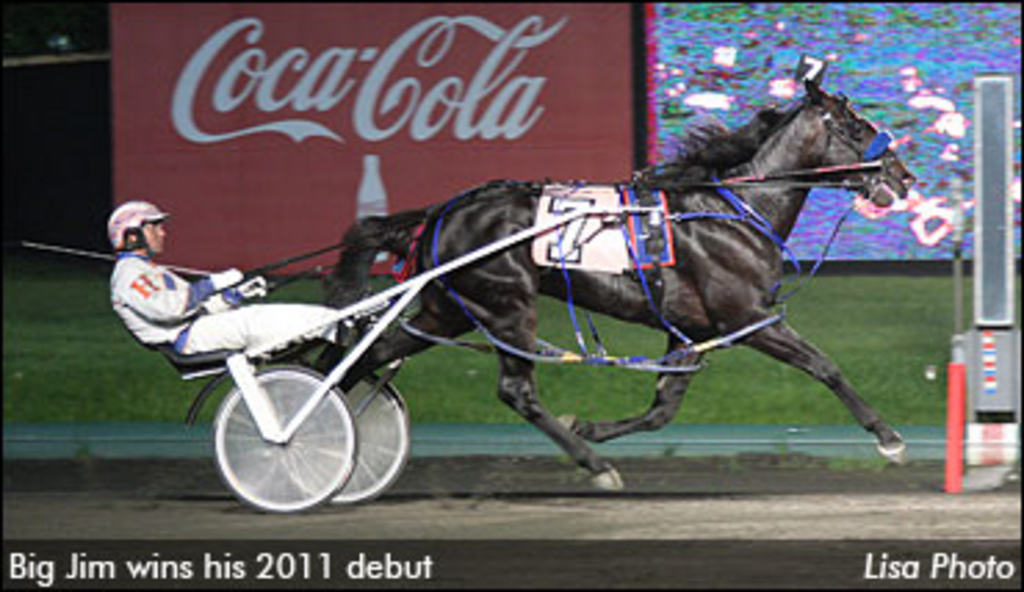 Published:
May 21, 2011 11:13 pm EDT
The first one is in the books for Big Jim. The 2010 divisional champion kicked off his three-year-old campaign with an easy victory
in the prep for the $400,000 Anthony Abbatiello New Jersey Classic on Saturday night at Meadowlands Racetrack.
Big Jim and driver Phil Hudon brushed to the lead at the half and drew off to a two-length victory in 1:51.4. The overwhelming favorite paid $2.40. Grams Legacy rallied well to finish second, while Rollem Up grabbed third from Lookinforadventure.
"Here it seems like you have to be in the hunt," said Hudon, who posted his first win over the Meadowlands oval. "I just let them work it out until the half and then I just started to come. He was pretty aggressive so I wanted to make sure he sat in the hole for a little bit. He was well in hand. I didn't want to rev him up too much late, I was just sitting on him. He finished up good and I think he'll have a good year."
Big Jim, trained by James 'Friday' Dean and owned by James Carr, will be the prohibitive favourite in the New Jersey Classic final on Saturday, May 28. The son of Western Ideal won six of 10 starts and $827,204 on the way to being named the Two-Year-Old Colt Pacer of the Year in both the U.S. and Canada last year. The New Jersey Classic prep was Big Jim's Meadowlands debut and first start since his 1:49.1 world record in the Governor's Cup on November 6, 2010 at Woodbine.
The nine entrants in the New Jersey Classic prep will join Shadyshark Hanover, who won his 2011 debut at Harrah's Chester on Saturday night, in the final. The New Jersey Classic will share the marquee with the $150,000 Thomas D'Altrui Miss New Jersey for fillies. Sponsored by the Standardbred Breeders & Owners Association of New Jersey, the Classic is the richest event restricted to three-year-old New Jersey-sired pacers.
The field for the $400,000 New Jersey Classic on Saturday, May 28: Big Jim, Doin Time Together, Grams Legacy, High Noon, Jo Pas PE III, Lizard King, Lookinforadventure, Rollem Up, RU Ready To Rock, and Shadyshark Hanover.
For results from Saturday's card of harness racing, click on the following link: Saturday Results - Meadowlands Racetrack.
(Meadowlands)