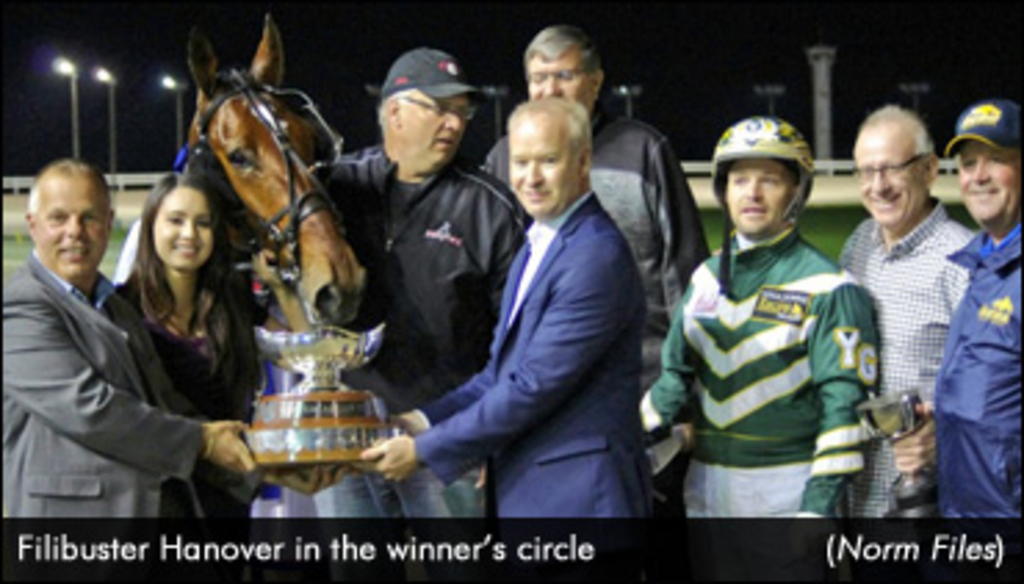 Published:
May 20, 2018 10:30 pm EDT
Favourite Filibuster Hanover held off his rivals to win the 40th edition of the $182,500 Confederation Cup on Sunday night (May 20) at Flamboro Downs.
Driven by Yannick Gingras, the favoured Ron Burke trainee Filibuster Hanover kept stablemate Eddard Hanover (Louis-Phillipe Roy) at bay then held off fellow elimination winner Western Joe (Doug McNair) at the wire in 1:51.4, but a pair of judges' inquiries kept the winner's circle celebrations on hold for a short time.
Filibuster Hanover fired off the gate from post three with Western Joe driving on from post seven to secure the pocket spot ahead of inside starter Daiymir (Jonathan Drury). After a 26-second opening panel, Eddard Hanover launched his first-over bid from fourth while 1-2 favourite Filibuster Hanover raced on through middle splits :55.4 and 1:24. Down the stretch, Western Joe closed through the passing lane, but Filibuster Hanover held on to win by half a length, with Eddard Hanover crossing the wire in third-place, one and a quarter lengths behind.
Filibuster Hanover survived an inquiry as judges ruled he went inside one pylon and hit another pylon on the final turn and therefore did not violate the rules of racing.
"I watched everything and tried to see where the other horses were so I didn't see it at all, but I'm glad it went the way it did," said a relieved Mickey Burke Jr., assistant trainer for the Burke stable, which previously won back-to-back editions of the Confederation Cup in 2015 and 2016 with All Bets Off and Rockin Ron.
Eddard Hanover inherited second-place following another judges' inquiry, giving the Burke stable a 1-2 finish. Western Joe was placed third for a pylon violation as judges ruled he went inside two consecutive pylons on the final turn and was lapped on at the finish by Eddard Hanover.
"That's a big bonus [inheriting second-place]," said Burke. "The horse raced super. I hate to see placings just because I hate to win that way, but I'm glad it went in our direction."
Filibuster Hanover is owned by Burke Racing Stable LLC, Joseph Di Scala Jr., J And T Silva Stables LLC and Weaver Bruscemi LLC. With a perfect three-for-three record to start his four-year-old campaign, last year's Little Brown Jug champion pushed his bankroll over $985,000. The Somebeachsomewhere-Fashion Ecstasy gelding now boasts 10 wins among 22 top three finishes from 36 starts.
"The four-year-olds are still growing yet and going up against the aged horses that have all gotten to their speed, this colt's still coming into his own," said Burke. "Getting these races, here and the Prix d'Ete and the Graduate Series, this is a good thing for him. It's a good teaching time and it's a little easier for him.
"Right now he's showing a lot of power and speed getting around this track and the other tracks. He's happy so we'll see what happens. We're hopeful, that's the goal to get him up there racing against the next level [in races like the Canadian Pacing Derby over the next couple of years.]"
The Ontario Sires Stakes season kicked off on the Confederation Cup undercard with three Gold divisions for three-year-old male pacers worth over $65,000 each and a pair of $18,800 Grassroots splits for three-year-old male trotters.
North America Cup eligible Backstreet Shadow was the season's first Gold winner, leading wire-to-wire (:27, :56.2, 1:25, 1:52.3) for the father-son, training-driving duo of Gregg and Doug McNair. Lindsey and Connie Rankin share ownership of the Shadow Play-Backstreet Sweetie gelding. St Lads Neptune (Jody Jamieson) challenged first-up and finished one length behind in second-place with Wind Blast (Yannick Gingras) following in third.
A heated battled ensued in the second glamour boy division as Western Passage and Doug McNair moved first-up from third off the turn heading towards the :58.1 half-mile mark to confront the pacesetting Levis Day, driven by Trevor Henry. Those two Cup eligibles took off in a backstretch duel past three-quarters in 1:25.4 and fought to the finish with Western Passage ultimately prevailing by a nose in 1:53.4. Casie Coleman trains the Sportswriter-Ever Western gelding, who won last year's Super Final, for her West Wins Stable and partners John Fielding, McKinlay Fielding and Calhoun Racing Ltd. Shadow Moon (Sylvain Filion) finished third.
Jimmy Freight dominated the third division with Louis-Philippe Roy aboard for trainer Richard Moreau and owner Adriano Sorella. The Sportswriter-Allamerican Summer colt forged to the front and clocked fractions of :27.1, :55.1 and 1:23 en route to a six-length victory in 1:51.3. Chocolate Swirl (Sylvain Filion) and Burning Midnight (Yannick Gingras) rounded out the top three finish order.
"I don't know what his limit is so far," gushed Roy after the race. "It's still early in the season, the horse has to stay good and sometimes horses improve later in the season but so far, with the horses racing tonight, I don't see a bunch of them that can beat him."
Driver Steve Byron and trainer John Bax swept the trotting colt divisions with Delcrest Holiday (Holiday Road-Northern Kitti) winning in 2:00.3 and Sicario (Holiday Road-Gypsy Balance) scoring in 1:58.2 fresh off a City of London Series elimination win Friday night.
Trained by Moreau, Flamboro newcomer Cultural Paradise (McNair) won a $15,000 Preferred 2 Pace in 1:53 during Sunday's card while Par Intended (Phil Hudon) held on for a 1:54.1 score in the $10,000 Preferred 3 for trainer Brian Lee. David O'Brien's Miss Brandi K (Scott Coulter) pulled off a 24-1 upset in the $10,000 Preferred 3 for distaffers with a 1:54.4 winning effort.
To view Sunday's harness racing results, click on the following link: Sunday Results - Flamboro Downs.