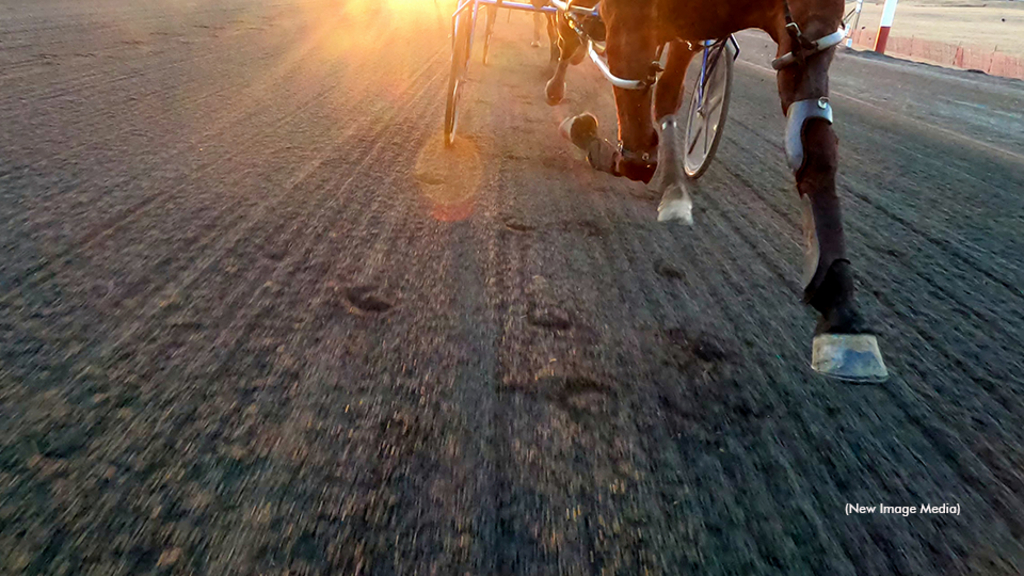 Published:
May 1, 2023 10:30 am EDT
A handful of racehorses have got off to a quick start in 2023, racking up wins, earnings and speed badges.
Trot Insider takes a look at some of the top ranked Standardbreds in Canada and their on-track achievements through the first four months of the year.
Pacing mares Big Bad Jenn and Whatineedisaman currently lead all horses in Canada for wins this year with 10 and also sit atop the North America leaderboard (tied with Cal Expo-based pacing mare Wonder Of Love).
Big Bad Jenn won four races in a row this past winter and is currently on another roll, with six straight successful starts racing between Flamboro Downs and The Raceway at Western Fair District. The $7,000 claiming mare, who has made 16 starts this year, has earned most of her wins under the tutelage of trainer/co-owner Stewart McQueen and partners Louie Sorella and Donald MacLellan. Big Bad Jenn has been claimed her last three races for a total value of $26,250, bouncing back and forth between the stables of McQueen and Gerard Demers, who currently trains the seven-year-old daughter of Big Bad John for owner La Ferme Tag Inc. 
Seven-year-old pacing mare Whatineedisaman has won her last four races in a row to boost her season's win total and match her 2022 tally while competing in the claiming ranks at Flamboro and The Raceway for the Cullens -- trainer Jodie Cullen and her son Travis's A1stable. The consistent Mystery Chase mare, who has made 19 starts this year, also hit the board six other times. 
Big Bad Jenn and Whatisneedisaman are the only horses to hit double digits in the win column, but Outlaw C My Shadow and Bucktober are just one away.
Trainer Connie Kolthammer's homebred pacer Outlaw C My Shadow is undefeated in nine Open starts at Fraser Downs this year while continuing a win streak that dates back to last November. The six-year-old Shadow Play gelding, driven by Brandon Campbell in most of his races, is owned by Outlaw West Stable.
Four-year-old Flanagan Memory gelding Bucktober also boasts nine wins this year -- the most among trotters -- after 13 starts for trainer/driver Tyler Borth, who co-owns with William Borth and Karen Sparling. After winning eight in a row this winter, he stepped up to Preferred company at The Raceway for a career-best 1:58.2 triumph on April 18.
Free-For-All pacer Saulsbrook Victor is the richest Standardbred racing in Canada this season with earnings totalling $143,520. The five-year-old Source Of Pride gelding has finished no worse than fourth through 11 starts at Woodbine Mohawk Park, including six wins. Ron MacDonald trains while his son Brett shares ownership with Brent MacLennan.
Top Mohawk mares Need To Breathe ($127,950) and So Much More ($124,260) round out the top three money-earners. 
Indiana Sires Stakes graduate Need To Breathe, a four-year-old daughter of Riggins, has yet to miss the board in a dozen starts this year while winning five times competing against the top distaffers for the Cullens. 
Don Beaton's prized pupil So Much More, a two-time O'Brien Award-winning daughter of Big Jim, has earned five wins and three seconds from 11 starts during the first few months of her seven-year-old campaign -- even taking on the boys in six of her starts.
Four-year-old pacer Roll With The Flow is the fastest winner in Canada this year after taking the Preferred 2 at Mohawk in 1:49 flat on April 15 for trainer/co-owner Blake MacIntosh and partners Hutt Racing Stable and Middlebrook Racing L P. The Roll With Joe gelding set the national season's record in his fifth win of the year.
Outlaw C My Shadow paced the fastest mile on a five-eighths track in his most recent victory on April 21, winning in 1:51.2 at Fraser, while Century Hannibal, a five-year-old son of Control The Moment, raced to a 1:53.1 season's record on a half-mile track when winning his Flamboro debut on Feb. 23 for trainer Paul Ritchie.
The trotting national season's record is 1:52.3, set by the five-year-old Royalty For Life mare HP Mama B on Jan. 9 at Mohawk in her only win so far this year and equalled by the five-year-old Archangel gelding Logan Park when trotting to his second straight Free-For-All victory on April 10. The former hails from the Ben Baillargeon stable and is owned by Guylaine Picard and Celine Paquin while the latter is conditioned by Kyle Fellows for owners Outofthepark Stable, Reg Higgs and Arpad Szabo.
At age 11, Muscle Mass gelding Seeyou Men is not slowing down. The Guy Gagnon trainee boasts the fastest trotting mile on a five-eighths track after winning Rideau Carleton Raceway's Preferred Handicap in 1:55.4 on April 26. Francis Guillemette's eight-year-old Yankee Glide gelding Treasured Tee and the Mark Goddard-trained Esquire, a 10-year-old Kadabra gelding, share the 1:56.1 season's trot record for a half-mile track after their respective Flamboro victories on March 26 and April 23.
**All statistics include Canadian starts from January 1, 2023 up to the first Monday in May.
Click on the following link for more harness racing statistics.