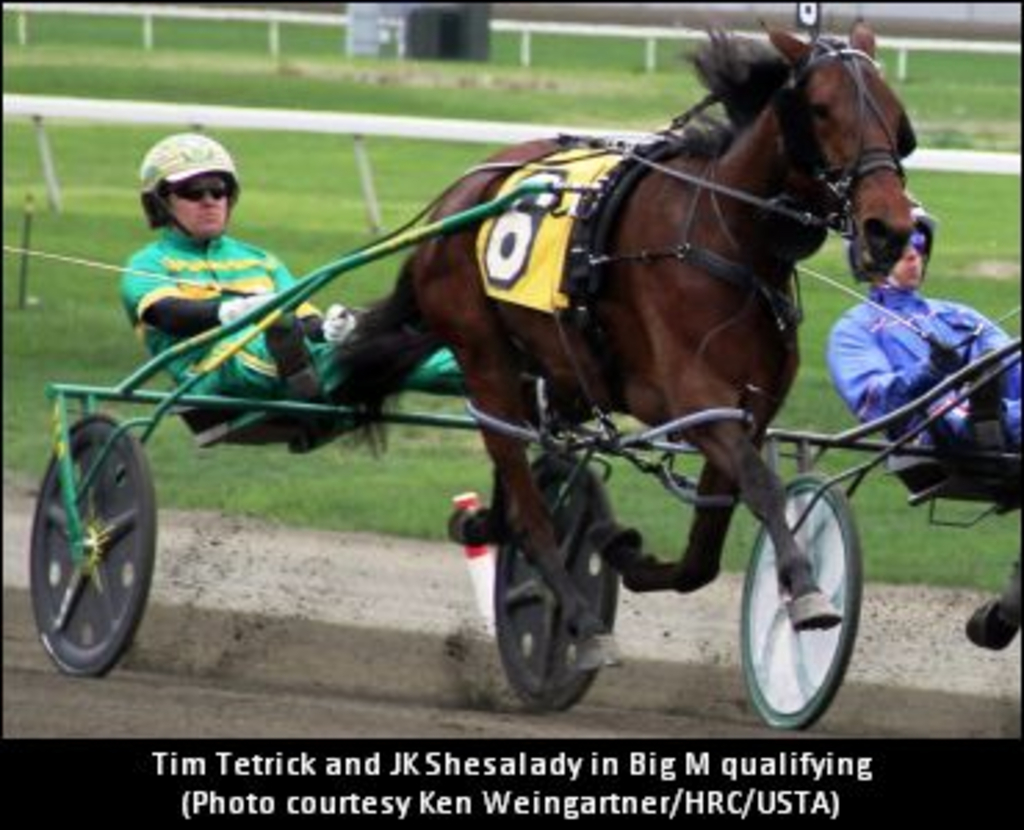 Published:
May 1, 2015 03:53 pm EDT

JK Shesalady put her best foot forward and Mission Brief put in a misstep during the Friday (May 1) qualifying session at the Meadowlands Racetrack.
JK Shesalady, the 2014 Horse of the Year, made her seasonal qualifying debut Friday at the Meadowlands Racetrack, winning by a head over A Plus in 1:53.3 with a 26-second final quarter-mile. The three-year-old filly pacer, driven by Tim Tetrick for trainer Nancy Johansson, was in third place for much of the race before angling off the pylons exiting the last turn.
"We were really happy with her," Johansson said. "She was well in hand; she did everything perfectly. She came home with the earplugs still in. Obviously she proved that she knows where the wire is because she just did enough to stick her head in front coming across the wire."
JK Shesalady, bred and owned by 3 Brothers Stables, was undefeated in 12 races last season and became the first two-year-old female pacer in harness racing history to be named Horse of the Year by the U.S. Harness Writers Association.
Johansson is preparing JK Shesalady for her first major stakes test of the campaign, the Fan Hanover Stakes at Mohawk Racetrack in mid-June.
"Our big goal is the Fan Hanover, but we haven't etched anything in stone about how we're going to get there yet," Johansson said. "She's got a couple of New York Sire Stakes that are options or if the Meadowlands would write a three-year-old filly pace open that would make me really happy because we could race her here.
"She will qualify one more time, but I don't know if it will be next week or the following week."
Mission Brief, who was the 2014 Dan Patch Award winner for best two-year-old female trotter, also made her first qualifying effort Friday, but went off stride in mid-stretch while racing from the front. The qualifier was won by Jimmy Takter's Smexi in 1:55.3.
Last year, Mission Brief trotted the fastest mile ever by any two-year-old – male or female – stopping the clock in 1:50.3 in winning at the Red Mile. She won nine of 13 races – but went off stride in all four losses – and earned $591,070 for owners Burke Racing Stable, Our Horse Cents Stables, J&T Silva Stables, and Weaver Bruscemi LLC.
"It was not good," trainer Ron Burke said with a resigned smile about Mission Brief's qualifier. "She didn't warm up the best. We made a shoeing change and I didn't like it. I wish we could have re-shod her in the paddock, but it is what it is. So back to the other shoes and march on.
"I liked her behaviour; her behaviour was good. But I didn't like her gait. It was just a bad idea. She didn't look like herself. I thought she could get through and we would have changed (the shoes) anyhow after, but she didn't. But it's not a big deal. We'll change her shoes and bring her back."
Burke's day was otherwise good. He sent out four winners, including JK Shesalady's full brother JK Endofanera, a four-year-old who won in 1:50.2 with a final quarter in :26. His other winners were three-year-old male trotter Crazy Wow, in a day's best 1:53.2 for trotters, three-year-old male pacer Yankee Bounty in 1:52.4 and three-year-old female pacer Band Of Angels in 1:52.4.
"The rest of the day was super," Burke said. "We have good horses, so they're going to be good, I hope. Crazy Wow just gets better. I was wrong on him. I didn't think he's as good as he is. He's a very good horse; maybe even better than good. JK (Endofanera) was super, too. He made a bigger growth from (age) three to four than he did from two to three, which I find funny because he's a big horse. Maybe he's just learning to handle his body now. We'll see."
Burke was uncertain of his plan for JK Endofanera, who earned more than $1 million last season, but expects the four-year-old male pacer to begin his new campaign soon. He has qualified twice at the Meadowlands, finishing second in 1:51.4 last week.
"I really do it week by week," Burke said. "I'm not two weeks ahead, I'm in the present. You never know (what can happen). Mission Brief, the plan was not to be running in mid-stretch. Now I have to change plans. So we'll see."
Takter had five winners in Friday's qualifiers, with Smexi joined by three-year-old male trotters Pinkman (1:55.2) and The Bank (1:55.3), four-year-old male trotter Father Patrick (1:53.3) and three-year-old female trotter Wild Honey (1:55.4). Father Patrick is a two-time Dan Patch Award winner and Pinkman, who held off Muscle Diamond by a neck, received the 2014 Dan Patch Award for best two-year-old male trotter.
"(Father Patrick) was vicious; he was absolutely vicious," Takter said after watching the trotter come home with a final quarter in :26 to win by four lengths over Market Share. "(Driver Yannick Gingras) said he was scary.
"It was a great day. I don't think I had one bad horse. You couldn't ask for a better qualifier."
Other qualifier winners Friday were the Linda Toscano-trained three-year-old male trotter Dapper Don (1:56.3), Tony Alagna's three-year-old female trotter Lock Down Lindy (1:56), Pat Lachance's three-year-old male pacer Southwind Masimo (1:53), Ed Hart's three-year-old male pacer Dealt A Winner (1:52) and Wayne Givens' five-year-old female pacer Jerseylicious (1:50.3).
For complete charts of Friday's qualifiers at the Meadowlands, click here.
---
This story courtesy of Harness Racing Communications, a division of the U.S. Trotting Association. For more information, visit www.ustrotting.com.