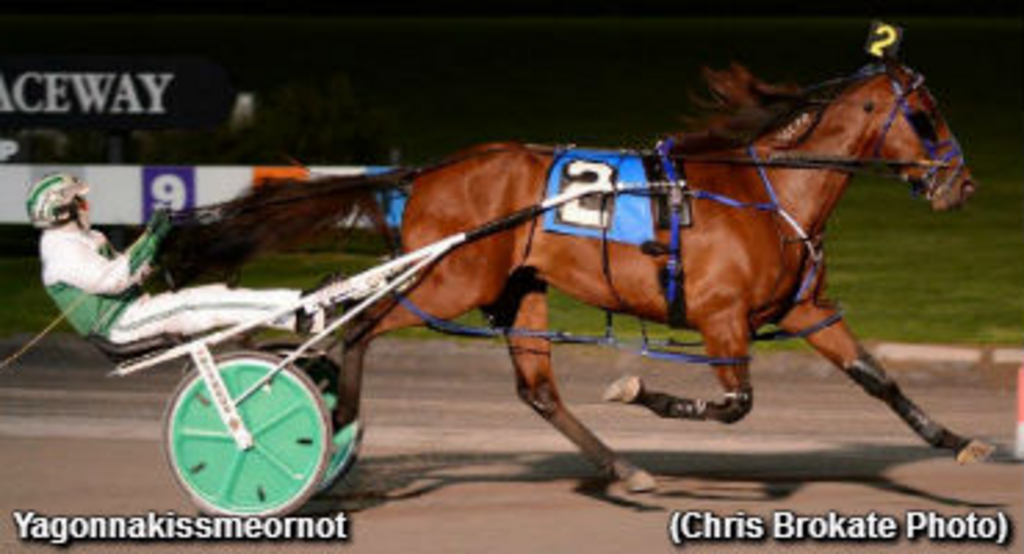 Published:
April 8, 2016 10:21 pm EDT
Yonkers Raceway's Blue Chip Matchmaker continued Friday night, with what has become commonplace – a trio of $40,000 divisions.
The fourth of five preliminary rounds began with a first-up Carolsideal (Dan Dube, $19.80) saved by the wire to barely beat a very unlucky Mach It A Par (George (Brennan). Venus Delight (Jason Bartlett), as the 3-2 favourite, was third
Pole-sitting Request For Parole (Yannick Gingras) seated everyone early, using a :26.4 opening quarter-mile to do just that. She then rebuffed an advance from pocket-sitting Mach It A Par, stuffing that one back in behind and getting a :55.4 intermission.
However, Request For Parole was denied going down the backside the second time, with Carolsideal—away third from post position three—easily going up and over. Request for Parole offered less than no resistance right at the 1:23.4 three-quarters, trapping Mach It A Par like a Chilean miner.
Venus Delight, towed into contention, didn't match strides with Carolsideal, who opened three lengths in and out of the final turn. Mach It A Par eventually extricated herself and flew home, only to miss a head in 1:51.3 – the fastest Matchmaker mile of the season. Venus Delight was beaten three-quarters of a length, last season's champ failing to win in four legs thus far this time around.
Request for Parole wound up last among the half-dozen, beaten 9-½ lengths.
Fourth choice Carolsideal, a seven-year-old Western Ideal miss co-owned (as Allard Racing) by (trainer) Rene Allard, Yves Sarrazin and Kapildeo Singh, is now 1-for-3 in her seasonal/series resume.
Dube's strategy worked so well in the first series division, he employed it again in the second. This time, he and Yagonnakissmeornot ($37.80) sat off the early scrum and went from first-up to first home.
At the outset, Skippin By (Gingras), Anndrovette (Tim Tetrick) and 3-10 favourite Sell A Bit N (Jordan Stratton) were all put in play, with the people's choice hung three-wide.
Sell A Bit N looped Anndrovette for the lead before the latter drove on (:26.4, 56.3). Yagonnakissmeornot, from post two, moved from fourth right around the intermission and disposed of Anndrovette well before a 1:24.1 three-quarters.
That left Sell A Bit N joining Mach It A Par as a trapped miner while Yagonnakissmeornot widened to three lengths off the final turn. She won by four lengths in a season's-best 1:52. Regil Elektra (Bartlett) gapped the winner but grabbed second, with Sell A Bit N settling for third. Anndrovette wound up fifth.
Fifth choice Yagonnakissmeornot a seven-year-old daughter of The Panderosa who shares same trainer and ownership consortium as Carolsideal, is now 2-for-5 this season (2-for-4 in series)
The evening's final series soiree saw Krispy Apple (Bartlett, $10.20) get off the '16 schneid. From post two, she stalked Lady Shadow (Corey Callahan) as the pole-sitting, 4-5 choice led through intervals of :27.1, :55.4 and 1:23.3.
Al Raza N (Dave Miller) put in a valiant, two-move effort, but gave way grudgingly as Lady Shadow owned a length-and-a-three-quarter lead into the lane. However, Krispy Apple, as the third choice, ducked in and went by, the final margin a neck in 1:51.4.
Cinamony (Gingras) offered decent ground-saving pace to wind up third, while Al Raza N faded to fifth in her first series defeat.
Krispy Apple, an eight-year-old Western Ideal ma'am co-owned by Bamond Racing and Joseph Davino and trained by Jeffrey Bamond Jr., is now 1-for-5 this season (1-for-4 in series) after her 41st career victory.
Saturday night's card brings the fourth round of the George Morton Levy Memorial Pacing Series. Four, $50,000 divisions (races 6 through 9) comprise this go-round.
(Yonkers Raceway)