Published:
April 7, 2020 02:00 pm EDT
The Canadian Horse Racing Hall of Fame is pleased to announce the people and horses being recognized as inductees in 2020. Five people and five horses have been elected from a very deep ballot of candidates.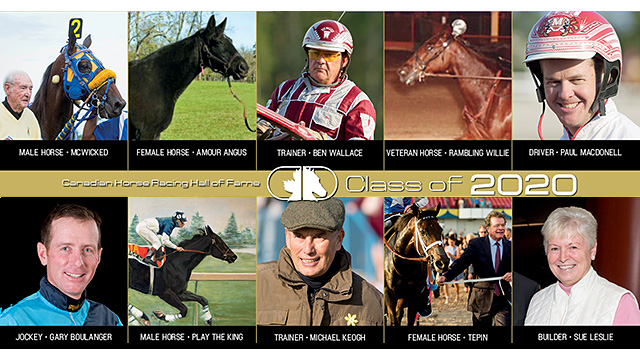 Representing Standardbreds in the Class of 2020 are Driver Paul MacDonell, Trainer Ben Wallace, Female Horse Amour Angus, Male Horse McWicked and Veteran Horse Rambling Willie.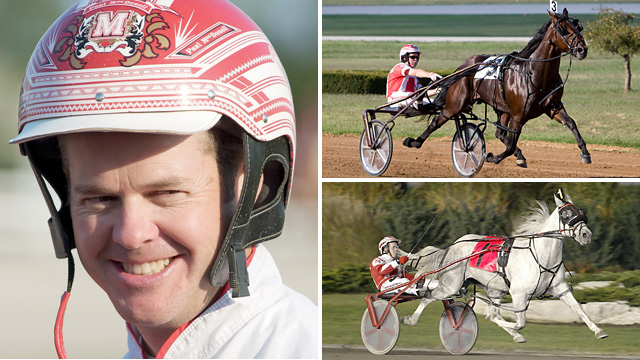 Paul MacDonell's driving career is highlighted by both consistency and superstars, with earnings surpassing $1 million for 33 consecutive years, due in part to piloting such horses as Hall of Fame honoured members Somebeachsomewhere, Admirals Express and Invitro. He has also been the primary pilot for millionaires Village Jiffy, Village Connection, Elusive Desire, Bigtime Ball and Laddie. The Guelph resident's major stakes victories include three Metro Paces, five Confederation Cups, and eight Breeders Crowns as well as a record 16 Ontario Sires Stakes Super Finals to his credit. The popular and affable driver was awarded an O'Brien Award as the 2008 Canadian Driver of the Year and to date has chalked up more than 15,000 top three finishes, 5,623 wins and has driven horses to in excess of $122 million in purse earnings.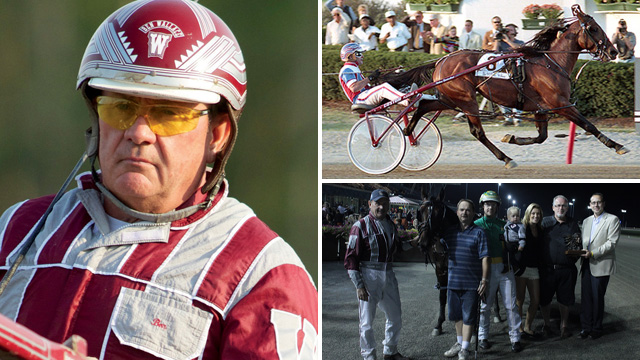 Ben Wallace of Puslinch, Ont., honed his training skills working for Hall of Famers Keith Waples and the late Bill Wellwood before striking out on his own. He trained 1999 Pacing Triple Crown Winner and Canadian Horse Racing Hall of Fame Member Blissfull Hall, Breeders Crown winners Totally Western (2002), Pans Culottes (2003), as well as a list of million dollar plus winners including Apprentice Hanover, Easy Lover Hanover, Zooka, Cam Swifty, Camotion and Lookout Victory. Awarded an O'Brien as Canada's Trainer of the Year in 1999, Wallace has current career stats of 1,947 wins and more than $38 million in purses, surpassing the million dollar mark in 18 consecutive seasons (1996-2013).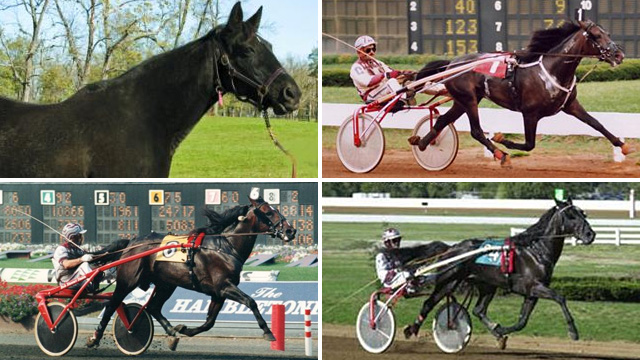 Bred by Pierre Levesque's Fermes Angus of Bedford, Quebec, Amour Angus made her mark on the Standardbred industry as a broodmare. Eleven of her 15 foals raced, earning in excess of $3.5 million. Of her eight foals sired by Garland Lobell, three went on to be top trotting sires in North America following successful race careers -- Andover Hall 3, 1:51.3 ($870,510), CHRHF 2019 inductee Angus Hall 3, 1:54.3 ($830,654) and Conway Hall 3, 1:53.4 ($818,884). Her daughter Emilie Cas El (also by Garland Lobell) was the winner of the 1994 O'Brien Award for Horse of the Year following her flawless 13-for-13 two-year-old race season before going on to be the dam of Hambletonian winner Trixton. Amour Angus is the grand dam of such horses as Nuncio, Peaceful Way, Donato Hanover, Pampered Princess, Majestic Son, Wishing Stone and Windsongs Legacy.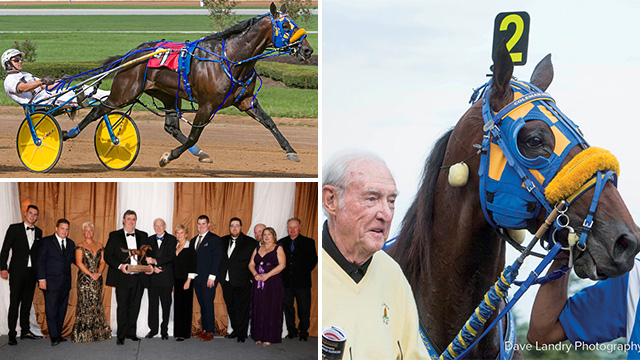 Recently retired from racing, McWicked earned $5.1 million during a race career that began in 2013 and included 40 wins in 110 starts while setting his lifetime mark of 1:46.2 at age seven. The ungelded son of McArdle - Western Sahara was purchased as a two-year-old by Ed James' SSG Stables and trained for the majority of his career by Casie Coleman. McWicked's stakes wins include the Max Hempt, Adios, Progress, Ben Franklin, TVG Open, William Haughton, Canadian Pacing Derby, Dan Rooney - twice; Roll With Joe, Breeders Crown - twice, Joe Gerrity, Jr - twice, PASS Finals, and the Jim Ewart - twice. He was the recipient of four O'Brien Awards -- Three-Year-Old Pacing Colt/Gelding (2014), Older Pacing Horse of the Year (2018 & 2019) and Horse of the Year (2018). His 2018 bankroll of $1.662 million made him the oldest horse to top North American harness racing's earnings standings at the age of seven, and his $5.1 million in career earnings makes him the richest pacing stallion in the history of the sport.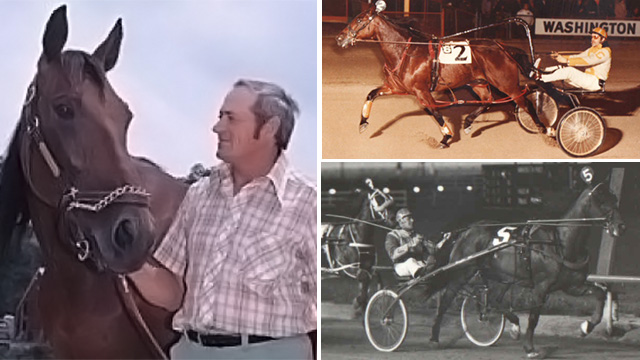 The winner of 128 races in 305 starts during the 1970s and early 1980s, Rambling Willie was a three-time winner of the Canadian Pacing Derby -- 1975 in a dead heat with Pickwick Baron, 1976 and 1977. At the time of his retirement in 1983 he was the leading Standardbred money winner of all time earning more than $2 million, with most of his wins coming from overnight and invitational races. A $15,000 purchase by trainer/driver Bob Farrington, ownership was later split between Bob's wife Vivian and Paul Seibert. Mrs. Farrington in turn pledged 10% of Willie's earnings to the church where her father served as pastor, earning the gelding the nickname "The Horse That God Loved". In 1981 a book titled with that nickname was published. Willie and his connections did a promotional tour that included races in 17 cities and appearances on television shows including 60 Minutes. Following his retirement from racing in 1983, Willie moved to the Kentucky Horse Park where he resided until his passing in 1995, when he was buried near his paddock at the Hall of Champions. Rambling Willie was inducted into the United States Harness Racing Hall of Fame in 1997 and into the Indiana Standardbred Hall of Fame in 2003.
Thoroughbred inductees include Builder Sue Leslie, Jockey Gary Boulanger, Trainer Michael Keogh along with horses Tepin and Play the King.
Sue Leslie has dedicated the better part of her life to the sport of horse racing -- breeding, owning and training thoroughbred horses in Ontario for almost 40 years. Positions she has held, both past and current include President/Chair of the Horsemen's Benevolent and Protection Society of Ontario, President/Chair of Ontario Horse Racing Industry Alliance, Director on the Avelino Gomez Memorial Foundation, Director of LongRun Thoroughbred Retirement Society, as well as being a member of the Jockey Club of Canada and Canadian Thoroughbred Horse Society. Leslie has been a proponent for horsepeople across all facets of the industry. She was involved in establishing Ontario Racing, with which she is currently a Director and member of the Executive. Her years of experience and knowledge have proven vital in programs and initiatives to sustain the industry -- ranging from assistance with government negotiations following the cancellation of the slots-at-racetrack program to ensuring the viability of racing at Fort Erie Race Track. In 2011 Leslie was honoured with a special Sovereign Award for her dedicated work and she continues to be a strong leader and a devoted advocate.
Born in Drayton Valley, Alberta, Gary Boulanger began his riding career in 1987, spending his early years at tracks in the U.S. and earning leading jockey status at Longacres Racetrack (1989, 1990, 1991) and Calder Race Course (1994, 1995). In 2000 Boulanger returned to Canada, riding primarily at Woodbine, he would frequently get the call to ride for Hall of Fame trainer Mark Frostad. In 2001, the top money-winning year of his career, he rode Sam-Son Farm's Hall of Fame filly Dancethruthedawn to wins in the Canadian Oaks and The Queen's Plate Stakes. In 2005 Boulanger suffered what could have been a career-ending injury in a racing accident at Gulfstream Park. His return to the track came in 2013 when he began to pick up rides for Hall of Fame trainer Mark Casse. Gary continues to ride, splitting his time between Florida and Woodbine, and is considered an elder statesman in the jockeys' room. The 2017 Avelino Gomez Memorial Award recipient has to date won 3,610 races, including 41 grades stakes, and earnings just shy of $80 million (U.S.).
As longtime private trainer for Hall of Fame Builder Gus Schickedanz, Mike Keogh is a two-time Queen's Plate winning trainer, first with Woodcarver in 1999 and then with Triple Crown champion Wando in 2003. During that Triple Crown winning season, Keogh was also training stablemate Mobil who would earn a Sovereign Award at age four. Hall of Fame horse Langfuhr, also trained by Keogh, won three G1 Stakes and received the Sovereign in 1996 as Champion Sprinter. As an assistant to Hall of Fame Trainer Roger Attfield from 1986-1993, Keogh worked with a long list of Hall of Fame inductees including Alywow, Peteski, Carotene, Izvestia and With Approval. Among the many Attfield-trained horses Keogh traveled with was one of his favourites, the multiple graded stakes winning sprinter and 2008 Horse of the Year Play the King, who will also be inducted as part of the Canadian Horse Racing Hall of Fame Class of 2020. Since 1993, Mike Keogh's stats include 2,689 starts with 330 wins and more than $21.5 million in earnings.
Tepin, given the moniker "Queen of the Turf", spent most of her race career under the direction of trainer Mark Casse and the ownership of Robert Masterson. Racing from age three to six, the striking bay filly accumulated a record of 13-5-1, including nine Grade 1/Group 1 wins or placings in three countries -- Canada, England and the U.S. In 2015 she won the Breeders' Cup Mile (G1) against the boys. The following year, In what would be her final year of racing, she travelled to England and captured the prestigious Group One Queen Anne Stakes at Royal Ascot. Her final career win came in the 2016 Woodbine Mile (G1) when she put an exclamation mark on her career with a half-length win, again over the boys. Tepin was twice presented with the Eclipse Award as American Champion Female Turf Horse; 2015 and 2016.
Play the King, was conditioned throughout his four year race career by Hall of Fame trainer Roger Attfield for breeder/owner Kinghaven Farms of King City, Ontario. In 29 starts, he made 19 trips to the winners' circle and earned just shy of $1 million. Play the King's stakes success began at age four with a win in the Toboggan Handicap (G3) at Aqueduct, and was followed by wins in the Jacques Cartier, Vigil Handicap and the Toronto Budweiser Breeders' Cup Handicap at Woodbine, as well as wins in the Highlander Handicap, the Suffolk Sprint in Boston (G3) and finally the Nearctic Stakes (G3), to earn him the 1987 Sovereign Award for Champion Older Male Horse and Champion Sprinter. The following year brought repeat wins in the Nearctic Stakes (G3) at Woodbine and the Toronto Budweiser Breeders' Cup before making his most noted performance, the Breeders Cup Sprint (G1) at Churchill Downs. A strong 49-1 second-place finish contributed to him being presented Sovereign Awards as Champion Sprinter, Older Horse and Horse of the Year in 1988.
Details about 2020 Induction Ceremonies will be announced in the coming weeks.
Additional information about the Canadian Horse Racing Hall of Fame may be found at www.canadianhorseracinghalloffame.com
(CHRHF)