Published:
April 30, 2020 01:11 pm EDT
Officials with the Standardbred Retirement Foundation have announced the winner of the organization's Elitlopp and Disney raffle.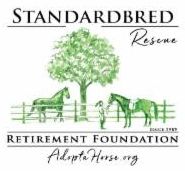 The SRF drew the name of the raffle winner on Wednesday, April 29, and it was none other than Bob Uhl from Saratoga, NY.
Uhl has been a friend to SRF's horses for decades, and the organization has explained that this is the first time that Uhl has won something in his life. Rest assured that Uhl was very excited when he learned of the news.
"I love what you guys do," Uhl told the SRF, and added, "these horses are everything."
After a full explanation of his choice of trips, without taking a breath, Uhl said, "Can I donate it back?"
Right now for the SRF, Uhl's kind gesture sort of makes a world of difference. In holding back happy, emotional tears, the SRF was surprised and ecstatic to be the recipient of Uhl's generosity.
The SRF is very grateful to Uhl, to everyone for their support of its fundraiser, and to the Arch Madness family for their generous annual sponsorship in memory of 'Arch.' This puts a whole lot of feed bags in the barn and packs the hayloft, so every morning those hungry whinnies are answered.
It's how the mission keeps going.
(With files from the SRF)