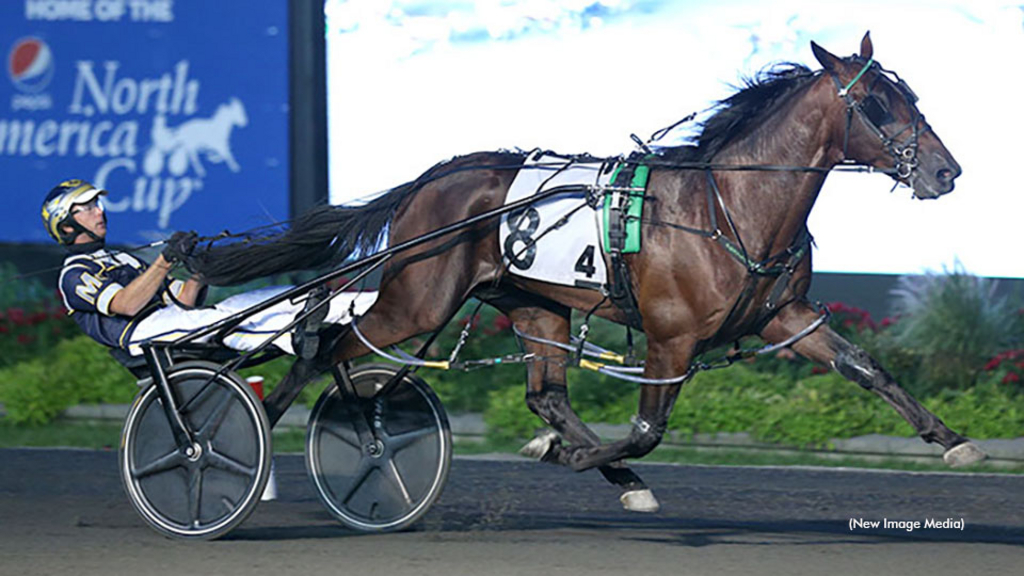 Published:
April 28, 2022 11:55 pm EDT
With the scheduled date of the 2022 Pepsi North America Cup less than two months away, Trot Insider will profile some of the race's top contenders as horses ready to compete for one of Canadian harness racing's biggest prizes.
Stonebridge Helios continues the countdown, coming in at #3 in TROT Magazine's 2022 Pepsi North America Cup Spring Book assessed odds of 7-1.
Stonebridge Helios took his 1:51.4 mark in his first of three Ontario Sires Stakes Gold wins and posted his biggest victory on the Grand Circuit when he romped in the Champlain Stakes on the 2021 North America Cup undercard. Driven by Bob McClure, the Sunshine Beach-Ken Doll J colt capped off his rookie campaign with a narrow top three finish in the Super Final. Never missing the board, the O'Brien Award finalist banked $295,710 in just seven starts with a 4-2-1 summary.
Trot Insider caught up with trainer John Pentland, who also shares ownership with John Fleischman of Ottawa, Ont. and breeder Angie Stiller of Arva, Ont., for an update on his Cup contender ahead of his first qualifying effort of 2022 on Friday (April 29) at Woodbine Mohawk Park.
"Usually the ones I race, I went out and picked as yearlings or I bred them or were given to me as yearlings anyways," said the London, Ont. trainer. "But I'm so appreciative to Dirk Simpson and John Fleischman for entrusting me with this colt and then John being generous enough to sell me a piece. But all that aside, I knew what we had after Bob [McClure] and I qualified him… the writing was on the wall what we had. He was the focus of the barn, and I have unbelievable help, maybe the best help I've ever had in my life. Dave Downey, experienced 20 years working for Bob McIntosh, among other grooms, and my friend Scott Barr.
"It's funny, he doesn't have a single groom. He may this summer, but everybody participates and everybody watches out for him, so when there's a conversation about him in the barn, everybody's in on the conversation because we all look after him. To me, it makes it way more fun and makes it more like they're all involved. I think it's better off, because I get feedback from everybody and I love it."
Where did he winter and when did you start back with him?
"He went back to Stonebridge and I brought him in January 8."
Have you noticed any changes from last year to this year?
"He's like everybody's horse...He's a little bigger horse, he's a little bit stronger, filled out a bit more, but he was a big, good-looking colt last year. He just matured that six months from the time we quit until now. He's a stud. He's a nice horse to be around. He's a little bit more nippy than he was last year but he's quiet in the barn."
What will his tentative early schedule look like leading up to the Pepsi North America Cup?
"I'll qualify him twice before the SBOA…From qualifiers, he'll probably go four weeks in a row if he makes the final of the SBOA. And then get ready for the Somebeachsomewhere to prep for the Cup."
What does his tentative schedule look like after the North America Cup?
"I think we're eligible to everything in Canada. There's only the Simcoe outside of the Breeders Crown. So, we're eligible to the Simcoe and we made the payments on the Crown. What we did was kept him eligible to the Matron and the Progress after the Super Final. There's no American stakes for him during the summer.
"It's heavy enough the way it is without taking off to the States. I know that you could go to the Meadowlands Pace, and it wouldn't interfere with the Sire Stakes, but at some point, you have to give him a week off. I'd much rather just stay at home with him, they're aren't that many breaks all summer anyways."
At what point last year did you think this horse was North America Cup material?
"Well, he really was impressive in the Sires Stakes and I wouldn't have shied away had I been asked 'Does this look like a kind of horse you dream of racing in the Cup?' But he sure didn't leave any question mark when he won the Champlain. And I guess, at that point and in fairness, he did only race against one good American colt, but the way he dominated that race, it was quite apparent that he's for real."
Is he the best colt you've ever had?
"Oh yeah, he's the best colt I ever had. But I had a colt that you guys picked for 11th one time in the N.A. Cup that Karen Carroll owned, Talbot Romeo, and he was as fast as this colt, he just wasn't sound. But this is the best colt I've ever trained for sure."
You mentioned he was a consistent horse but what is his biggest asset or strength that gets him to be that consistent and makes him such a good competitor?
"One is Bob [McClure] can do whatever he wants with the horse. The horse can race anywhere on the racetrack. He had a little bit of trouble there late in the year trying to get him off the gate; he said he was running a little sideways just in behind the gate when he took a hold of him. I think we but a line pole on him, problem fixed. He could race from off the pace, he could leave, he could work out a trip, he could get roughed up… maybe not quite as much as he did in the Super Final, but he usually could overcome it.
"He's also a sound horse. He raced most starts without a headpole. He was sound, and he's focused, this colt. He's not one of these studs that have to walk through all the fillies and announce his presence. He's stabled right there around a whole bunch of girls and he couldn't care less. I've got a gelding on each side of him, but obviously in my stable there's a ton of fillies. So, I guess that's it. He's a big, strong colt but he's very focused on what he does and you can do whatever you want with him in a race, and therein lies the consistency. He doesn't have to have his trip."
As someone who, to your point, doesn't usually have pacing colts and hasn't won this race before, how does it feel to have a horse that appears to have a legit shot at the North America Cup?
"I've been second and third in the Shes A Great Lady and third in the Fan Hanover, and nobody gives a sh!t, you know. It's just a different cat, and it shouldn't be. Like when Powerful Chris was third in the Fan Hanover, and I think she's the fastest three-year-old filly sired by a Canadian stallion. 1:48.3 that night. Nobody cares. Treacherous Reign won it and that's where it ends, but people care about this. The grandstand will be full because of this. There'll be 28 of the 30 pages in TROT devoted to this. I don't feel undue pressure, but I celebrate how important it is and that's really cool, and I'm glad I'm involved in it."
Previous Profiles:
#4 - Beach Glass - (8-1)
#5 - Early Action (9-1)
#6 - Gulf Shores (10-1)
#7 - Hammering Hank (12-1)
#8 - Betterhavemymoney (18-1)
#9 - Bob Loblaw (20-1)
#10 -  Magical Arthur (22-1)