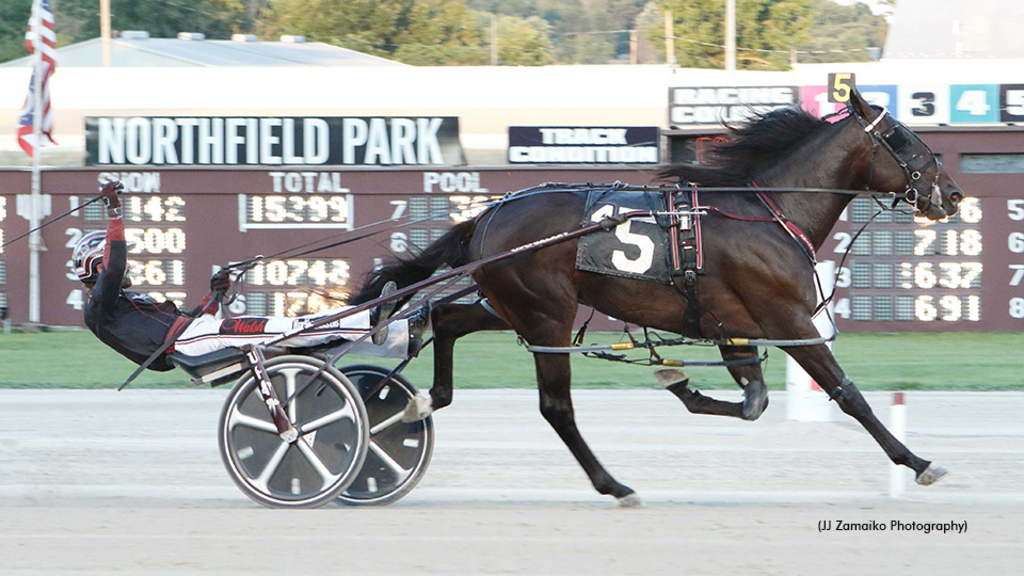 Published:
April 13, 2022 03:50 pm EDT
With the scheduled date of the 2022 Pepsi North America Cup just over two months away, Trot Insider will profile some of the race's top contenders as horses ready to compete for one of Canadian harness racing's biggest prizes.
Gulf Shores continues the countdown, coming in at #6 in TROT Magazine's 2022 Pepsi North America Cup Spring Book assessed odds of 10-1.
After winning his first six races in his home state, Ohio's two-year-old champion pacing colt Gulf Shores proved to be a top contender on the Grand Circuit with runner-up finishes in the Bluegrass Stakes and Breeders Crown elimination and final -- missing by just a nose in those final two starts to close out a $493,967 rookie campaign for owners Country Club Acres Inc., Crossover Racing and Wingfield Brothers LLC. The three-year-old colt took a mark of 1:51.3 in his second race in late July winning a leg of the Ohio Sire Stakes at Scioto Downs and was race timed in 1:50.3 at Lexington placing fourth in the International Stallion Stakes -- his only off the board finish from 10 starts.
Trot Insider caught up with trainer Brian Brown, who also campaigned Gulf Shores' sire Downbytheseaside to a top three finish behind his victorious stablemate Fear The Dragon in the 2017 edition of the North America Cup as well as 2018 runner-up Done Well.
"He's just a nice, easy horse," said Brown of Gulf Shores. "Last year, he was so easy on himself, he never wore earplugs until the second week of Lexington. He'd actually bumped the gate. The first week he got a little excited so we put them on, but other than that, he's just been a perfect little horse to be around."
After shutting Gulf Shores down following the Breeders Crown, where did he winter and when did you start back with him?
"He went to Diamond Creek in Kentucky and was there until almost mid-January. He was actually out a couple of weeks longer than we had anticipated because he was having trouble with ulcers. He had ulcers early in the year and then they found them again even when he was turned out. He's not a good horse out in the field by himself. Even in the stall, he can get to be a little antsy. If he hears any commotion, he's running around kicking the walls, you know, so he's not a good horse that way, like he just doesn't relax all the time. Now if things are nice and quiet and everything, he's fine. But we got started a little late because of ulcers. We treated him, the horse is coming back really good, he looks really good right now."
Have you noticed any changes from last year to this year?
"He's probably a little racier this year. I'm sure he's going to wear earplugs this year.  I trained him today [April 5] and the first trip, my son-in-law trained a couple two-year-olds with him, and that was as aggressive as he's been and even had an ear hood on. Not that he was out of control or anything, but it's the first he's really been up on the bit in any training mile. All spring that he has trained, he has not been grabby, but today, he was a little fired up the first trip then the second trip by himself he trained really nice.
"Other than being a little racier, he has grown. He was growing all last year. I'd say, middle of the year on, he started getting taller and now he's put on some weight, it looks pretty sharp."
Where are you at with him now?
"I've been in 2:10 twice with him. He may go 2:10 again. I don't know if I'll make the first leg of the Sire Stakes with him since we're a little bit behind, you know, you get to rush and then things go wrong. Even if he stays healthy, if you rush, it seems like it takes a toll on them later in the year. Four or five starts down the road they just don't seem to improve."
Physically, how does he line up with Downbytheseaside in terms of where he was at this point in his three-year-old year?
"Seaside had the same problem between his two and three-year-old year. We turned him out across the road from Spring Garden Ranch and all he did was run the fence. He was actually losing weight, so I had to bring him in. So, in that sense, they're a little bit similar. Seaside got started earlier in his three-year-old year, so this time of year, he could have been qualifying, if not, he was probably a week away. He was ready to go for his first race the first of May. Physically, Seaside was a little bigger and stronger than Gulf. I don't know about their gait; their gait could be similar. Seaside was a lot more aggressive than Gulf. Seaside was very aggressive where Gulf, he started to get racier, but he was just a perfect little horse to drive last year."
If he does end of missing that first Sire Stakes, what will his tentative early schedule look like leading up to the Pepsi North America Cup?
"Well, he'd have two qualifiers and then I would have to try and find a couple races for him before the North America Cup because between that first Sire Stakes and the North America Cup, he has no other stakes races. The second leg of the Ohio Sire Stakes is the same day as, I think, the final of the North America Cup."
What does his tentative schedule look like after the North America Cup?
"I'm pretty sure we put him in the Hempt, the Meadowlands Pace, the Adios, the Jug, both the Lexington races, Breeders Crown, the one bigger race at Hoosier late in the year, probably in the Progress. He's probably got a pretty full slate, so it's up to him. I guess it's up to me not to rush him and to make sure he has the time and the training that he needs to be able to step up with those horses. But, you know, once we get going, it's up to him, what he can do."
What's his biggest asset / strength?
"I would say his usability; you can leave, you can race from behind. But more than anything, I'm sure his determination is as good as any. He tries no matter where you put him. He's always tried his best."
Any three-year-old stablemates in the barn right now that are paid up and also looking promising?
"I actually have three. I have a fourth one that's a pretty nice horse, Six Feet Apart, that we did not put in the North America Cup. The owners just wanted to protect him more and not do any rushing to be ready for that race. I have another horse just raced yesterday [April 4], Ario Hanover. It was only his second lifetime start -- he only raced once last year, got sore, had to quit. I think he has a possibility to be that kind of horse. He was second in [1:]54 but he paced [back] in :55 on the outside yesterday, raced pretty good.
"I've got another horse that could be my best horse, a horse named Night Hawk. He's a Betting Line, only raced twice last year, won both [Pennsylvania] Sire Stakes. He got sore, I had to wait. He's coming back really good. I don't ever say any horse is 100 per cent now, but the horse is pretty good right now. He's been 2:02 so he's on schedule to be ready for the first Sire Stakes. I think they even have a second PA Sire Stakes before the North America Cup so if he can hit those, he would be ready for the North America Cup. If he just stays healthy, comes back as good as he was last year, he could be in Canada with us.
Why did you shut Night Hawk down and after his start in July?
"He sored up in a cannon bone in the left hind ankle. Ario Hanover actually had the same injury -- he sored up the cannon bone, only raced once. Night Hawk won both races and was sore so I had to stop, but it was basically a bruised cannon bone. So far, Night Hawk has come back really good. I've got one more training this week then next Friday he'll be qualifying. I'll just stay here in Ohio with them, just qualify them here and then, hopefully, they go to their Sire Stakes."
How does it feel to once again have horses that they look like they have a legitimate shot at the North America Cup?
"Well, it sure makes it a lot of fun looking down the road at it and It sure makes it a lot easier to get out of bed in the morning when you have horses like that to go look at every day. So, you know, it's fun, it's cool to have these opportunities. I mean, it all goes back to the owners that are willing to try to buy you that quality of horses that gives you a chance to race in these races."