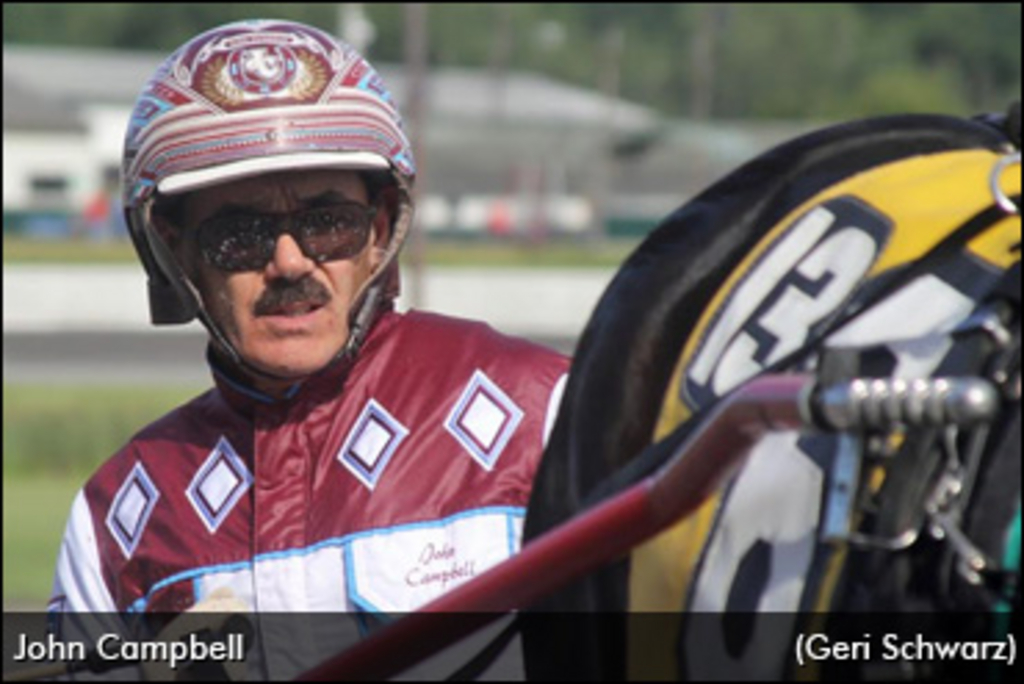 Published:
April 17, 2017 10:37 am EDT
It has been announced that Hall of Fame reinsman John Campbell, who recently confirmed that he will be retiring from driving, will compete in his final harness race on Sunday, July 30, during Clinton Raceway's Legends Day card.
Campbell has discussed his retirement with Trot Insider.
"It's going to be an adjustment, there's no question about that," Campbell said. "I think I'm going to be busy enough with the new position (president and CEO of the Hambletonian Society); it's not like I'm going to be sitting around thinking 'geez, I should be driving horses...'. I'm going to be busy enough that my mind will be occupied anyway."
Campbell went on to say, "..it's going to be an adjustment but at the same time I think I've pushed the limits age-wise as well as I possibly could and still being able to compete – that's the positive out of stopping now.
"For all the stuff I've put my body through, I feel very good. I don't have constant pain or anything like that. I feel very fortunate in that regard. It's just a new chapter of my life. I'm OK with it, I'm looking forward to taking over this [new position] and moving on."
To read Campbell's comments in their entirety, click here.
The addition of John Campbell's retiring drive during Legends Day 2017 is the proverbial icing on the cake for the season line up at Clinton Raceway.
Opening day is just over a month away, as the unofficial kick off to summer, Sunday, May 21 at 1:30 p.m., will have race fans taking part in a new revamped Super Sunday Show. The show supports Central Huron Secondary School with a trackside fundraiser and having the chance to walk away with a share of a racehorse. One winner will scoop the $1,000 prize from thestable.ca and, of course, opening day collector t-shirts will be available for $2 each.
The 15-week season will once again feature a different trackside fundraiser each Sunday. "We implemented the trackside program over the last few seasons" stated the track's marketing manager, Jessica Carnochan, "and, once again this year, we're happy to host a variety of different clubs, groups and organizations from within Huron and Perth Counties." Most feature a 50/50, bake sale and BBQ while some incorporate silent auctions, raffles and car washes, each helping to raise funds in an exciting and entertaining environment.
With highlights such as The Kin Pace and Canada 150 celebrations taking over the track on Sunday, July 9, the second annual Vic Hayter Memorial Trot, Sunday, July 23 and of course, Legends Day, Sunday, July 30, the first half of the season promises to be nothing short of fantastic.
As usual, the 37th annual Charity Driver's Challenge will close out the 2017 season on Labour Day weekend, Sunday, September 3.
For a complete season schedule, visit clintonraceway.com.
First-race post time for live racing will be 1:30 p.m.
(With files from Clinton Raceway)