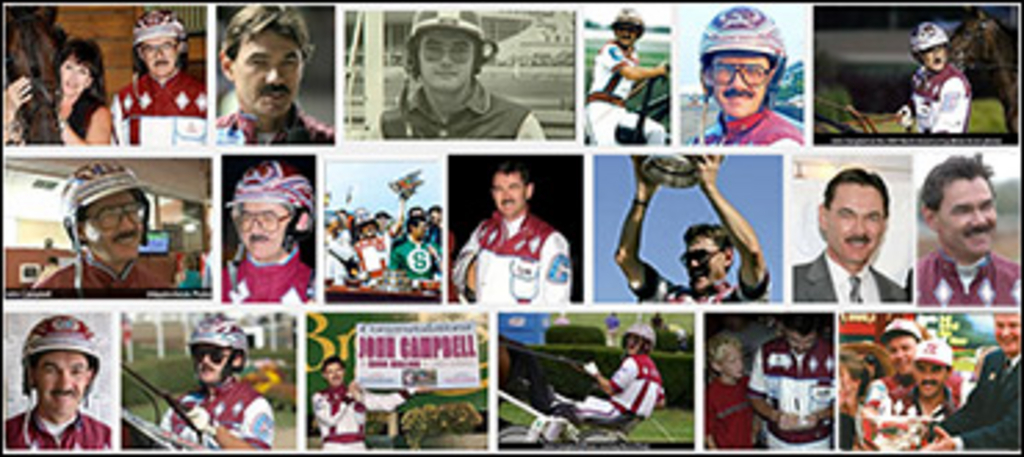 Published:
March 18, 2017 05:29 pm EDT
What started in London, Ont. in June 1972 will come to a close 45 years later as harness racing's all-time winningest driver, Canadian-born John Campbell will retire from active competition this summer.
The Hambletonian Society announced on Thursday (March 16) that Campbell was elected as the organization's next president and chief executive officer in a unanimous vote of the Board of Directors at the winter board meeting held this past Sunday (March 12) in Boca Raton, Florida. He will replace current president Tom Charters effective July 1, 2017.
The release stated that "Campbell will fulfill his driving commitments through June of this year." In conversation with Trot Insider, Campbell confirmed that this means he will step away from catch-driving come July 1.
"I was approached by the executive committee last winter about possibly moving into Tom's role," said Campbell. "Everybody at the Hambletonian Society had known that Tom intended to step down in the future, and they were waiting for obviously the right time for Tom and to come up with a person that they were comfortable with. From my conversation, this is what has evolved."
What will also evolve is Campbell's transition from a visible ambassador as an on-track participant to one off the track. He feels he'll be more visible than ever in his upcoming role.
"It's not a desk job, I'm going to be out and around. I think I'll be actually more visible to you and a lot of the fans because I'm going to be on the front side instead of in the paddock where you wouldn't see me.
"Having said that, I think it comes along at an opportune time for me in that I'm an old guy driving horses, simple as that. I think I still do a good job, I can still be successful but there is a time limit on that. For this [opportunity] to come along at this time, I think works out very well for me."
While ever humble when discussing his own accomplishments, John Campbell's resume in harness racing is unparalleled. His career earnings top $299 million from more than 10,600 victories in his five decades of competition. He has topped the North American drivers earnings standings 16 times and has won every major race in the sport at least once, including a record six Hambletonians.
His remarkable career on the racetrack saw him elected to the U.S. Harness Racing Hall of Fame in 1990 at age 35 -- the youngest person so honoured -- and the Canadian Horse Racing Hall of Fame in 1987. He was voted Stanley F. Bergstein-Proximity Achievement Award Winner in 2012; voted U.S. Harness Writers Driver of the Year in 2006 and W. R. Haughton Good Guy in 2002; the Harness Horse Youth Foundation Service To Youth honouree in 2003; awarded a Meritorious Service Medal for his commitment to harness racing by the Governor General of Canada in 2000, inducted into Canada's Sports Hall of Fame in 2009 and is president of the Grand Circuit and a director of the Little Brown Jug Society.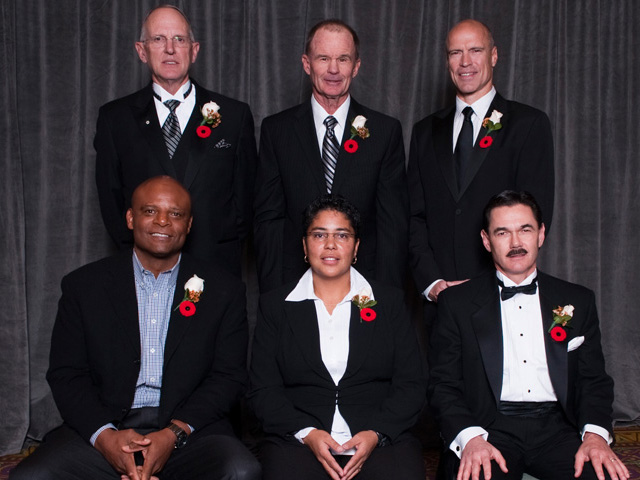 John Campbell (bottom right) with Canada's Sports Hall of Fame's Class of 2009
"As a driver, you're only as good as the opportunities you get and that comes from the trainers and owners, and over the years I've been very fortunate in that regard, obviously."
But when it comes to driving after July 1, Campbell will be hanging up the silks.
"It's a contract that I'm signing and for insurance reasons that's going to be it," stated Campbell. "They don't want me driving after July 1."
Campbell is quick to recognize there will be an adjustment period from his traditional white, maroon and light blue suit to more likely one that's black with those colours possibly in his necktie. He feels his new role's workload will keep him focused and not thinking he's out of his element if he's not in a racebike.
"It's going to be an adjustment, there's no question about that. I think I'm going to be busy enough with the new position; it's not like I'm going to be sitting around thinking 'geez, I should be driving horses...'. I'm going to be busy enough that my mind will be occupied anyway."
Expanding on that, the 61-year-old Campbell understands how difficult it is for anyone to stay in the mental and physical state required to drive Standardbreds and is extremely grateful to be able to step away into an associated position at this point of his life.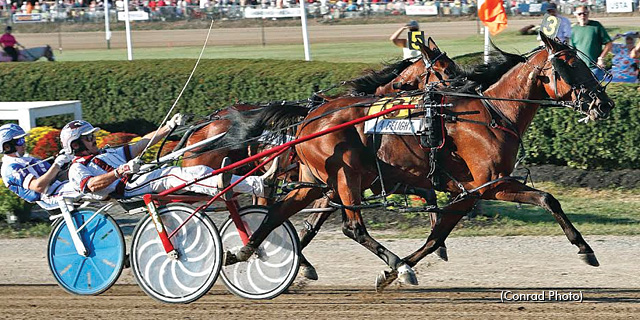 John Campbell guides L A Delight to victory in the 2016 Jugette
"There's two ways to look at that...it's going to be an adjustment but at the same time I think I've pushed the limits age-wise as well as I possibly could and still being able to compete -- that's the positive out of stopping now.
"For all the stuff I've put my body through, I feel very good. I don't have constant pain or anything like that. I feel very fortunate in that regard. It's just a new chapter of my life. I'm OK with it, I'm looking forward to taking over this [new position] and moving on."
After taking some time to consider the Hambletonian Society's offer, Campbell also has the full support of his family to make the change.
"I talked it over with my wife Paula and my girls...it wasn't spur of the moment. We had a chance to discuss it and this is what we decided."
In looking ahead, Campbell noted that he has some items on his agenda when he starts with the Hambletonian Society but pointed out that he still serves the organization's Board of Directors, and they set the course of direction.
"I haven't even sat down with the full Executive Committee to go over what they are expecting of me and various projects. From my standpoint, we have no power as an organization. I think my strong suit will be to try to get the various facets of the industry -- the racing commissions, the horsemen's groups and the racetracks -- to sit down and try to make decisions that are in the best interest of harness racing moving forward.
"That's going to be one of my goals, to get that accomplished on various topics that we have...and getting these groups together and making better decisions will promote the sport of harness racing, and that's their mandate, which is a broad mandate when you think about it."
Before that new role starts, Campbell will head into the start of the 2017 stakes season and looks forward to one last shot at some of racing's major events before his presidential term takes effect.
"I'm hoping to pick up some [horses] in the stakes until the first of July, I'm certainly open to that...I'll take whatever I can get and kind of pick my spots from now until July 1st and then it's onto a new career."