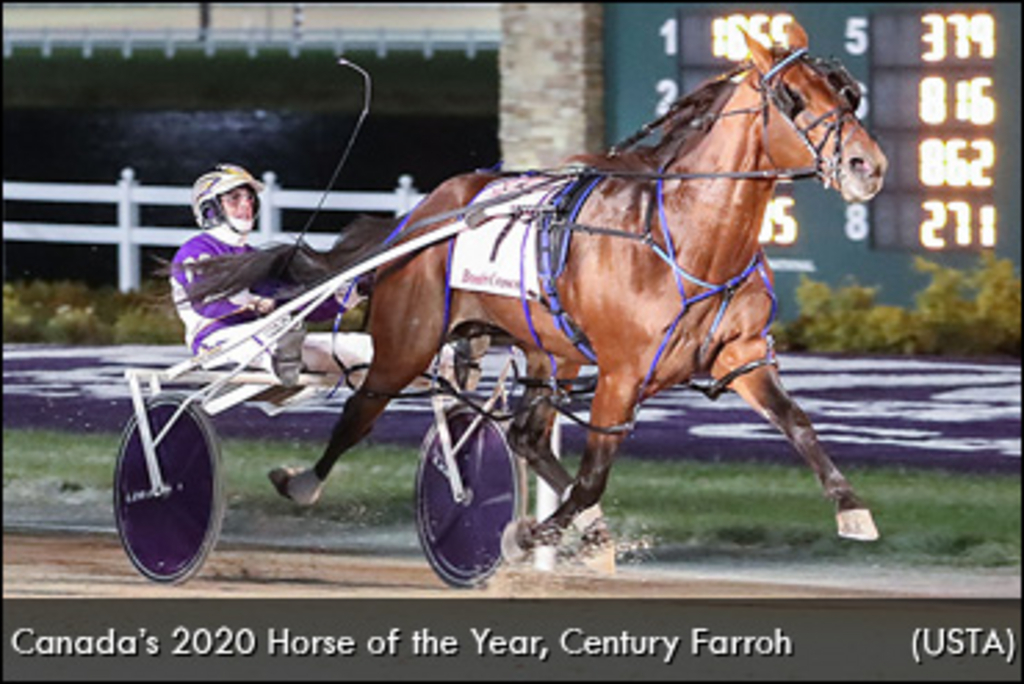 Published:
April 16, 2021 07:10 pm EDT
The 2020 O'Brien Award winner as Canada's Somebeachsomewhere Horse of the Year, Century Farroh made his much-anticipated return to the racetrack on Friday (April 16) against a familiar face but an unfamiliar foe.
Qualifying for trainer Dr. Ian Moore at Southern Oaks Training Center, Century Farroh made his five-year-old debut in a virtual match race against O'Brien Award winning stablemate Tattoo Artist -- already a 1:52.2 winner this year. Dale Spence picked up the driving assignment behind Century Farroh, while Moore handled the lines on Tattoo Artist. Century Farroh set the fractions in the qualifier, carving out fractions of :27, :57 and 1:26.4 before sprinting home in :26.3 to trip the timer in 1:53.2. Tattoo Artist closed in :26.2 to finish a neck in arrears.
Now a three-time O'Brien Award winner, Century Farroh captured his second consecutive divisional O'Brien trophy earlier this year. After being voted Canada's Three-Year-Old Pacing Colt of the Year in 2019, Century Farroh (Mach Three - Beachy Girl) scored 12 top-three finishes in 16 starts during his four-year-old capmpaign and accrued more than $637,000 in earnings en route to Older Pacing Horse and Horse of the Year honours. His open stakes victories included the the Dan Patch and the Breeders crown, lifting his career earnings over the $1.4 million mark for owner Ratchford Stable NS of North Sydney, N.S.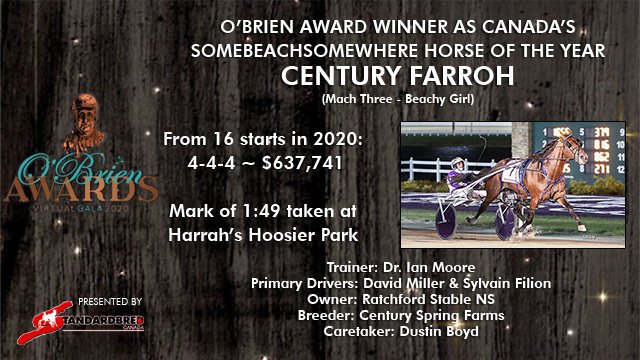 Moore told Trot Insider that he plans to qualify Century Farroh again next Friday (April 23) at Southern Oaks.
The third O'Brien Award winner from his 2020 campaign, Lawless Shadow made his sophomore debut later that card and definitely showed he's ready to rumble with a gate-to-wire winning performance in 1:52 -- the fastest mile of the morning.
Lawless Shadow hit the board in eight of nine races as a freshman, including four wins in his rookie campaign and topped $307,000 in purse earnings. He scored two victories in Ontario Sires Stakes events, a win in the Nassagaweya, runner-up finishes in his Metro elim and OSS Super Final and a third-place finish in the Metro Final. He co-owns the son of Shadow Play - Ladycino with R G McGroup Ltd, Serge Savard, and Frank Cannon, and he was thrilled with the debut performance on Friday morning in advance of a second qualifier in a week's time.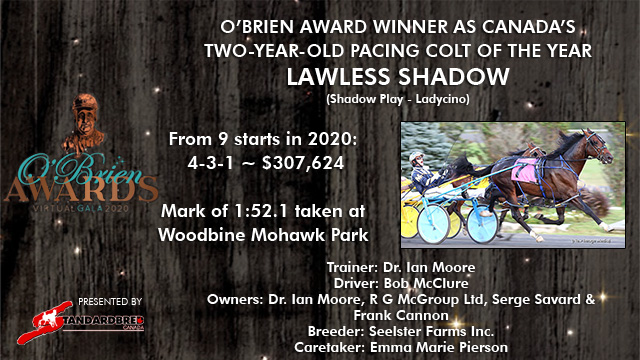 "Lawless Shadow was just phenomenal," gushed Moore. "He's been such a pleasure to train, I just say 'go on, Lawless' at the three-quarter pole and he just takes off. He doesn't feel like he's going any faster, either. For a big horse, he's so agile. We're very pleased. But it's time to find some racing opportunities for them now and unfortunately it doesn't look like I'm going to find it where I belong."
Lady Arthur impressed in her second outing of the season, a wire-to-wire score in 1:52.3 for Moore. The daughter of Arthur Blue Chip - April Three is owned by Moore with Serge Savard and RG McGroup Ltd., and will now head to Ohio for the Scarlet & Grey Invitational slated for April 23 at Scioto Downs. Her next start would likely come in Ohio Sire Stakes action, but Moore is unsure of his plans for many of his pupils due to the shutdown of racing in Ontario.
"I've got six horses ready to go here, and like everybody else I'm distraught with what's going on up there so I think I might leave them in either Pennsylvania or New Jersey and see if I can find some racing opportunities there. There's nothing for [Lady Arthur] after those two races in Ohio until June. We'll figure that out next week.
"I'm planning on going with four of them next week. Tattoo Artist is going to ship to New Jersey to Chris Ryder's for what now looks like two legs of the Graduate, since there's no Confederation Cup, Lady Arthur's going to Ohio, and I can't see that I'm going to take these horses home unless I'm certain there's going to be something there. I don't want to go home like last year and there's nothing to race for in May. I've been priming Lawless Shadow for the North America Cup, and that [date] could change too."