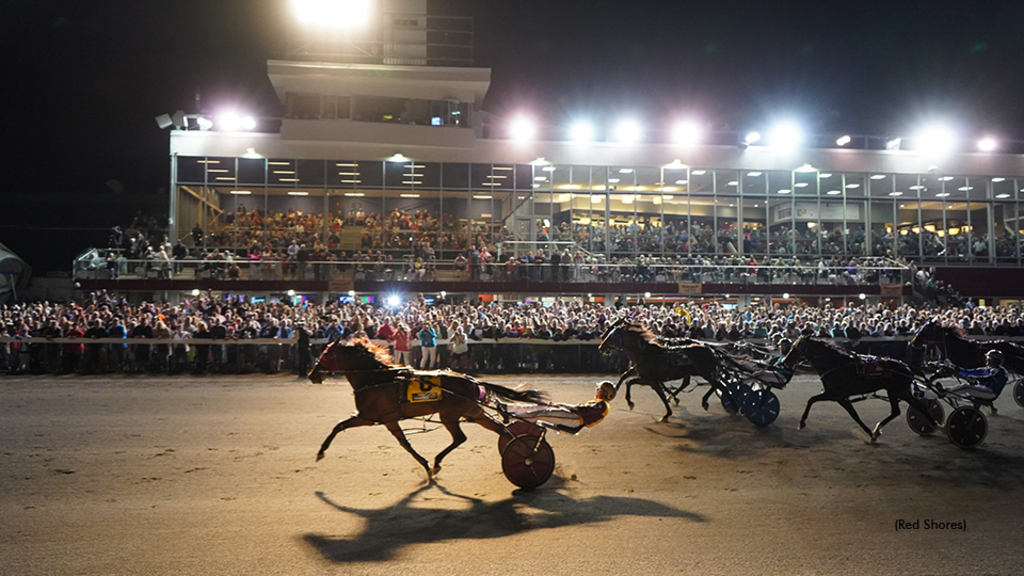 Published:
April 13, 2022 09:45 am EDT
The 2022 edition of the Gold Cup & Saucer will feature a record six-figure purse for Charlottetown Driving Park's signature race to be held on Saturday, Aug. 20 during Old Home Week.
The purse will increase from $60,000 to $100,000. The announcement was made by officials with Red Shores Racetrack & Casino and Atlantic Lottery, the 2022 presenting sponsor for the Gold Cup & Saucer, at a press conference held at Charlottetown Driving Park on Wednesday morning.
The Red Shores locations in both Charlottetown and Summerside have long been a part of Atlantic Lottery operations and this partnership marks the beginning of a new chapter in Gold Cup & Saucer history.
"Atlantic Lottery has been involved with the Gold Cup & Saucer final for many years now, but this new partnership has us more involved and excited than ever," said Michael MacKinnon, vice-president of gaming at Atlantic Lottery, who spoke during today's announcement at Red Shores Racetrack & Casino. "We are thrilled to be deepening our contribution to one of North America's most prestigious harness racing events, that is such an important part of P.E.I.'s culture and history."
An Island tradition dating back to 1960, the Gold Cup & Saucer is the biggest harness racing showcase in Atlantic Canada.
Atlantic Lottery is honoured to partner with Red Shores to increase the purse to a level worthy of the event's name and tradition. The 2022 Gold Cup & Saucer final, presented by Atlantic Lottery, will race for a record purse of $100,000 and become only the second invitational in Canada on a half-mile racetrack to reach this purse level in 2022.
"We know that the Gold Cup & Saucer attracts the very best horses and drivers from all across North America and draws viewers from around the globe," said David MacKenzie, general manager of Red Shores Racetrack & Casino. "With the newly increased purse adding even more excitement to the race, we simply cannot wait for Old Home Week so we can welcome Islanders and visitors alike to celebrate together."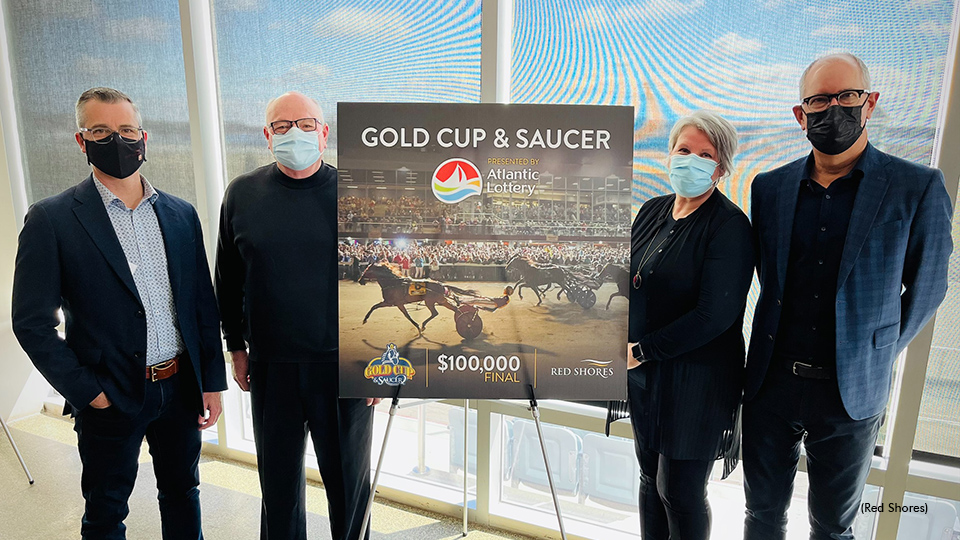 Michael MacKinnon (Atlantic Lottery), Blaine MacPherson (P.E.I. Harness Racing Industry Association), P.E.I. Finance Minister Darlene Compton, David MacKenzie (Red Shores)
The Gold Cup & Saucer final is an annual highlight of P.E.I.'s Old Home week and tourism season, bringing roughly 20,000 people to Red Shores Racetrack & Casino and thousands of others to watch the broadcasts from around the world.
"We appreciate the commitment from Atlantic Lottery to increase the purse of our signature event on P.E.I.," said Blaine MacPherson, Chairman of the Prince Edward Island Harness Racing Industry Association. "This is will firmly place the Gold Cup & Saucer as one of the top-level events in North America."
Video of the press conference, which was held at 11 a.m. AT, is available below and begins at the 33-minute mark.
(With files from Red Shores & Atlantic Lottery)