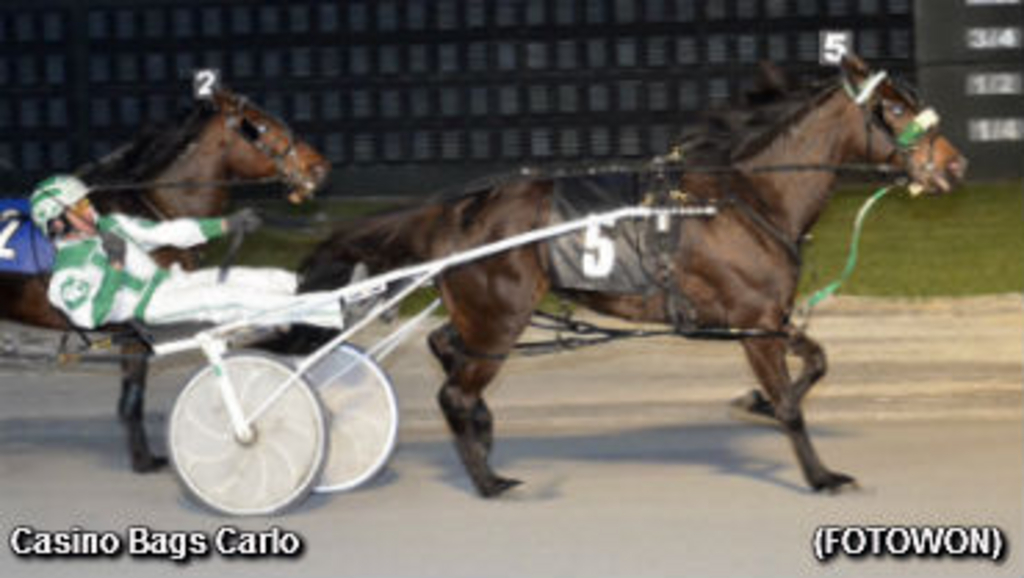 Published:
April 10, 2014 10:31 pm EDT
Casino Bags Carlo swept to an impressive victory in Thursday's $100,000 Delaware Standardbred Breeders Fund final for three-old pacing colts and geldings at Dover Downs.
When front-pacing favourite Elite Awards suddenly broke stride on the final turn, Vince Copeland, sitting second with Casino Bags Carlo, shot into the lead and rushed home a 1:52.4 winner of the final DSBF three-year-old championship. West Star Director (Ben Stafford Jr.) finished second for the third consecutive start. Forced Passage (Ross Wolfenden) was third.
The win was the third straight victory of an unbeaten campaign for the pacer who is owned by Cavalli Pazzi Stables. Copeland has trained and driven the Roddys Bags Again-Casino Bus gelding, who is now a winner of eight of 12 races while winning $70,000 this year and $168,911 lifetime.
Driver George Dennis said he and Elite Awards saw a lose horseshoe shining brightly on the track along a pylon and the pacer was startled and broke stride, finishing out of the money for the first time in 12 races with 10 of them easy wins.
Bandolito, a 1:48 winner last week - currently the fastest time of 2014, won even more impressively this week stepping up to the $36,000 Preferred Handicap for trainer/driver Daryl Bier who co-owns with Charley Dombeck and David Bier. Tarpon Hanover (David Miller) ended a two-race win streak finishing second, with Take It Back Terry (Ross Wolfenden) the show horse.
The Ponder-Sodys Home Brew four-year-old was never trouble chalking up his third win in four starts this year while winning $48,977 and $228,815 in his 16 race career.
When Nova Artist (Allan Davis) became involved in trouble in front of the grandstand when he received a broken race wheel, the $33,000 Delaware Special Handicap became a toss up. Feel Like A Fool (Dennis) took over the lead and led into the stretch when Tim Tetrick steered Just A Jolt to the front nearing the wire for a 1:50.2 triumph. Feel Like A Fool and Full Of Sand (Corey Callahan) were second and third, respectively. Nova Artist pulled up before the clubhouse turn.
Corey Callahan drove Joan Hamstead's homebred, Lewiebyalength to a 1:53.2 success in the $20,000 DSBF consolation. A 13-1 shot Three Day Forecast (Jonathan Roberts) was second, with By Noggin (Tony Morgan) third.
Corey Callahan was presented the Leading Driver award between races. Dylan Davis won the Leading Trainer title, while Nova Artist, for the second time in three seasons, won Horse of the Meet honours.
(Dover Downs)