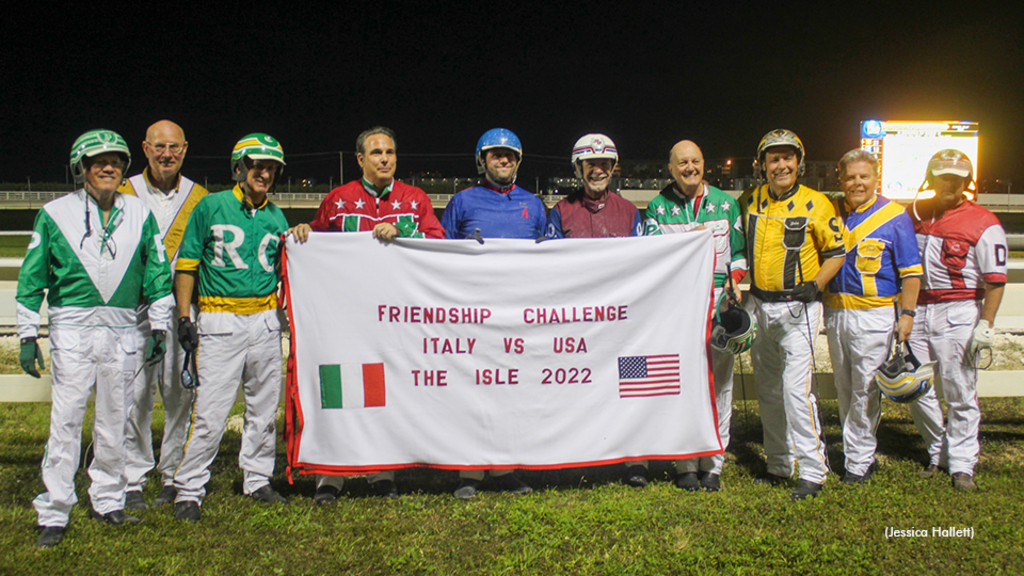 Published:
March 1, 2022 11:18 am EST
Amateur drivers representing Italy won both halves of the Daily Double at Pompano Park on Monday night (Feb. 28) enabling the neighbours across the ocean to score a 95-83 victory over the Florida Amateur Driving Association (FADC) drivers representing the USA.
The Italian contingent this night was led, first, by Jamie Marra, who helped Italy stretch its 52-50 lead going in by scoring with Mr Houdini in the first race and, then, sewn up minutes later as Ron Cusimano piloted Celebrity Serena to a handy win completing the Daily Double and the competition in this Friendship Challenge.
Marra, a weekly competitor for the FADC, guided Mr Houdini to an upset victory in the opener, overcoming the outside post in a tenacious effort stopping the timer in 1:57.1 for his first victory of the year.
Taking the lead after the opening :28.4 quarter, Mr Houdini, an eight-year-old gelding by Kadabra, led the rest of the through markers of :58.2 and :1:27.1 before drawing clear in the late stages to score by 1-3/4 lengths over the late-charging Rose Run Rudi (Dein Spriggs, Team USA) with Ricky Be Sharp (Cusimano, Team Italy) third after threatening around the final bend. Broadway Bruiser (Daniele Orsini, Team Italy) was fourth after a quick sprint off the gate to take charge early before yielding. A Royal Line (Steve Oldford, Team USA) picked up the nickel after being shuffled to last around around the last turn.
Trained by John Mungillo for Jamie Marra Racing, Mr Houdini sent his career bankroll to $275,661. He paid $14.20 to win.
Roughly 25 minutes later, Cusimano, also a weekly regular in FADC competition, sealed the crown for Italy as he piloted Celebrity Serena to a wire-to-wire win measuring 6-1/4 lengths.
Stepping up in class after a gutsy win against easier company in 1:56.4, this six-year-old daughter of Celebrity Maserati took charge one long stride after the bell and clocked panels of :28.1, :58.1 and 1:26.3 while stretching her lead and romped home in :29.2 to seal the issue in 1:56.1. Mighty Surf (Spriggs, Team USA) was second while Uncle Hanover (Barry Probber, Team USA) closed fastest of all to finish third. Montalbano Bi (Alessandro Manfredi, Team Italy) finished fourth while Better Call Saul (Tony Dinges) was next in the octet.
Trained by Jennifer Sansone for Celebrity Farms, Celebrity Serena bounced her lifetime earnings to $64,325 while enriching her faithful with a $6 mutuel.
In reflecting on this Italian-American Friendship Challenge, FADC Treasurer Tom Eichas said, "This competition does an immeasurable amount of goodwill for our grand sport worldwide as we close the gap of comradery from thousands of miles away to as if we were all neighbours. This is the spirit that all of our amateur clubs promote with worthy charitable causes benefiting at the same time...truly heartwarming."
Next up for the Florida Amateur Driving Club is the highly anticipated Pompano Legends Pro-Am featuring four of the greatest horsemen ever to compete at Pompano Park: Dave Ingraham, Mickey McNichol, Bruce Ranger and Wally Hennessey. This event will benefit charity by $10,000 with the Christian Harness Horseman's Association, Rockin T Equine Sanctuary and Tomorrow's Rainbow the beneficiaries for the March 6 event.
Flagman Victorious In Open Trot
In the absence of Toys For You, Rick Plano had to use a "pinch hitter" to come to the plate to try and hit another home run for the stable in the $14,200 Open Trot at Pompano Park on Monday night...and he did just that!
Flagman, a five-year-old gelded son of Guccio, scored a handy win in 1:53.3 after a pair of sprints early to secure the top spot. Star Track Hanover (Braxten Boyd) smartly drafted along from his rail post position and finished second, 1-1/2 lengths away, while the 14-year-old ageless warrior, Cantab Lindy, rallied to be third, edging out Keystone Apache. Four Wheelin picked up the nickel in the talented septet.
As the wings folded, Flagman was away alertly and took charge around the initial turn as Keystone Apache, leaving one slot outside of Flagman, was in flight early, as well, and took command at the opening quarter in a brisk :27.1...but not for long. Making a second sprint just a stride or two after, Flagman regained control of the festivities and went on to post fractions of :56 and 1:24 thwarting any impending threats with a :29.3 finale sealing the issue.
After the event, Plano said, "I don't know if he's quite the Toys For You horse...but he's getting mighty close. He was well within himself all the way and I am just hoping he stays healthy to realize his potential."
Owned by Maryann Plano, Flagman earned his second win of the year to vault his 2022 bankroll to $21,094 and lifetime earnings to $148,499.
As the 2-5 public choice, Flagman paid $2.80 to his multitude of faithful.
The $12,600 Open II Trot went to Celebrity Pegasus, deftly handled by Peter Wrenn. This 10-year-old warrior son of Andover Hall was a near gate-to-wire winner, clocking panels of :28.1, :57.2 and 1:26 with a :29.2 final quarter good enough to hold In Secret (David Miller), also 10 years old, safe by a half-length. Joey Pro (Wally Hennessey) finished third while Sooo Handsome and Crooked Creek completed the top five in the field of seven.
Trained by Melanie Wrenn for Joshua Graber, Celebrity Pegasus won for the 41st time in his career stretching 178 starts to boost his lifetime bounty to $482,133.
As the lukewarm 9-5 favourite, Celebrity Pegasus paid $5.80 to win.
Racing continues on Tuesday night with a $15,000 guaranteed pool on the Pick-4, further highlighted by an industry low 12 per cent takeout, and a Super Hi-5 jackpot that has ballooned to $24,287. Post time is 7:20 p.m.
(With files from Pompano Park & FADC)