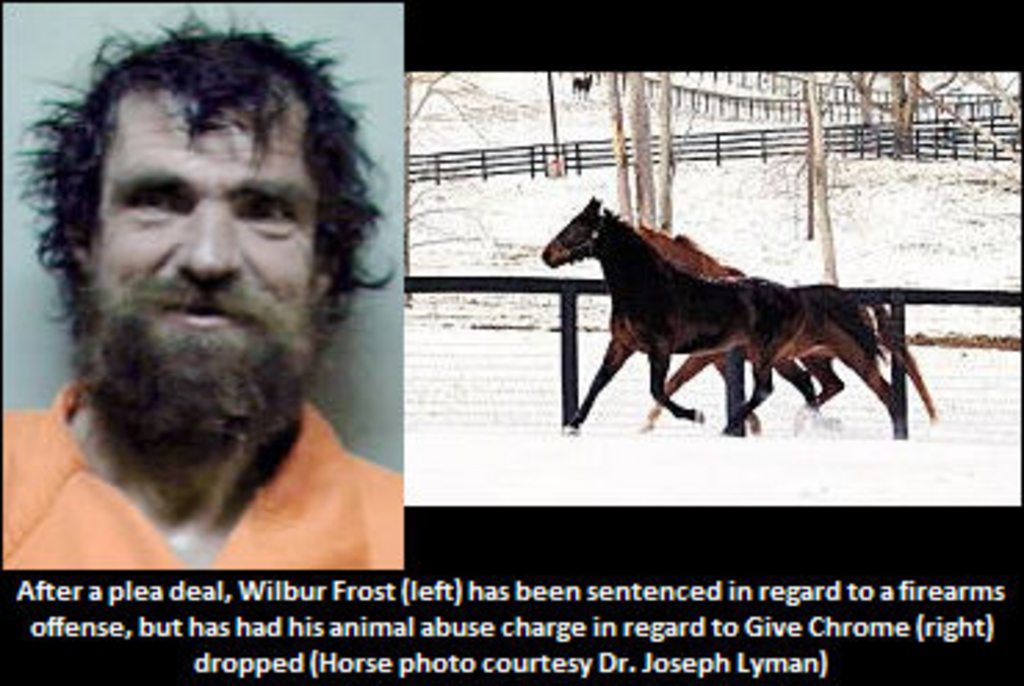 Published:
March 1, 2011 11:32 am EST
Forty-four-year-old Wilbur F. Frost, the man that abused retired standardbred Give Chrome before being arrested and charged by Pennsylvania police, has been
sentenced.
According to a report by The Evening Sun, on Monday, February 28, Frost pleaded guilty to one count of carrying a concealed firearm without a license and was sentenced to nine months in Adams County prison. The rest of his sentence -- an additional 15 months -- will be spent on probation.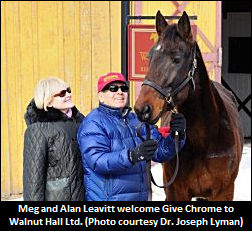 Frost had initially been charged with three counts of carrying a concealed firearm without a license and animal cruelty. As part of his plea agreement, Frost relinquished ownership of Give Chrome, a winner of nine of 56 career starts that took his mark of 1:54.4 over Hoosier Park as a three-year-old. The gelding is now 13 years old.
In early November of 2010, Give Chrome was seized in Littlestown, Pennsylvania after multiple calls were made to 911 complaining of a man repeatedly whipping a horse pulled his makeshift carriage on local roads. Give Chrome was found to have 10-15 large abrasions where his hide rubbed off from an ill fitting harness, as well as a laceration on his leg. He was also underweight.
Frost had told officers he intended to drive Give Chrome to Oklahoma. Frost has a prior conviction for abuse of horses in Kansas earlier in 2010.
The initial news of Give Chrome's plight at the hand of Frost drew a great deal of attention within the standardbred industry. The gelding then became the 23rd horse to benefit from the USTA's SOS (Support Our Standardbreds) program, and was then adopted by Meg and Alan Leavitt of Walnut Hall Ltd.
(With files from The Evening Sun)
Related Stories
• Abused Standardbred Loving Walnut Hall Ltd.
• Abused Pacer Benefits From SOS Program