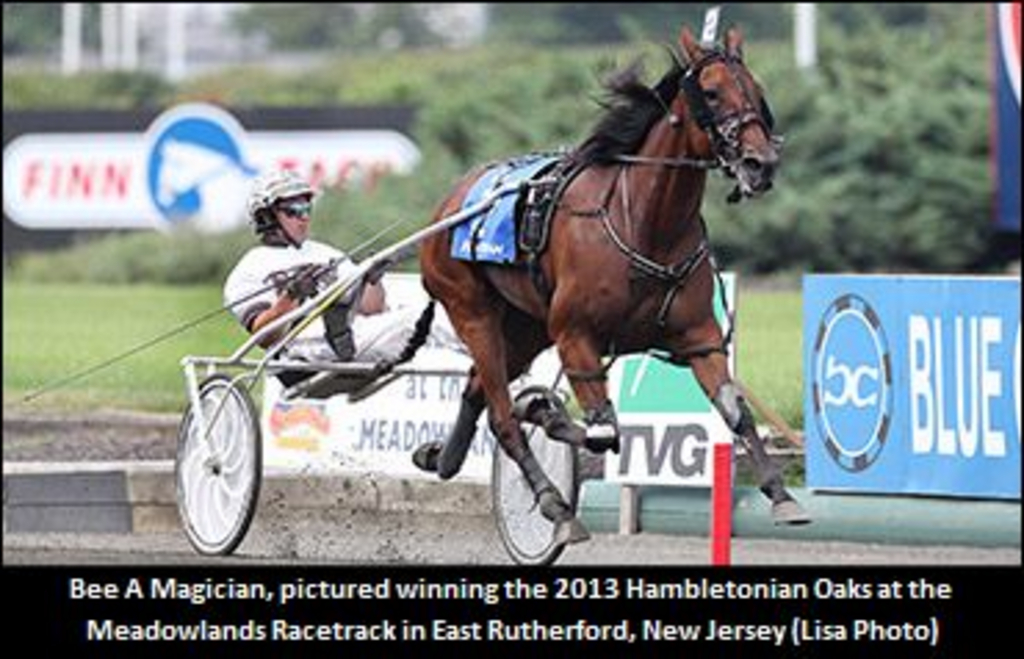 Published:
February 8, 2014 09:58 pm EST
Standardbred Canada has announced the winners of the 2013 O'Brien Awards, which honour Canada's best in harness racing over the past season. In celebration of the 25th anniversary of the event, the annual Black Tie Gala was held in Charlottetown, PEI, at the Delta Prince Edward Hotel and PEI Convention Centre.
The awards are named in honour of the late Joe O'Brien, an outstanding horseman and member of the Canadian Horse Racing Hall of Fame. O'Brien was born in Alberton, PEI.
Bee A Magician who was perfect in her 2013 season, was the unanimous choice in the Three-Year -Old Trotting Filly division and was also voted Canada's Horse of The Year.
Bee A Magician won all 17 of her races last season and earned in excess of $1.57 million for a perfect sophomore campaign. The daughter of Hall of Fame sire Kadabra took a mark of 1:51 at the Meadowlands Racetrack. The invincible filly's stakes victories included the SBOA elimination and final, the Casual Breeze, the Elegantimage elimination and final, three Ontario Sires Stakes events including the Super Final, the Delvin Miller, Hambletonian Oaks elimination and final, the Simcoe, Breeders Crown elimination and final, American National and Moni Maker.
Sylvain Filion successfully defended his Driver of The Year title. In 2013 he led all reinsmen in the nation in terms of purse earnings, as his mounts banked $6,111,736. Filion finished as the leading money-winning driver on the Woodbine Entertainment Group circuit with over $5 million to his credit between Mohawk Racetrack and Woodbine Racetrack. The resident of Milton, Ont. earned the Lampman Cup for the second straight year, as he topped the Ontario Sires Stakes standings for drivers. Filion celebrated his richest win of the season while steering Boomboom Ballykeel to a 10-1 upset victory in the $683,000 Metro Pace at Mohawk Racetrack.
Richard Moreau was voted Trainer of The Year following an impressive season that saw his stable win 279 races and earn $3,623,805 in purses. The resident of Puslinch, Ont. earned training titles across Ontario at Georgian Downs, Grand River Raceway, Mohawk Racetrack, The Raceway at Western Fair District and Woodbine Racetrack. Moreau topped the Canadian trainer standings with $3.5 million in earnings and 270 wins. He celebrated the biggest win of his career this past season when Boomboom Ballykeel captured the Metro Pace at Mohawk Racetrack. The 2013 season marked the 14th consecutive year that his stable has surpassed the $1-million mark in purse earnings.
Alberta's Kelly Hoerdt won the O'Brien Award of Horsemanship. Hoerdt is a successful driver/trainer who is annually near the top of the training and driving charts in Alberta. The 2013 season was another productive year for Hoerdt, as he trained 82 winners and horses to $623,000, and drove 66 winners and horses that earned over $490,000. Hoerdt was the leading trainer in terms of earnings at Alberta Downs. His stable was led by sophomore pacing colt Premium Attaction, a multiple stakes winner that rattled off six wins in 11 races and over $111,000.
Precocious Beauty was honoured as Two-Year-Old Pacing Filly of The Year. Precocious Beauty won seven of 11 races, $462,912 in purses and took a mark of 1:50.1 which tied a world record for a one-mile track. Her richest payday was a victory in the Shes A Great Lady at Mohawk.
The two-year-old pacing colt title went to Arthur Blue Chip, who scored six wins in 11 starts and bankrolled $400,120 for his connections. The son of Shadow Play took a mark of 1:51.2 in his Metro Pace elimination at Mohawk before being scratched 'sick' from the final. His most lucrative payday was a runner-up finish in the Governor's Cup. He also won a handful of Ontario Sires Stakes races, an elimination of the Battle of Waterloo and a division of the Nassagaweya Stakes.
I Luv The Nitelife returned as a seasoned sophomore in 2013 and added another O'Brien (Three-Year-Old Pacing Filly of The Year) to her trophy case. The talented filly boasted a record of 13-1-1 in 15 races and $1.2 million in earnings. She took a mark of 1:48.4 in the Valley Forge at Mohegan Sun at Pocono Downs. She also set a two-heat world record of 3:42.2 in the Jugette. She swept the Fan Hanover, the Lynch, the Mistletoe Shalee and closed the season as strongly as she began with a win in the Breeders Crown and runner up finish in the American National.
Little Brown Jug winner Vegas Vacation took the hardware home as Canada's Three-Year-Old Pacing Colt of The Year. Vegas Vacation gave his connections the ride of a lifetime in 2013. Conditioned by Casie Coleman, the son of Bettors Delight put together a sophomore record reading 10-4-1 from 20 starts while banking $976,037 in purses. He wheeled off victories in his first four races which included the Somebeachsomewhere Stakes and an elimination of the Pepsi North America Cup. On September 19 he captured the Little Brown Jug in straight heats – both timed in 1:50. 'Vegas' finished his sophomore season with a win in the Matron Stakes to put his bankroll at just over $976,000.
Anndrovette continued to dominate the pacing mare ranks in 2013, and, for the third consecutive year, was crowned Canada's Older Pacing Mare of The Year. The daughter of Riverboat King was on the board in all but three of her 21 races. Some of her major wins included three legs of the Blue Chip Matchmaker Series at Yonkers Raceway along with the Roses Are Red and Breeders Crown eliminations. On July 20 at Mohawk Racetrack she captured the Roses Are Red final in a career best 1:48. The talented mare now has 35 lifetime wins and a career bankroll of almost $2.6 million.
The $6 million horse, Foiled Again was voted Canada's Older Pacing Horse of The Year. Foiled Again didn't show any signs of slowing down in his nine-year-old season, as he won 11 of his 29 starts, including three Levy divisions, the Ben Franklin elimination and final, as well as the Breeders Crown elimination and final for his third straight million-dollar campaign. He entered the year within reach of the all-time earnings record for pacers, and he managed to obliterate that mark by adding $1.4 million to his bank account while visiting 11 different racetracks along the way. He closed the season by sweeping the elimination and final of the TVG Free For All Pace at the Meadowlands.
Riveting Rosie was the winner in the two-year-old filly trotting category. Riveting Rosie closed out her rookie campaign with six wins in eight starts and earnings of $468,613. Her major victories included the Peaceful Way Final, her Ontario Stakes Super Final and a division of the Champlain Stakes.
In the Two-Year-Old Trotting Colt division, it was Father Patrick who took the O'Brien trophy. He topped the earnings chart in his division and was flawless in 10 stakes starts with his only blemish coming in an early season two-year-old race where he was beaten by just a head. Father Patrick amassed $752,395 in earnings with major wins in the Breeders Crown, Peter Haughton Memorial, William Wellwood Memorial Trot, Champlain Stakes and Bluegrass Series.
Flanagan Memory was voted Three-Year-Old Trotting Colt of the Year after a productive season which saw him win seven of 11 races and $408,798 in earnings. He clocked a season's best 1:53 effort in winning his Ontario Sires Stakes Super Final at Mohawk. He also scored victories in the Goodtimes and several OSS events.
Maven was voted Canada's Older Trotting Mare of The Year. Since winning the 2012 Breeders Crown at Woodbine Racetrack, Maven has been one of the most consistent trotters in North America. She added wins in the Miss Versatility Trotting Series, an elimination and final of the Armbro Flight, and the Allerage. She showed just how good she was by claiming a second Breeders Crown title. At season's end Maven had won 10 of 14 races, and added $513,485 to her bankroll.
For the second consecutive year, Mister Herbie captured the title as Canada's Older Trotting Horse of The Year. Although Mister Herbie only won one race in 2013, he was a strong contender in many of the major stakes and scored six runner-up finishes in stakes competition, including the Maple Leaf Trot, Allerage, John Cashman Memorial and Breeders Crown, finishing the season with $492,067 in purses.
Seelster Farms, of Lucan, Ont. was honoured as the Armstrong Breeder of The Year. In 2013, Seelster-bred horses scored 248 wins and $2.1 million in earnings.
In the Future Star category, the winner of this first-time award was trainer/driver Travis Cullen. The 21-year-old Alberta-based horseman closed out Alberta Downs' 2013 meet with five wins on the final card of the meet while securing both the Lacombe track's driving and training titles. Amidst a career-best year, the Edmonton horseman concluded the Alberta meet with a chart-topping 64 training victories and 86 driving wins.
The complete list of winners follows.

2013 O'BRIEN AWARD WINNERS
PACERS
Two-Year-Old Filly Pacer - Precocious Beauty
owned by James L Avritt Sr., Lebanon, KY
Two-Year-Old Colt Pacer - Arthur Blue Chip
owned by Dr. Ian Moore, Guelph, ON – R G McGroup Ltd., Bathurst, NB – Serge Savard, Saint-Bruno, QC
Three-Year-Old Filly Pacer - I Luv The Nitelife
owned by Richard P. Young, Boca Raton- Joanne Young, Coconut Creek, FL
Three-Year-Old Colt Pacer - Vegas Vacation
owned by West Wins Stable, Cambridge- Adriano Sorella, Milton – Anthony B Beaton, Waterdown – Phyllis M Saunders, Hamilton, ON
Older Pacing Mare - Anndrovette
owned by Bamond Racing LLC, Brick – Joseph Davino, Clarksburg, NJ
Older Pacing Horse - Foiled Again
owned by Burke Racing Stable LLC, Fredericktown – Weaver Bruscemi LLC, Canonsburg, PA – JJK Stables LLC, Fort Lauderdale, FL
TROTTERS
Two-Year-Old Filly Trotter - Riveting Rosie
owned by Parkhill Stud Farm, Peterborough – Don Allensen, Wyoming – J And T Stable Newmarket – John F Hayes, Sharon, ON
Two-Year-Old Colt Trotter - Father Patrick
owned by Father Patrick Stable, East Windsor, NJ
Three-Year-Old Filly Trotter - Bee A Magician
owned by Melvin Hartman, Ottawa, ON – Herb Liverman, Miami Beach – David H McDuffee, Delray Beach, FL
Three-Year-Old Colt Trotter - Flanagan Memory
owned by Liette Flanagan, Repentigny-Rene Dion, Saint-Lazare, QC
Older Trotting Mare - Maven
owned by William J. Donovan, Ft Lauderdale, FL
Older Trotting Horse - Mister Herbie
owned by Jeffrey R Gillis, Hillsburgh – Mac T Nichol, Burlington, ON- Gerald T Stay, Buffalo, NY
PEOPLE AWARDS
O'Brien Award of Horsemanship
Kelly Hoerdt, Beaumont, AB
Armstrong Breeder of The Year
Seelster Farms, Lucan, ON
Driver of The Year
Sylvain Filion, Milton, ON
Trainer of The Year
Richard Moreau, Puslinch, ON
Future Star Award
Travis Cullen, Edmonton, AB
STANDARDBRED CANADA MEDIA EXCELLENCE AWARDS
The Media Excellence Awards program, established by Standardbred Canada in 2008, is aimed at honouring exceptional work that covers Canadian harness racing in a manner that is extraordinary and of broad national appeal.
Outstanding Written Work
Paul Delean
'Reaching Improbable Heights'
'Reaching Improbable Heights', written by Paul Delean, was published in the December, 2012 issue of Trot Magazine. It tells the story of trotter Intimidate's incredible journey from obscurity to harness racing's biggest stage and the ride of a lifetime that two smalltime owners from Quebec are still pinching themselves over.
Outstanding Broadcast
Woodbine Entertainment Group
North America Cup HD Broadcast
Woodbine Entertainment Group's North America Cup broadcast aired across Canada on The Score television network on Saturday, June 26, 2013. The one-hour special of the $1-million North America Cup was the first live high definition broadcast of a standardbred race in Canada. The show featured live race coverage of the main event, a feature on Marvin Katz (co-owner of eventual winner Captaintreacherous) and a profile of a very special racing fan – Sydney Weaver. The broadcast was a production of WEG's broadcast department, produced by Rob Platts and directed by Kris Platts.
Outstanding Photography
Clive Cohen
Clive Cohen captured the sunset behind trainer Rene Dion warming up Ocean Mist Beauty on September 19, 2013 at Mohawk Racetrack. The image was published on WEG's Facebook page later that night.