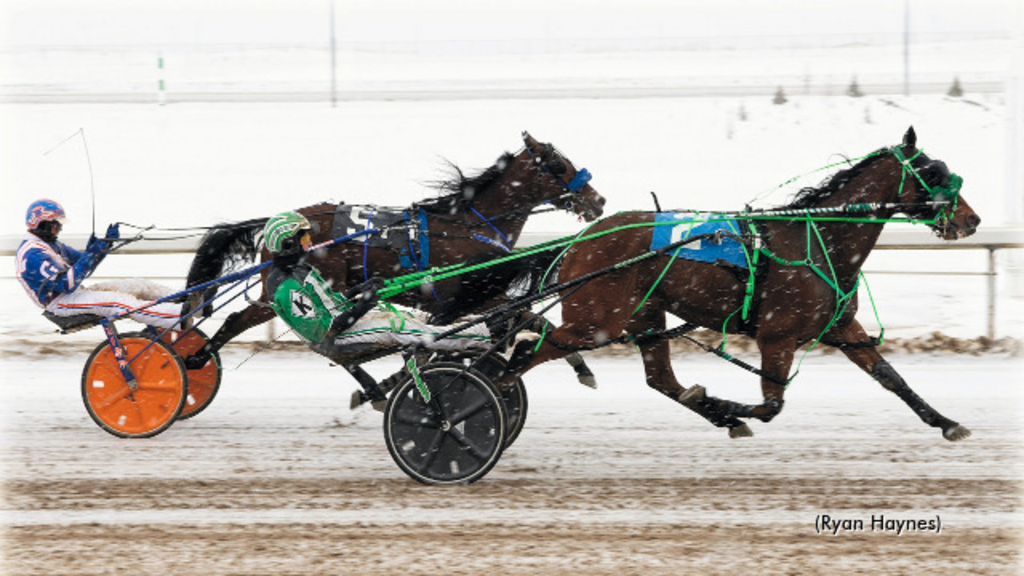 Published:
February 5, 2022 07:55 pm EST
Canadian Pharoh played a fierce game of catch-me-if-you-can during the Saturday (Feb. 5) feature at Century Mile, not allowing anyone to collar him en route to victory.
Driver David Kelly took no chances with the seven-year-old gelding, placing him on top of his three rivals early in the $10,500 contest. After a sharp first panel of :27.2, Kelly used that short field to his advantage to pocket up favoured Crackle N Burn (Phil Giesbrecht) and backed down the middle half substantially with subsequent splits of :58.2  and 1:29.1. Outlaw Gunsablazin (Jamie Gray) was the first to challenge from third, but Canadian Pharoh had enough left in the tank to sprint home in :27.2 and repel all rivals with a 1:56.3 decision.
Crackle N Burn was three parts of a length back in second with Outlaw Gunsablazin enduring broken equipment to stay for show.
Owned by trainer Chris Lancaster along with Rob Ostashek Holdings Ltd. of Edmonton, Alta., Canadian Pharoh ($6.30) picked up his 22nd career tally with earnings surpassing $287,000.
The win was one of three on the day for Chris Lancaster as he completed a hat trick with back-to-back wins later in the card by Pure Addition ($3.20) and A Cowboys Dream ($2.80). 
Conditioner Trevor Williams also recorded a hat trick on the Saturday card, sending Jim Strikesitrich ($2.80), Silver Sea ($6.60) and Mystic Dragon ($3.30) to victories. 
To view the results from Saturday's card of harness racing at Century Mile, click the following link: Saturday Results - Century Mile.