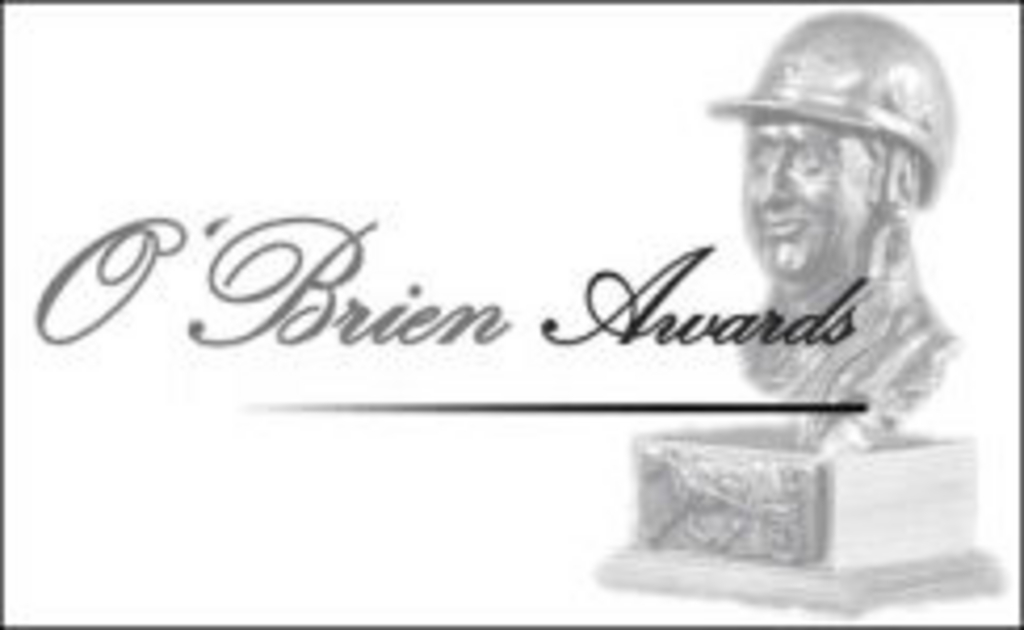 Published:
February 3, 2009 03:52 pm EST
Standardbred Canada has released the breakdown of the voting for the 2008 O'Brien Awards
.
The ceremony took place Saturday, January 31 at the Delta Meadowvale in Mississauga, Ont.
To read a full recap of the event, click here.
To view the presentation shots from Iron Horse Photo, click here.
To view the online video story, which includes many interviews from the night, click here
The complete breakdown of the voting appears below.
PACERS
Two-Year-Old Pacing Filly of the Year
• St Lads Popcorn - 71
• Arts Star - 1
Two-Year-Old Pacing Colt of the Year
• Nebupanezzar - 63
• Major In Art - 7
• Deep Finesse - 2
Three-Year-Old Pacing Filly of the Year
• Chancey Lady - 52
• Voelz Hanover - 7
• Artimittateslife - 6
• A And Gs Confusion - 4
• Im Just Special - 3
Three-Year-Old Pacing Colt of the Year
• Somebeachsomewhere - 72
Older Pacing Mare of the Year
• My Little Dragon - 30
• Southwind Madonna - 24
• Darlins Delight - 11
• Hana Hanover - 2
• B Bar Marilyn - 2
• Tidewater Dragonfly - 1
• Illusionist - 1
• Marnie Hall - 1
Older Pacing Horse of the Year
• Secrets Nephew - 52
• Tigerama - 7 (DQ)
• Silent Swing - 4
• Western Shore - 4
• Ramegade Bruiser - 2
• Soul Chaser - 1
• Eagle Luck - 1
• Mister Big - 1
TROTTERS
Two-Year-Old Trotting Filly of the Year
• Elusive Desire - 35
• Windsong Soprano - 17
• Yursa Hanover - 12
• Raising Rachel - 4
• Daylon Mystique - 2
• Cumin First - 1
• No Vote - 1
Two-Year-Old Trotting Colt of the Year
• Federal Flex - 65
• Encore Encore - 3
• Pointe of Honour - 1
• Mopey Corey - 1
• Lukas Rossi - 1
• No Vote - 1
Three-Year-Old Trotting Filly of the Year
• Lantern Kronos - 37
• Belle Dolce - 24
• Kadealia - 9
• Pasadena Princess - 1
• No Vote - 1
Three-Year-Old Trotting Colt of the Year
• Define The World - 52
• Clerk Magistrate - 18
• Silverado Dream - 1
• No Vote - 1
Trotting Mare of the Year
• Brigham Dream - 50
• Falls For You - 17
• Lady Gambler - 2
• Ziggy Wiggy - 2
• No Vote - 1
Trotting Horse of the Year
• Arch Madness - 36
• Armbro Chronicle - 25
• Enough Talk - 7
• Pablo Angus - 1
• J M Vangogh - 1
• Corleone Kosmos - 1
• No Vote - 1
Horse of the Year
• Somebeachsomewhere - 72
PEOPLE AWARDS
O'Brien Award of Horsemanship
• Phil Pinkney - 34
• John Kopas - 31
• Kelly Hoerdt - 6
• No Vote - 1
Armstrong Breeder of the Year
• Robert Hamather - 38
• Glengate Farms - 24
• William Andrew - 6
• No Vote - 4
Driver of the Year
• Paul MacDonell - 45
• Jody Jamieson - 14
• Brad Forward - 8
• Rick Zeron - 2
• Randy Waples - 1
• Gilles Barrieau - 1
• Robert Shepherd - 1
Trainer of the Year
• Robert McIntosh - 32
• Casie Coleman - 10
• Brent MacGrath - 9
• Benoit Baillargeon - 9
• Bill Davis - 5
• John Kopas - 3
• Richard Moreau - 2
• Keith Clark - 1
• Jack Darling - 1