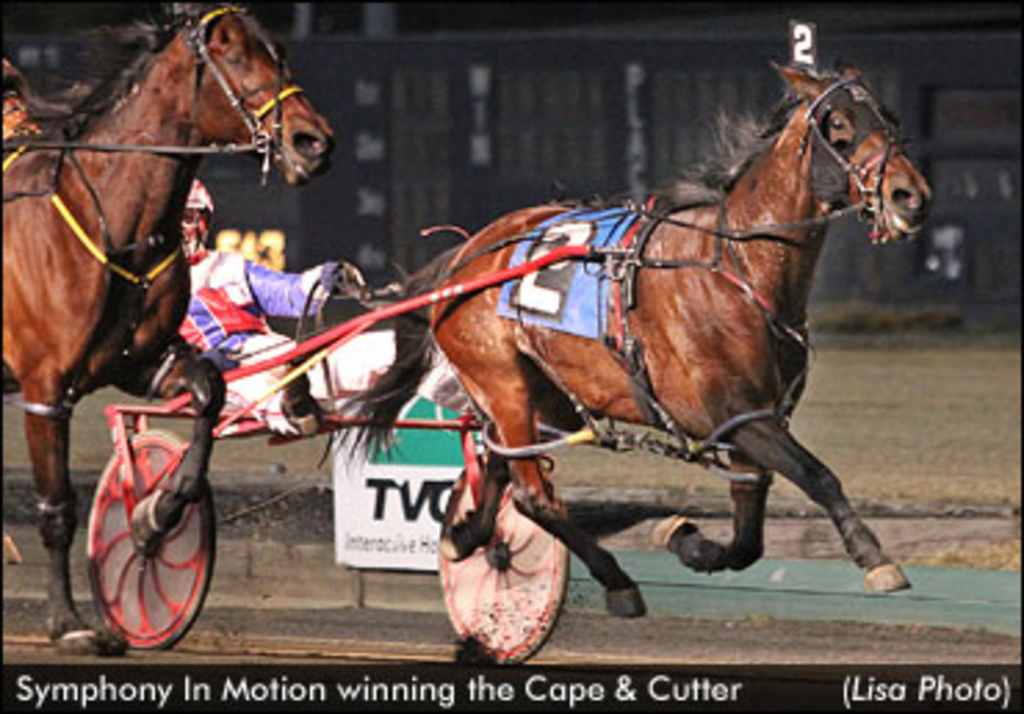 Published:
February 17, 2012 08:07 pm EST
Symphony In Motion nipped favourite Higher And Higher right at the wire to win the $63,750 Cape & Cutter Series Final for open mares and boost her lifetime earnings over the million dollar mark Friday night at Meadowlands
Racetrack.
Driver Ron Pierce fired Symphony In Motion into the pocket from Post 7 while Rock N Soul (Yannick Gingras), one of three Ron Burke entries, set up shop on the front end during a speedy :26.2 opening quarter.
Rock N Soul led the field through a rated half in :54.3 and three-quarters in 1:24 with 6-5 favourite Higher And Higher (Daryl Bier) advancing first up and Symphony In Motion's stablemate, Royal Cee Cee N (Brian Sears), following her cover.
Entering the stretch, Higher And Higher struck the front while Symphony In Motion managed to split horses to make for a thrilling stretch drive. The photo finish camara was needed to decide the champion, and was even too close to call for winning driver Pierce.
"No I didn't [think we won] because Higher And Higher is so long and tall; this mare's kind of short so I thought [Higher And Higher] had me by a couple of inches," said Pierce after the race.
Symphony In Motion, who picked up cheques in the previous legs of the series, edged past Higher And Higher in the final strides to score her first victory of the season in 1:52.1. Higher And Higher missed the series sweep by a nose, while Burke entry Ginger And Fred (Matt Kakaley) closed well to finish three-quarters of a length behind in third.
Symphony In Motion, whose lifetime earnings climbed to $1,027,229, is trained by Mark Harder for breeder Joseph Jannuzzelli of Manalapan and co-owner Carol Demarch of Springfield, New Jersey.
"It's a dream come true," said Jannuzzelli of breeding a million dollar winner. "It's just something you never think you have and then all of a sudden, boom. She's unbelievable. I just can't believe something like this happened. I was looking for her to finish one-two-three, but one really shocked me. I had Super Toy and I thought that was the end and now I've got another one."
"She's just such a sweetheart, a pleasure to race, and I'm happy for Joe and Carol," added Harder. "You don't get lucky to win a million dollars. She's toiled away for a few years and she's done it the hard way; not [always] with open mares. She had a break and she's eight years old, she's just gotten better in the series and here we are."
The Bettors Delight-Malocchio now boasts a career record reading 35-19-21 in 119 starts. She paid $7 to win as part of the 5-2 second choice entry.
Symphony In Motion is expected to return to her regular stomping grounds back at Yonkers Raceway for the Blue Chip Matchmaker Series.
The Tender Loving Care Series also wrapped up on Friday with Jamie Sue stepping up her game to win the $47,000 final after coming in second in her two previous series splits. The series is for three-year-old fillies that are non-winners of two extended pari-mutuel race or $25,000 lifetime as of Dec. 10, 2011.
There was lots of action early on as Perfect Pose (Andy Miller) and Air Guitar Hanover (John Campbell) took turns on the front through a :27.4 opening quarter. Tim Tetrick then rolled Jamie Sue to command down the backstretch, but gave way to the undefeated Winning It (Yannick Gingras) before the :55.4 half-mile marker.
The favourite continued to lead the way past three-quarters in 1:25.4 and into the stretch while Tollfree Hanover (Dan Dube) advanced first up and Air Guitar Hanover slipped up the pylons. Air Guitar Hanover pushed ahead as Winning It made a costly break in stride, but Jamie Sue came on in the final strides for the three-quarter length score in 1:54, shaving two full seconds off her lifetime mark. Air Guitar Hanover settled for second and Perfect Pose rounded out the top three finishers.
"She really likes a target and she got it today," said Tetrick following the victory. "Yannick backed the third quarter up good and my mare was good and brave. I got out and she did the rest."
The Art Major-Road To Pandalay filly is trained by Mark Ford for owner Robert DiNozzi of Ossining, New York. The New York Sire Stakes competitor has compiled a career record reading 2-8-3 in 18 starts while banking close to $100,000. Jamie Sue paid $7.20 to win as the 5-2 second choice.
In the weekly $30,000 Invitational Trot, $500,000-plus earner Take My Picture ended his three-race runner-up streak with a 1:54 triumph for driver Brian Sears and trainer Nikolas Drennan. The favourite journeyed first up and prevailed by half a length over last week's class champion, Hava Kadabra (Yannick Gingras), and Proud Moment (Brandon Simpson). The five-year-old Classic Photo-Habits Lady gelding is owned by Joseph and Laurie Davino of Clarksburg, New Jersey. He returned $3.60 for a $2 win ticket.
To view Friday's harness racing results, click on the following link: Friday Results - Meadowlands Racetrack.