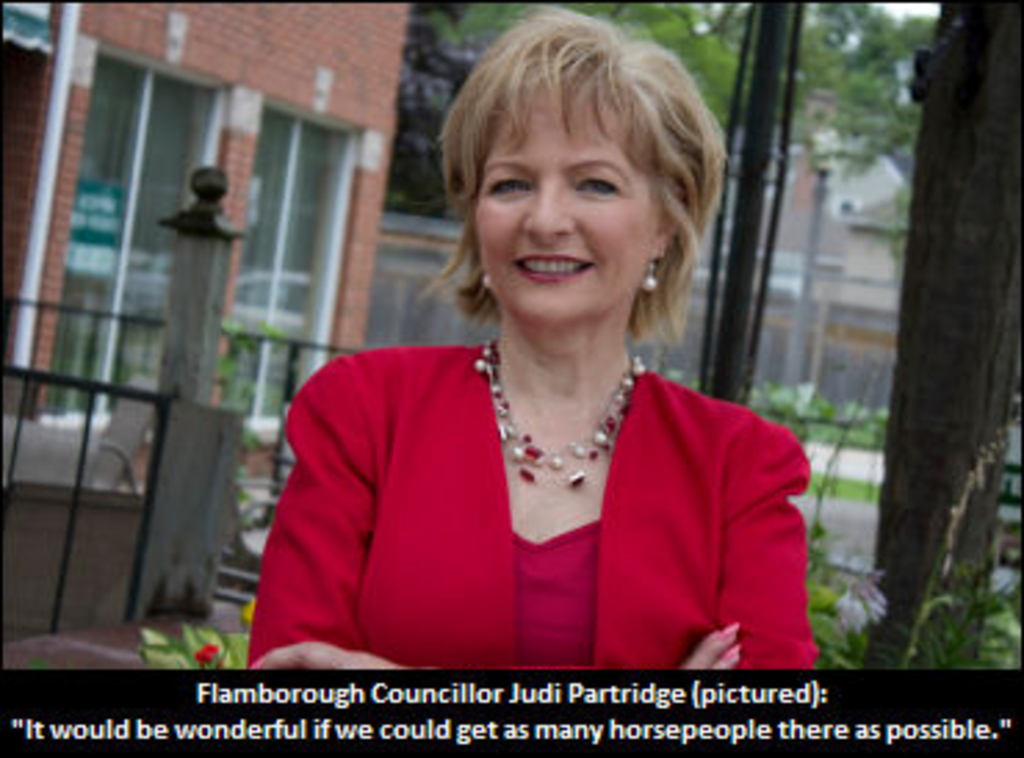 Published:
February 12, 2013 01:07 pm EST

On Monday, February 11, days before Hamilton councillors Sam Merulla and Judi Partridge introduce pro-Flamboro motions for a Flamboro Downs-related casino expansion, Ontario Lottery and Gaming Corp. President and CEO Rod Phillips was in town to discuss the hot-button casino matter.
Phillips sat down with the editorial board of the Hamilton Spectator to discuss the casino expansion issue. Much of the discussion centered around the Request For Proposal process and the polarizing issue of location of proposed casino expansion in the area (downtown casino complex, versus casino expansion at Flamboro Downs, located in Flamborough).
During the discussion with the Hamilton Spectator, Phillips stated that the city "has a say" in relation to where proposed casino expansion could ultimately end up. He also stated that the city has two opportunities to say 'yes' or 'no' to a Hamilton-area casino: the first being a council veto on the whole expansion idea prior to the RFP process, and the second being after a successful bidder has been selected via the RFP process.
Phillips also answered some questions regarding the Hamilton casino expansion on Monday after having met with Hamilton Mayor Bob Bratina at City Hall. Joey Coleman of raisethehammer.org was able to ask Phillips a pair of direct questions. Coleman said, 'Some people feel that you're giving mixed signals about the Flamboro location. If Council votes on Thursday 'flamboro only,' what will be the response of the OLG?" Phillips answered by saying, "As we've said, Flamboro is going to be a part of the gaming zone that we put forward under any of the scenarios, we hope, and we're in the process of negotiating a lease with Great Canadian, so that's an important 'if.' But we've negotiated 11 of the 14 leases with the racetracks, but we expect to be at Flamboro for the next number of years because that's the only place that we have to operate. If the council decides, more broadly, that they want to look at a broader gaming zone, then, over time, once we go through our RFP process and choose a private operator, they would then have to come back to the city, to OLG and say 'we think this is a good second option.'"
Coleman then asked, "Council does have the option of saying 'Flamboro only' and OLG will locate there? Phillips answered by saying, "No, then Flamboro will be inside the gaming zone. That is the current place we are operating, so there is not a situation where Flamboro wouldn't be in the zone." (Related: Wynne Wants Municipalities To Have Autonomy Over Casino Placement)
In response to Phillips' explanation of the process, the Hamilton Spectator states that, 'Phillips' comments contravene the long-held belief of some councillors that Hamilton would have limited say over the final casino product.'
Councillor Merulla, a steadfast proponent of Flamboro casino expansion who is dead against expansion in the downtown core, took Phillips and the OLG process to task for being all over the map and inconsistent on the important matter. "That answer is new and differs from previous answers," Merulla said, referring to the two opportunities Hamilton will have to decide on the placement of any proposed casino. "Trying to get a consistent answer from the OLG is like trying to nail Jell-O to the wall."
Merulla will be introducing a motion to Council on Thursday, February 14 calling for Flamboro to be the only location in the Hamilton area for casino expansion. In step with Merulla's motion, fellow pro-Flamboro councillor Partridge will be introducing a motion that calls for zoning changes to be made in order for Flamboro Downs to be able to be the location of the casino expansion. Partridge is also calling on the OLG to reach an agreement with Flamboro's horse-racing operator, Great Canadian Gaming Corp., in order for live racing to continue for at least two years.
Hamilton Council's meeting will be open to the public on Thursday, and Partridge is calling on members of the horse-racing industry, and those whose livelihoods are directly affected by the horse-racing industry, to stand up for themselves and be present during the proceedings. Those wishing to show support for the efforts of Merulla and Partridge are encouraged to attend Council Chambers at 1:00 p.m. as a show of support.
"It would be wonderful if we could get as many horsepeople there as possible," Partridge said. "I plan speaking to the Flamboro Downs racetrack operations as part of my remarks. It would be helpful if I could emphasize how important this issue is by noting the Chamber full of people affected by horseracing --- employees, farmers, etc. Get as many as you can."
(With files from the Hamilton Spectator)