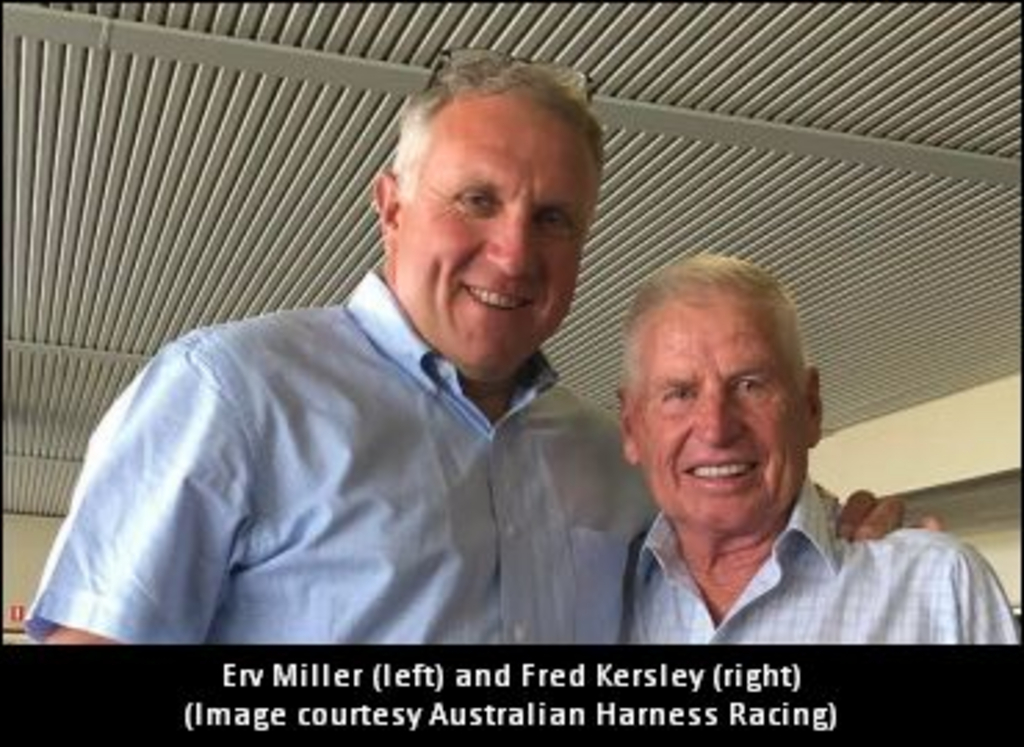 Published:
December 4, 2017 10:45 am EST
Western Australian Racing Industry Hall of Fame Inductee Fred Kersley met celebrated American trainer Erv Miller at the barrier draw function for the 2017 TABtouch Inter Dominion Final.
Born on December 11, 1966 in the Amish community of Arthur in Illinois, Miller has put together a remarkable record as a trainer, and since the USTA began keeping training records in 1992, Miller has trained 5,100 winners of some $78,691,123 in stakes.
Those figures place Miller in fourth place on the stakes-money won list of American trainers and third on the list of leading trainers by number of races won.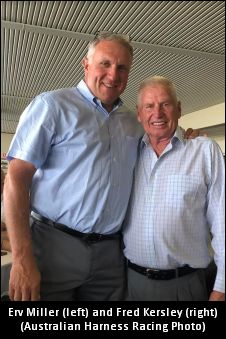 By way of comparison, Western Australia's leading trainer, in terms of career wins, Gary Hall Sr., has trained the winners of some 2,446 races and $33,619,313 in the same period. Kersley trained 2,285 winners, including 1,565 in Perth, where he was a 14-time Premiership Trainer before switching to Thoroughbreds where he gained fame as the trainer of the legendary Perth galloper Northerly.
Northerly won 19 of his 37 career starts and stakes of $9,341,850, including nine Group One wins in the Cox Plate (2), Australian Cup (2), Underwood Stakes (2), Caulfield Cup, Yalumba Stakes and Railway Stakes.
In 2004, Miller was honoured by the Illinois Harness Horseman's Association with its Person of the Year Award, and in 2005 Miller was presented with the Brian Pinske Memorial Award for his achievements on the Grand Circuit.
That same year, 2005, Miller won the Glen Garnsey Trainer of the Year Award from the United States Harness Writers Association and the Delvin Miller Trainer of the Year Award from the Grand Circuit.
Among the better horses that Miller has trained are the 2010 Breeders Crown Two-Year-Old Colt and Gelding Trot champion Manofmanymissions, the three-time Dan Patch Award winning pacer Loyal Opposition (56 wins in 98 starts and $2,861,294) and the unbeaten two-year-old pacing filly Incredible Tillie (12 wins from 12 starts as two-year-old for $512,782).
Miller also trained Lis Mara, Shark Gesture and Shadyshark Hanover, and that trio of stallions is currently standing at stud in either New Zealand or Australia.
Erv and his son Marcus like the chances of Western Australia's champion Chicago Bull in the Inter Dominion Final, and at the barrier draw they followed their opinion by paying second top price of $2,550 for Chicago Bull in the Inter Dominion Calcutta.
(Australian Harness Racing)